Virginia
State in the United States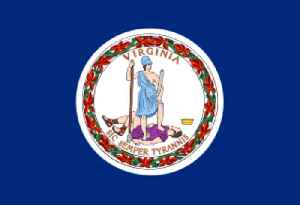 Virginia
, officially the
Commonwealth of Virginia
, is a state in the Southeastern and Mid-Atlantic regions of the United States located between the Atlantic Coast and the Appalachian Mountains. The geography and climate of the Commonwealth are shaped by the Blue Ridge Mountains and the Chesapeake Bay, which provide habitat for much of its flora and fauna. The capital of the Commonwealth is Richmond; Virginia Beach is the most populous city, and Fairfax County is the most populous political subdivision. The Commonwealth's estimated population as of 2019 is over 8.54
million.
Pharrell Williams Bringing Gospel Docuseries To Netflix

Singer, songwriter, producer Pharrell Williams is teaming up with Netflix for a docuseries. The upcoming docuseries, "Voices of Fire" focuses on finding talent in the gospel choirs of Hampton Roads,..
Credit: Wochit News Duration: 00:31
Published
Richmond Mayor Orders Emergency Removal of Confederate Statues

The Democratic mayor of Richmond, Virginia, Levar Stoney, has invoked his emergency powers to remove multiple Confederate statues in the city.
Credit: Cover Video STUDIO Duration: 01:23
Published
Stonewall Jackson statue removed in Richmond

Crews removed a statue of Confederate General Stonewall Jackson with a crane and ropes on Wednesday in Richmond, Virginia, the same day a state law went into effect authorizing cities to remove..
Credit: Reuters Studio Duration: 00:52
Published
NASA Names Headquarters After 'Hidden Figure' Mary W. Jackson

NASA has named their headquarters after 'hidden figure' Mary W. Jackson NASA administrator Jim Bridenstine announced Wednesday (24 June) the agency's HQ building in Washington, D.C., will be named..
Credit: Cover Video STUDIO Duration: 01:01
Published
Richmond mayor says police chief has resigned

Richmond, Virginia, Mayor Levar Stoney announced on Tuesday that the city's police chief had resigned after weeks of protests in the city and across the country over the death of George Floyd.
Credit: Reuters Studio Duration: 01:42
Published
Black Americans disproportionately die in police Taser confrontations

When police encounters involving Tasers have turned fatal, Reuters has found black people make up a disproportionate share of those who die. Linda So reports.
Credit: Reuters Studio Duration: 04:23
Published
Biden Supporter Says Biden Should Stay In The Basement

Terry McAuliffe is a prominent Democrat and Joe Biden supporter. He told a meeting of Virginia Democrats that Biden should remain in his Delaware home's basement for the duration of the 2020..
Credit: Wochit News Duration: 00:32
Published
Boston removes decapitated Columbus statue

Activists across the U.S. have targeted public monuments they say glorify white supremacy, using both legal and illegal means to take the symbols down. This report produced by Zachary Goelman.
Credit: Reuters - Politics Duration: 01:26
Published
Christopher Columbus statue pulled down, draped in burning flag in VA

CONTAINS PROFANITY. Protesters in Richmond, Virginia tore down a statue of Christopher Columbus on Tuesday and dragged it along the ground before dumping it in a lake.
Credit: Reuters Studio Duration: 00:19
Published
Virginia Judge Blocks the Removal of Robert E Lee Statue

Days after Virginia Governor Ralph Northam announced that the statue would be taken down.
Credit: Cover Video STUDIO Duration: 00:58
Published
Unprovoked police officer tasers unarmed black man multiple times in Virginia

Shocking bodycam footage shows a white police officer in Virginia using a stun gun on an unarmed black man multiple times. Fairfax County police officer Tyler Timberlake, who appears to be..
Credit: ODN Duration: 02:08
Published
Virginia to Remove Statue of Confederate General Robert E. Lee

Plans to remove the monument in the city of Richmond will be revealed Thursday by Governor Ralph Northam.
Credit: Cover Video STUDIO Duration: 01:28
Published
Virginia Governor To Remove Statue Of Civil War General Robert E. Lee

Virginia Governor Ralph Northam responded to widespread protests decrying racism. This is after the death of George Floyd, a black man in police custody in Minneapolis. He ordered on Thursday the..
Credit: Wochit News Duration: 00:33
Published
Northam orders removal of Robert E. Lee statue

Virginia Governor Ralph Northam on Thursday ordered the removal of the iconic statute of Confederate Gen. Robert E. Lee in Richmond, saying that statue was "wrong then and is wrong now."
Credit: Reuters Studio Duration: 01:40
Published
Spectacular implosion as Dominion Energy tower demolished in Virginia

A 21-storey building in downtown Richmond, Virginia, was demolished in a spectacular implosion. The former Dominion Energy office tower came down in just 20 seconds. The tower, completed in 1978,..
Credit: ODN Duration: 01:07
Published
Wakey, Wakey: Millions Of Cicadas To Emerge After 17 Years Of Underground Slumber

Cicadas are easy to spot, with their large bodies, big bulbous eyes, and see-through wings. Now, Gizmodo reports a brood of periodic cicadas not seen since 2003 is expected to emerge this year in parts..
Credit: Wochit News Duration: 00:39
Published
'Stop killing us', protesters chant at Donald Trump

Demonstrators gathered near the exit of the Trump National Club in Virginia on Sunday as President Donald Trump left the venue after spending most of the day on the links playing golf. The protesters..
Credit: PA - Press Association STUDIO Duration: 00:37
Published
Woman wears hippo suit to safely hug mother in nursing home

Fox Trails Assisted Living in Stephens City, Virginia, came up with the of the idea of using a hippo costume so families can safely hug. Video source: Nick Bolerjack
Credit: Reuters - Viral Video Duration: 00:25
Published
Automated delivery cashes in on pandemic-driven demand

The coronavirus crisis is accelerating a shift in the world of autonomous cars toward delivering packages instead of people, as big players open up a lead over startups in the race for funding. This..
Credit: Reuters - Politics Duration: 02:09
Published
Parts of NY, VA and MD reopen in patchwork start

Less populated areas of New York, Virginia and Maryland took their first steps towards lifting lockdowns on Friday, part of a patchwork approach to the coronavirus pandemic that has been shaped by..
Credit: Reuters Studio Duration: 01:49
Published
Former Trump campaign aide Manafort released from prison amid coronavirus

Paul Manafort, President Donald Trump's former campaign chairman, was released on Wednesday from a federal prison in Pennsylvania to serve out the rest of his term in home confinement due to the..
Credit: Reuters Studio Duration: 01:43
Published
You Might Like



Another Confederate statue in Richmond, Va., comes down along Monument Avenue

The bronze monument to Confederate Gen. J.E.B. Stuart on horseback was hoisted from its granite base as crowds cheered early Tuesday.  




USATODAY.com - Published





Richmond Removes Stonewall Jackson Statue From Monument Avenue

"We have needed to turn this page for decades," Mayor Levar Stoney said. The capital of Virginia will take down other Confederate statues in the coming days.




NYTimes.com - Published





Confederate statue removed in Richmond amid cheers

A massive statue of Gen. Stonewall Jackson was removed from Richmond, Virginia's famed Monument Avenue amid cheers Wednesday afternoon, hours after the city's mayor gave the order to take down all..




USATODAY.com - Published




Bannon aims to make a comeback in circle of Trump influencers ahead of election

As an election approaches, Steve Bannon and his allies are trying to return the former chief White House strategist to media circles known to influence the president's thinking. An investment banker..




WorldNews - Published





Trump met with protest as he arrives at golf club

President Donald Trump was visiting Trump National Golf Club in Potomac Falls, Virginia on Saturday, after he cancelled a trip to a golf club in Bedminster, New Jersey this weekend. (June 27)  




USATODAY.com - Published





Teen pours out his heart in a letter to his stepdad

Keon Wiggins, a 17-year-old from Suffolk, Virginia, brought his stepdad Donzell Powell and everyone else in the room to tears when he asked Powell to adopt him.




USATODAY.com - Published





Cameron Webb Wins Democratic Primary in Virginia, Setting Up Key House Race

If he were to win in the Republican-leaning district in November, Dr. Webb, 37, would become the first black physician to have a vote in Congress. He will face an opponent who has had trouble..




NYTimes.com - Published





Voters cast their ballots in Kentucky, New York and Virginia; John Bolton's book is out: 5 things to know Tuesday

Voters cast their ballots in Kentucky, New York and Virginia, John Bolton's book is out and more news you need to know Tuesday.




USATODAY.com - Published





500 high school senior portraits in Virginia

Photographer helps 500 high school seniors honour their commencement through portraits.




BBC News - Published





Statue of Arthur Ashe in Richmond, Virginia, defaced with 'White Lives Matter' spray paint

A statue of Arthur Ashe was spray painted with the words "White Lives Matter" and "WLM" on Wednesday in Richmond, Virginia.




USATODAY.com - Published





AP Top Stories June 17

Here's the latest for Wednesday June 17th: Coronavirus concerns in Beijing; Coronavirus cases rising in Texas, Florida and Arizona; Republicans to introduce police reform plans; Confederate statue..




USATODAY.com - Published




From Columbus to Confederates, Anger About Statues Boils Over

From Virginia to New Mexico, protests over police brutality have brought hundreds of years of American history bubbling to the surface.




NYTimes.com - Published





U.S. Supreme Court clears way for pipeline to cross Appalachian Trail

Ruling against environmentalists, the U.S. Supreme Court on Monday decided that the federal government has the authority to allow a proposed $7.5 billion natural gas pipeline to cross under the popular..




Reuters - Published




Man charged with threatening to torch African American church in Virginia

A man from North Carolina was arrested on Friday on a charge of threatening to torch a predominantly African American church in Virginia after one of its ministers took part in a local prayer vigil for..




Reuters - Published





Protesters topple another Confederate statue in Virginia state capital

Protesters toppled a statue of the president of the Confederacy in the Virginia state capital of Richmond late on Wednesday, the latest U.S. monument to be torn down during nationwide demonstrations..




Reuters - Published





George Floyd updates: Jefferson Davis statue toppled in Virginia; Donald Trump lashes out at Seattle; TV show 'Live PD' canceled

One of four officers charged in Floyd's death posts bail. LAPD opens 56 investigations into excessive force, misconduct: Latest George Floyd updates.




USATODAY.com - Published




Trump rejects removing names of Confederate leaders from US bases

WASHINGTON: President ruled out renaming that are named for Confederate leaders on Wednesday even as banned the from its races and Democrats sought the removal from Capitol Hill of statues of people..




WorldNews - Published





NASCAR bans Confederate flag; Wallace to drive with #BlackLivesMatters livery

NASCAR banned the Confederate flag on Wednesday from all events, and Bubba Wallace, the only African American driving in the NASCAR Cup Series, will use a #BlackLivesMatter livery on his car for a race..




Reuters - Published





Christopher Columbus Statues in Boston and Virginia Are Damaged

The incidents, in Boston's North End and Richmond, Va., came as protesters angered by the death of George Floyd have targeted monuments that they see as symbols of white supremacy.




NYTimes.com - Published





U.S. protesters topple Columbus statue and throw it in a lake

Anti-racism protesters in Virginia tore down a statue of Christopher Columbus on Tuesday night in Byrd park in Richmond, then draped it in a burning flag and dumped it in a lake, images of the incident..




Reuters - Published





Richmond Columbus statue toppled & thrown in lake

A statue of Christopher Columbus in Richmond, Virginia was torn down by demonstrators, set on fire and then thrown into a lake. Protesters spoke of the struggles of Native Americans, saying they began..




USATODAY.com - Published





Virginia judge blocks governor's demand to pull down Confederate statue

A judge in Richmond, Virginia, on Monday issued a 10-day injunction against Governor Ralph Northam's decision to remove a statue of Confederate General Robert E. Lee from the city, according to the..




Reuters - Published





Man who drove into Virginia protest is KKK leader, prosecutor says

Virginia prosecutors said on Monday a man facing charges for driving his pickup truck into racial equality protesters is a local leader of the Ku Klux Klan.




Reuters - Published

Also reported by •NYTimes.com


KKK 'leader' charged for attack on Black Lives Matter protesters

A hate crime investigation is underway after a Virginia man allegedly drove his car into protesters.




BBC News - Published





'US requests UK assistance to obtain Prince Andrew testimony in Epstein probe'

US authorities have formally requested Prince Andrew answer questions as a witness in a criminal probe into sex offender Jeffrey Epstein, according to reports. The Department of Justice has submitted a..




WorldNews - Published





Confederate statue toppled by protesters in Virginia capital

RICHMOND, Va. — A small group of demonstrators toppled a statue of a Confederate general in the the former capital of the Confederacy late Saturday, following a day of largely peaceful protests in..




WorldNews - Published





Virginia governor banishes statue of Civil War General Lee

(Reuters) - Virginia Governor Ralph Northam, responding to widespread protests decrying racism after the death of a black man in police custody in Minneapolis, ordered on Thursday the removal of a..




WorldNews - Published

Also reported by •Reuters India •Reuters


Virginia governor Northam orders removal of iconic Robert Lee statue

Virginia's governor says a towering statue of Confederate Gen. Robert E. Lee will be removed as soon as possible from Richmond's Monument Avenue.  




USATODAY.com - Published





Robert E Lee statue: Virginia governor announces removal of monument

Virginia's governor says the monument to the Confederate general will be taken down in Richmond.




BBC News - Published





Virginia Governor Plans to Order Robert E. Lee Statue Removed

A statue of the Confederate general in Richmond is controlled by the state, but the city's mayor said he would propose a bill to remove additional Confederate monuments there.




NYTimes.com - Published





George Floyd Protests Reignite Debate Over Confederate Statues

Dozens came down after a white nationalist rally in Charlottesville, Va., in 2017. Protesters outraged over the death of Mr. Floyd are targeting some that remained.




NYTimes.com - Published





Where U.S. coronavirus cases are on the rise

Several southern U.S. states reported sharp increases in COVID-19 infections, with Alabama, South Carolina and Virginia all seeing new cases rise 35% or more in the week ended May 31 compared with the..




Reuters - Published





Egypt's ex-PM faces torture allegation in American's lawsuit

CAIRO: After his arrest in 2013 for documenting the deadliest crackdown on protesters in Egypt's modern history, Mohamed Soltan landed in a notorious prison where he says he was brutally tortured for..




WorldNews - Published





Glamorous dummies enforce pandemic safety at Michelin-starred Virginia restaurant

It's not your typical Michelin-starred feast experience, dining near life-size mannequins clad in glamorous 1940's style. It could be considered quite unconventional but then again, so is almost..




Reuters - Published





Bertha weakens to tropical depression after making landfall in South Carolina

Bertha, the second named storm this Atlantic hurricane season, has weakened to a tropical depression but was still expected to bring heavy rain and possibly life-threatening flash floods to parts of..




Reuters - Published





Northam admits error in beach visit without mask

Virginia Gov. Ralph Northam admitted he "was not prepared" and left his mask in his vehicle on Saturday when he was photographed with well-wishers during a visit to Virginia Beach. (May 26)  




USATODAY.com - Published





Virginia nurse lives on boat while helping New York battle the pandemic

By night, nurse Rachel Hartley is on the front line of the war against the coronavirus. By day, she rests on the sailboat that brought her from Virginia, wondering how she will explain it all to her..




Reuters - Published




20 hikers were rescued from flooding in popular Virginia hike trail, fire official says

Emergency crews rescued 20 hikers on a Virginia trail who had been trapped since Sunday evening due to flash flooding.




USATODAY.com - Published




Projecting normalcy, Trump leaves the White House to go golfing in Virginia

Golf courses in Virginia remained open under Governor Ralph Northam's stay-at-home orders.




USATODAY.com - Published





A family stopped to pick up trash bags during a drive. Inside was nearly $1 million in cash

A Virginia family found nearly $1 million in cash on the road while taking a drive to escape the boredom of coronavirus quarantine.  




USATODAY.com - Published





A Campaign Milestone: 'I Was Drugged and Raped,' Heard in a Candidate's Ad

A Democratic congressional candidate in Virginia is releasing a TV spot where she speaks candidly about assault, a new step in a political landscape altered by the #MeToo movement.




NYTimes.com - Published





Man who wore watermelon on head while stealing from convenience store arrested, police say

Virginia police arrested one suspect accused of stealing alcohol from a convenience store while wearing a hollowed-out watermelon on his head.




USATODAY.com - Published