Dominic Thiem
Austrian tennis player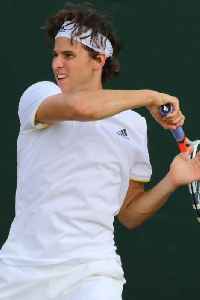 Dominic Thiem is an Austrian professional tennis player. His career-high ATP ranking in singles is world No. 3, which he first achieved on 2 March 2020, and in doubles is No. 67, which he achieved on 7 October 2019. He is the second-highest ranked Austrian player in history, behind former world No. 1 Thomas Muster. He has won 17 ATP Tour singles titles, including one Grand Slam title at the 2020 US Open where he came back from two sets down to defeat German Alexander Zverev in the final. With the win, Thiem became the first male player born in the 1990s to claim a Grand Slam singles title, as well as the first Austrian to win a US Open singles title. He had previously reached three other Grand Slam finals, losing at the 2018 and 2019 French Open to Rafael Nadal, and at the 2020 Australian Open to Novak Djokovic. Thiem was also the runner-up of the 2019 ATP Finals, where he lost to Stefanos Tsitsipas.


Dominic Thiem says he 'dedicated my whole life' to winning US Open

Dominic Thiem said he had "dedicated basically my whole life" to winning amajor, which he did by defeating friend and rival Alexander Zverev in NewYork. The Austrian beat Zverev in five sets after..
Credit: PA - Press Association STUDIO Duration: 00:47
Published
Thiem stages stunning comeback to win U.S. Open

Dominic Thiem produced a remarkable fightback to beat German fifth seed Alexander Zverev 2-6 4-6 6-4 6-3 7-6(6) to win the U.S. Open for the first time on Sunday. Gavino Garay reports.
Credit: Reuters - Politics Duration: 01:01
Published
You Might Like



Schwartzman Grinds Down Thiem In Five-hour Battle To Reach Semis

PARIS: Argentina's Diego Schwartzman outlasted Dominic Thiem in a brutal claycourt war of attrition to prevail 7-6(1) 5-7 6-7(6) 7-6(5) 6-2 and reach his first Grand Slam semi-final at the French..




WorldNews - Published





Thiem was 'over the limit' physically in five-hour defeat by Schwartzman

Dominic Thiem says he was "over the limit" physically during a five-hour defeat by Diego Schwartzman in the French Open quarter-finals.




BBC News - Published





French Open 2020: Rafael Nadal & Dominic Thiem cruise through Paris openers

Spain's 12-time winner Rafael Nadal and US Open champion Dominic Thiem move into the French Open second round with straight-set wins.




BBC News - Published





'I dedicated my whole life to this' - new US Open champion Thiem

US Open champion Dominic Thiem says his "whole life" has been dedicated to winning his maiden Grand Slam title.




BBC News - Published





Thiem beats Zverev to win US Open for first Grand Slam title

Dominic Thiem produced a historic comeback to beat Alexander Zverev in a nervy five-setter and win the US Open on Sunday for his first Grand Slam title. The second seeded Austrian beat the fifth seed..




WorldNews - Published





Dominic Thiem wins U.S. Open after losing first two sets

The 27-year-old from Austria became the first man in 71 years to win the U.S. Open after dropping the first two sets of the final.




CBS News - Published





Dominic Thiem outlasts Alexander Zverev, comes back from two sets down to win US Open and first Grand Slam title

Dominic Thiem wins 2-6, 4-6, 6-4, 6-3, 7-6 (6) to become the first player not named Roger Federer, Rafael Nadal or Novak Djokovic to win a Slam since 2014.




USATODAY.com - Published





Thiem fights back from two sets down to win maiden Grand Slam

Dominic Thiem clinches his first Grand Slam title after fighting back from two sets down to beat Alexander Zverev in the US Open final.




BBC News - Published





US Open men's final signals beginning of the end for tennis' Big Three of Djokovic, Federer and Nadal

Either Dominic Thiem and Alexander Zverev will win his first Grand Slam title in a U.S. Open final that could foreshadow the future of men's tennis.




USATODAY.com - Published





US Open 2020: Dominic Thiem and Alexander Zverev set for New York final

German fifth seed Alexander Zverev says "the two best players in the world" are contesting the US Open men's final when he plays second seed Dominic...




WorldNews - Published





Who will claim their first Grand Slam? Zverev & Thiem ready for US Open final

A first-time Grand Slam champion will be crowned at Flushing Meadows on Sunday - will it be Alexander Zverev or Dominic Thiem?




BBC News - Published





US Open men's final: Dominic Thiem vs. Alexander Zverev will produce a first-time Grand Slam champ

Dominic Thiem and Alexander Zverev face off in the first US Open final since 2014 that won't include Novak Djokovic, Rafael Nadal or Roger Federer.




USATODAY.com - Published





US Open 2020: Dominic Thiem overcomes Daniil Medvedev to reach final

Dominic Thiem will face Alexander Zverev in Sunday's US Open men's final after defeating Russia's Daniil Medvedev in a semi-final of high quality.




BBC News - Published





'They p****d me off' – Dominic Thiem explains furious on-court row with US Open organisers

Dominic Thiem was embroiled in a heated on-court row with US Open officials as he found himself stuck between sponsorship obligations and anti-doping rules. Thiem is sponsored by drinks brand Red Bull,..




WorldNews - Published





Birthday boy Dominic Thiem saunters past Sumit Nagal at US Open

It was a happy 27th birthday for Dominic Thiem as he eased to a straightforward win over India's Sumit Nagal in the second round of the US Open. The second seed has a good record in New York and is yet..




WorldNews - Published





'US Open poses extreme risk for players,' says Dominic Thiem

The US Open will be 'extremely risky' for players due to their proposed plans to limit the size of a team permitted to travel, says Dominic Thiem. The tournament is currently scheduled to go ahead..




WorldNews - Published





'Certain Opinions from Australia Very Unnecessary': Dominic Thiem Takes a Dig at Nick Kyrgios

World number three Dominic Thiem said on Monday tennis players "must learn" from the ill-fated Adria Tour and described Nick Kyrgios' criticism of those who took part as "unnecessary". Thiem played in..




WorldNews - Published





Thiem apologizes for playing in Djokovic's tennis event

VIENNA, Austria (AP) — Third-ranked tennis player Dominic Thiem apologized Thursday for taking part in an exhibition series hosted by Novak Djokovic in which four players tested positive for the..




WorldNews - Published





Novak Djokovic Advances to Final of 2nd Stage of his Exhibition Tournament in Croatia

World No.1 Novak Djokovic reached the final of his exhibition tournament in Zadar, Croatia, after easing through the round-robin group stage on the first day. This is the second stage of the Adria Tour..




WorldNews - Published





Three-times unlucky but Thiem edges closer to slam breakthrough

MELBOURNE – Dominic Thiem finished second-best for the third time in a Grand Slam final on Sunday, but the 26-year-old Austrian will leave Melbourne Park confident that he is not too far away from..




WorldNews - Published





Australian Open: Djokovic Pays Tribute To Kobe Bryant, Bushfires Victims

Novak Djokovic beat Austrian Dominic Thiem in five sets at the Rod Laver Arena to lift the Australian Open title a record extending eighth time. ......




WorldNews - Published





Djokovic puts down Thiem coup to win eighth Australian crown

Novak Djokovic endured a fierce challenge to his Melbourne Park reign before overhauling Dominic Thiem 6-4 4-6 2-6 6-3 6-4 in a thriller on Sunday to clinch an eighth Australian Open crown and reclaim..




Reuters - Published

Also reported by •France 24


Factbox: Australian Open champion Novak Djokovic

Factbox on Novak Djokovic, who beat Dominic Thiem 6-4 4-6 2-6 6-3 6-4 to claim a record-extending eighth Australian Open title on Sunday.




Reuters - Published





Novak Djokovic lands eighth Australian Open title and 17th Grand Slam

A look at how Novak Djokovic became a 17-time Grand Slam champion following his eight Australian Open triumph on Sunday. Djokovic battled back from two sets to one down to defeat Austria's Dominic..




WorldNews - Published





Novak Djokovic completes comeback vs. Dominic Thiem to win 8th Australian Open title

Novak Djokovic came back from down two sets to one vs. Dominic Thiem to win his record-extending eighth Australian Open championship.




USATODAY.com - Published





Australian Open: Novak Djokovic beats Dominic Thiem to win 17th Grand Slam

Novak Djokovic defends his Australian Open crown and wins a 17th Grand Slam by beating Dominic Thiem in a gripping five-set final.




BBC News - Published





Djokovic must 'go up a level' to beat Thiem and extend Melbourne record

Novak Djokovic must "go up a level" to beat Dominic Thiem and win an eighth Australian Open men's singles title, says Pat Cash.




BBC News - Published





Dominic Thiem edges Alexander Zvere to advance to Australian Open final

MELBOURNE, Australia — Locked in an even-as-can-be Australian Open semifinal, Dominic Thiem looked up at his guest box, patted his belly and stuck out his tongue, as if to indicate he was feeling..




WorldNews - Published





Thiem to face Djokovic in Australian Open final

Austria's Dominic Thiem will meet defending champion Novak Djokovic in the Australian Open final after beating Alexander Zverev.




BBC News - Published





Thiem looking to crash through bigger barriers after Nadal win

Having flirted with Grand Slam glory for a number of years, Dominic Thiem took another confident step toward a maiden major title by turning the tables on nemesis Rafa Nadal at the Australian Open on..




Reuters - Published





Nadal hails Thiem work after Grand Slam record bid dashed

Rafa Nadal paid the ultimate respect to his Australian Open conqueror Dominic Thiem on Wednesday, seeing something of himself in the hard-working Austrian after falling short in a quarter-final classic..




Reuters - Published





Thiem slays nemesis Nadal to reach Australian Open semi-finals

Dominic Thiem ended six years of Grand Slam frustration against Rafa Nadal on Wednesday with a seismic 7-6(3) 7-6(4) 4-6 7-6(6) upset that booked his maiden Australian Open semi-final and rocked the..




Reuters - Published




Rafael Nadal crashes out of Australian Open to Dominic Thiem

Dubai: Dominic Thiem caused a major upset in the quarter-finals of the Australian Open as he dumped out top seed and world No. 1 Rafael Nadalin four sets 7-6, 7-6, 4-6, 7-6. The Austrian youngster, 26,..




WorldNews - Published





Dominic Thiem upsets world No. 1 Rafael Nadal in Australian Open quarterfinals

Dominic Thiem upset world No. 1 and top-seeded Rafael Nadal in the quarterfinals of the Australian Open on Wednesday in five sets.




USATODAY.com - Published





Australian Open: Dominic Thiem stuns Rafael Nadal in four-set thriller

Spanish top seed Rafael Nadal is out of the Australian Open after Austria's Dominic Thiem wins a four-set thriller.




BBC News - Published





Wawrinka beats Medvedev in thriller, while Thiem also reaches last eight

Stan Wawrinka produces some of his best tennis to battle past fourth seed Daniil Medvedev and reach the Australian Open quarter-finals.




BBC News - Published





Australian Open: Rafael Nadal, Dominic Thiem, Daniil Medvedev, into third round

World number one Rafael Nadal reaches the third round of the Australian Open with a straight-set win over Federico Delbonis.




BBC News - Published





Tsitsipas beats Thiem in final-set tie-break to win ATP Finals title

A nerveless Stefanos Tsitsipas comes from a set down to beat Dominic Thiem and become the youngest winner of the ATP Finals in 18 years.




BBC News - Published





Tsitsipas, Thiem set up title match at ATP Finals

LONDON (AP) — The first time Dominic Thiem played at the ATP Finals, he was handed an unknown Greek teenager as a hitting partner in training. Three years later, Thiem is facing that same player in..




WorldNews - Published





Djokovic's hopes crushed as Federer serves up a masterclass

LONDON - Roger Federer lit up the O2 Arena with a dazzling 6-4 6-3 defeat of Novak Djokovic to hand the Serb an early ATP Finals exit and wreck his bid to end the year ranked number one on Thursday. In..




WorldNews - Published





Berrettini beats Thiem to become first Italian to win match at ATP Finals

Matteo Berrettini signed off from London's 02 by becoming the first Italian to win a match at the ATP Finals with a surprise victory over Dominic Thiem. The big-serving 23-year-old, beaten in his..




WorldNews - Published





ATP Finals: Matteo Berrettini beats Dominic Thiem in London round-robin

Matteo Berrettini claims a consolation victory at the ATP Finals as he beats Dominic Thiem in his final group match in London.




BBC News - Published





Thiem reaches ATP Finals semis as Djokovic and Federer face shoot-out

London: Dominic Thiem produced a scintillating display of attacking tennis to beat Novak Djokovic and qualify for the last four at the ATP Finals on Tuesday, leaving the Serbian facing a shoot-out..




WorldNews - Published





Federer beats Berrettini for first win of ATP Finals

Roger Federer got his ATP Finals campaign back on track with a straight-sets win over Matteo Berrettini. The six-time winner, beaten in his opening round-robin match by Dominic Thiem, needed a victory..




WorldNews - Published





ATP Finals: Federer Faces Early Exit, Djokovic Cruises

Roger Federer faces an uphill task to qualify for the last four of the ATP Finals after losing to Dominic Thiem on Sunday following a masterclass by Novak Djokovic. Six-time champion Federer was beaten..




WorldNews - Published





Federer up against it after Thiem defeat

Roger Federer said he had no more margin for error if he wanted to avoid an early exit at the ATP Finals after losing his opening group match to Dominic Thiem on Sunday. ......




WorldNews - Published





Tennis-Top seed Thiem outlasts Berrettini to reach first Vienna final

Top seed Dominic Thiem came back from a set down to earn a 3-6 7-5 6-3 victory over Italy's Matteo Berrettini on Saturday to advance to his first Vienna Open final. With the home crowd behind Thiem..




WorldNews - Published





Andy Murray loses to Dominic Thiem at China Open

BEIJING (AP) — Andy Murray's run at the China Open is over. The former No. 1, who had won consecutive singles matches for the first time since undergoing hip surgery in January, lost to top-seeded..




WorldNews - Published





Second-seed Thiem advances to Rogers quarterfinals with win over Cilic

MONTREAL — Second-seed Dominic Thiem has advanced to the quarterfinals of the Rogers Cup men's tennis tournament with a 7-6 (7), 6-4 win over Marin...




WorldNews - Published





Thiem wins Kitzbuehel title as 'childhood dream' comes true

Dominic Thiem won his 14th career ATP title and first in Austria when he beat Albert Ramos-Vinolas of Spain 7-6 (0), 6-1 at the Generali Open




USATODAY.com - Published