Palestinian National Authority
Interim government in Western Asia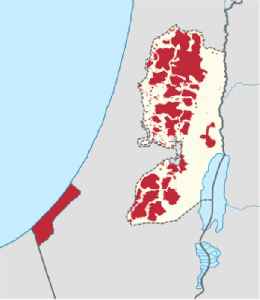 The Palestinian National Authority is the interim self-government body established in 1994 following the Gaza–Jericho Agreement to govern the Gaza Strip and Areas A and B of the West Bank, as a consequence of the 1993 Oslo Accords. Following elections in 2006 and the subsequent Gaza conflict between the Fatah and Hamas parties, its authority had extended only in areas A and B of the West Bank. Since January 2013, the Fatah-controlled Palestinian Authority uses the name "State of Palestine" on official documents.


PLO To Discuss Revoking Israel Recognition, Ending Security Coordination
Top Palestinian officials from the PLO Central Council (PCC) will convene in Ramallah on May 15 to discuss suspension of all relations with Israel, including vital security coordination between the..
WorldNews - Published
Arab League pledges $100 million to Palestinians, rejects Trump's 'deal'
Cairo - The Arab League has pledged to pay $100 million a month to the Palestinian Authority to plug the gap left when Israel blocked tax transfers earlier in the year. "We confirm that Arab countries..
WorldNews - Published
Palestinian Authority swears in new prime minister
Palestinian Authority President Mahmoud has sworn in a new prime minister but his appointment has been criticised by Hamas
Credit: euronews (in English) Duration: 00:50Published
New Palestinian Government Sworn In, Headed By Fatah Party Loyalist
According to a report by Reuters, on Saturday, Palestinian President Mahmoud Abbas swore in a new government headed by a loyalist from his dominant Fatah party, a move that roundly rejected by his..
Credit: Wochit News Duration: 00:45Published
Palestinian FM Al-Malki: Abbas Ready To Meet Netanyahu With No Pre-Conditions
The Jerusalem Post reports Palestinian Authority President Mahmoud Abbas is prepared to meet with Prime Minister Benjamin Netanyahu with no preconditions, PA Foreign Minister Riad Al-Malki said in an..
WorldNews - Published
Search this site and the web:
You Might Like