South Pole
Southern point where the Earth's axis of rotation intersects its surface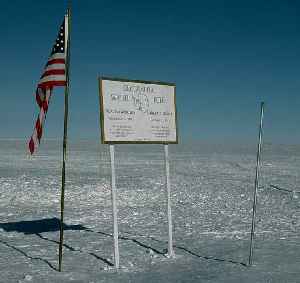 The South Pole, also known as the Geographic South Pole or Terrestrial South Pole, is one of the two points where Earth's axis of rotation intersects its surface. It is the southernmost point on the surface of Earth and lies on the opposite side of Earth from the North Pole.


This Spacecraft Will Land A Water-Hunting Rover On The Moon

A company has been selected to land the water-hunting NASA VIPER Rover on the moon. Astrobotic was chosen to deliver the volatiles investigating polar exploration Rover, or VIPER to the the South Pole..
Credit: Cover Video STUDIO Duration: 01:02
Published
You Might Like
Researchers discover record warming at the South Pole over the past 3 decades
The warming at the South Pole is linked to accelerating ice melt elsewhere in Antarctica, which could fuel more rapid rises in sea levels worldwide.
USATODAY.com - Published
Antarctica was home to rainforests 90 million years ago: Study
Researchers have unearthed evidence of rainforests near the South Pole 90 million years ago, a finding which suggests that the climate at this time was exceptionally warm with a higher level of carbon..
WorldNews - Published
Today in History for January 18th
Highlights of Today in History: Soviet Union breaks WWII Leningrad siege; Robert F. Scott reaches South Pole; Boston Strangler suspect Albert de Salvo convicted. (Jan. 18)  
USATODAY.com - Published
'See you around - in orbit': Chandrayaan-2's Vikram, Orbiter exchange fond wishes
"It was great travelling with you so far Vikram. Best of luck! I hope you reach the South Pole soon," the Lunar Orbiter says while releasing Lander Vikram.
DNA - Published
Expedition Antarctica
More than 30 years ago, Robert Swan became the first man to walk to both the North and South Poles. In 2017, he found himself back on the ice, trekking 600 miles across Antarctica with his son, Barney...
CBS News - Published
India successfully launches world's first mission to South Pole
After a technical snag that grounded Chandrayaan-2, India is all set for its take another attempt at its second Moon mission on July 22, 2019.
IndiaTimes - Published