Dennis Rodman
American basketball player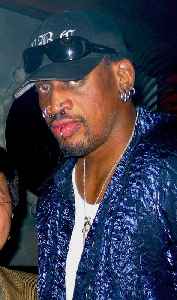 Dennis Keith Rodman is an American former professional basketball player. Nicknamed "the Worm", he is known for his fierce defensive and rebounding abilities. Rodman played for the Detroit Pistons, San Antonio Spurs, Chicago Bulls, Los Angeles Lakers, and Dallas Mavericks in the National Basketball Association (NBA).


You Might Like
Trump Mulled 'Using' NBA's Superstar Dennis Rodman as North Korea Envoy
US President Donald Trump and North Korea's Supreme Leader Kim Jong-un met several times in the last two years, and so did Dennis Rodman – former NBA player, who first visited North Korea in 2013..
WorldNews - Published
The 'fairy-tale' story of how Dennis Rodman went from unknown player to NBA legend
Dennis Rodman's origin story starts in Dallas and winds through a small Oklahoma town.
USATODAY.com - Published
'The Last Dance' takeaways: Dennis Rodman was allowed to party; without him, do Bulls win title?
Dennis Rodman has always been as colorful and unpredictable as his hair. "The Last Dance" illuminates that side but also his importance to the Bulls.
USATODAY.com - Published
Donald Trump sends birthday greetings to North Korea's Kim: Seoul
SEOUL: US President Donald Trump wished North Korea's Kim Jong Un a happy birthday, Seoul said on Friday -- with nuclear talks deadlocked and six years after former Chicago Bulls star Dennis Rodman..
WorldNews - Published
Dennis Rodman corrects 'For Better or Worse' doc over Madonna locker-room visit, Snipes' hair
We're sure Dennis Rodman will love his ESPN 30 for 30 film "Rodman: For Better or Worse," once he watches it. But first, some corrections.
USATODAY.com - Published
Dennis Rodman, who hangs with Trump and Kim, says Korea peace deal 'could still work'
Former U.S. basketball star Dennis Rodman, one of a handful of Westerners to have met North Korean head of state Kim Jong Un, and a friend of U.S. President Donald Trump, said on Monday he thought the..
Reuters - Published