Dennis Rodman
American basketball player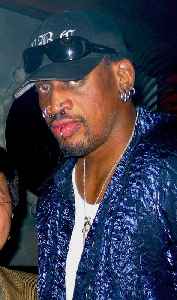 Dennis Keith Rodman is an American retired professional basketball player who played for the Detroit Pistons, San Antonio Spurs, Chicago Bulls, Los Angeles Lakers, and Dallas Mavericks in the National Basketball Association (NBA). He was nicknamed "The Worm" and is famous for his fierce defensive and rebounding abilities.


Dennis Rodman corrects 'For Better or Worse' doc over Madonna locker-room visit, Snipes' hair
We're sure Dennis Rodman will love his ESPN 30 for 30 film "Rodman: For Better or Worse," once he watches it. But first, some corrections.
USATODAY.com - Published
Dennis Rodman, who hangs with Trump and Kim, says Korea peace deal 'could still work'
Former U.S. basketball star Dennis Rodman, one of a handful of Westerners to have met North Korean head of state Kim Jong Un, and a friend of U.S. President Donald Trump, said on Monday he thought the..
Reuters - Published
Dennis Rodman says North Korea's Kim Jong Un "wants peace"
Rodman says Trump and Kim Jong Un can work out a deal
Credit: Reuters - Sports Duration: 01:09Published
NBA legend Dennis Rodman accused of randomly smacking man in face at Florida party
A police report obtained by the South Florida Sun Sentinel states that NBA legend Dennis Rodman "open hand smacked" a man at a party last week.
USATODAY.com - Published
Dennis Rodman accused of stealing 400-pound crystal, merchandise from yoga studio
A California yoga studio is claiming that former NBA star Dennis Rodman and a few acquaintances stole more than $3,500 in merchandise.
USATODAY.com - Published
Dennis Rodman wants to help Donald Trump win Nobel Prize with North Korea deal
Former NBA All-Star Dennis Rodman isn't in Vietnam for this week's nuclear summit, though he plans to follow up with "my good friend, Chairman Kim."
USATODAY.com - Published
Search this site and the web:
You Might Like