Justin Amash
U.S. Representative from Michigan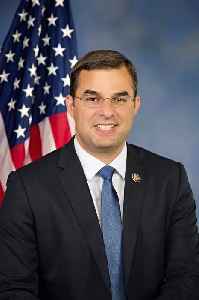 Justin Amash is an American attorney, businessman and politician serving as the U.S. Representative for Michigan's 3rd congressional district since 2011. A member of the Republican Party, his district is based in Grand Rapids and includes most of its suburbs, as well as Battle Creek.


Donald Trump Jr. threatens to help challenge against Rep., Justin Amash, who supports impeachment
Rep. Justin Amash replied to Donald Trump Jr.'s primary challenge threat by using a reference to emails from the Mueller investigation.
USATODAY.com - Published
House Oversight Panel Votes To Hold Barr, Ross In Contempt
The House Oversight and Reform Committee voted largely along party lines Wednesday to hold Attorney General William Barr and Commerce Secretary Wilbur Ross in contempt for failing to comply with..
WorldNews - Published
Trump Looks To Crush Justin Amash
GOP Rep. Justin Amash recently broke with his Republican colleagues and called for the impeachment of President Donald Trump. Trump is not happy with Amash. According to Politico, the president has..
Credit: Wochit News Duration: 00:42Published
Justin Amash Leaves House Freedom Caucus
GOP Rep. Justin Amash stepped down from the ultra-conservative House Freedom Caucus on Monday night. "I have the highest regard for them, and they're my close friends," Amash told CNN. "I didn't want..
Credit: Wochit News Duration: 00:38Published
Amash Quits Freedom Caucus
Congressman Justin Amash has quit the right leaning House Freedom Caucus. The move comes weeks after he became the lone Republican to call for President Donald Trump's impeachment. The Michigan..
Credit: Wochit News Duration: 00:42Published
US Voters Agree With GOP Rep. That Trump 'Committed Impeachable Offenses'
According to Business Insider, a majority of American voters agree with Republican Rep. Justin Amash that President Donald Trump "committed impeachable offenses" Amash is the first Republican lawmaker..
Credit: Wochit News Duration: 00:44Published
Justin Amash Says Many Republicans Agree With Him About Trump
Michigan Rep. Justin Amash said many of his Republican colleagues in Congress agree with his views on the special counsel Robert Mueller's report but won't say it publicly. "You wouldn't believe how..
Credit: Wochit News Duration: 00:33Published
GOP lawmaker stands by his call for impeachment
In his first town hall since calling the U.S. president's behavior impeachable, Republican Representative Justin Amash received a standing ovation from voters in his Michigan district.
Credit: Reuters Studio Duration: 01:33Published
Trump Rips Republican Justin Amash
WASHINGTON (Reuters) - Donald Trump lashed out on Sunday at the first Republican congressman to call the U.S. president's behavior impeachable, while Democrats warned Trump's stonewalling of..
Credit: Wochit News Duration: 00:37Published
Justin Amash leaves House Freedom Caucus
The Michigan Republican has become alienated in his own party
CBS News - Published
GOP Rep. Justin Amash leaves far-right Freedom Caucus he helped found
Amash was the first GOP lawmaker to call for Trump's impeachment, and he has been an outspoken libertarian voice during his four terms in Congress.
USATODAY.com - Published
Search this site and the web:
You Might Like