Takata Corporation
Former Japanese automotive supplier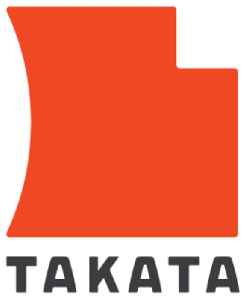 Takata Corporation
was a Japanese automotive parts company. The company had production facilities on four continents, with its European headquarters located in Germany, where it also had nine production facilities. In 2013, a series of deaths and injuries associated with defective Takata airbag inflators manufactured by their Mexican subsidiary in Coahuila led Takata to initially recall 3.6 million cars equipped with such airbags. Further fatalities caused by the airbags have led the National Highway Traffic Safety Administration (NHTSA) to order an ongoing, US-wide recall of more than 42 million cars, the largest automotive recall in U.S. history. In June 2017, Takata filed for bankruptcy. It was acquired by Key Safety Systems.
You Might Like
Thousands of Toyota, Mazda and Suzuki cars forced off the road in airbag recall
The car companies will buy back more than 18,000 vehicles equipped with a new type of deadly Takata airbags first discovered in BMW and Audi cars.
The Age - Published
Takata recalls 10 million U.S. replacement air bag inflators
Takata is recalling 10 million replacement air bag inflators in the United States, the largest ever auto safety recall in history, as U.S. regulators consider whether to make it even wider.
Reuters - Published
Takata airbag crisis worsens as ACCC warns of new safety risk affecting 78,000 cars
Popular cars made by Audi, BMW, Ford, Honda, Mazda, Mitsubishi, Suzuki and Toyota are believed to be equipped with another type of airbag inflator which may spray shrapnel when deployed in a crash.
The Age - Published
BMW urgently recalls 12,000 vehicles over airbag safety concerns
Some 12,000 BMW vehicles are being urgently recalled after transport safety authorities identified another Takata airbag that poses a critical risk of death or serious injury, the competition watchdog..
WorldNews - Published
'Do not drive these cars': New safety warning for vehicles with Takata airbags
The ACCC has issued an urgent safety alert for "critical" Takata airbags.
SBS - Published
'Should not be driven': Takata airbag danger raised to critical
A new "urgent recall" for about 20,000 Australian cars has been issued, including models from BMW, Holden, Honda, Mitsubishi and Toyota.
The Age - Published
191,000 Toyota Corolla, Toyota Matrix cars recalled to fix defective airbags
Toyota is recalling about 191,000 Corolla and Matrix cars to fix airbags that may have been damaged because of an earlier recall involving Takata.
USATODAY.com - Published
Honda recalling 1.6 million cars to replace Takata airbags. Is your car affected?
Honda is recalling 1.6 million cars to replace Takata airbags. The recall includes many Honda and Acura models from 2003 through 2015.
USATODAY.com - Published
Honda to recall 1.6M vehicles, finish Takata recalls early
DETROIT (AP) — Honda is recalling 1.6 million vehicles in the U.S. to replace potentially deadly Takata air bag inflators, completing its required recalls six months ahead of schedule, the automaker..
WorldNews - Published