Puerto Ricans
People from Puerto Rico or who identify as culturally Puerto Rican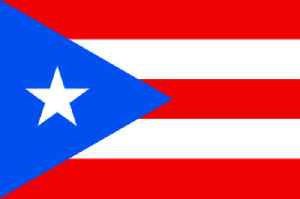 Puerto Ricans are the people of Puerto Rico, the inhabitants, and citizens of the Commonwealth of Puerto Rico, and their descendants. Puerto Rico is home to people of many different national origins as well.


Alert System Delays on Puerto Rico Raise Fears as Hurricane Dorian Skims Island
Puerto Ricans were spared a direct hit from Hurricane Dorian on Wednesday, but concerns linger over the island's emergency preparedness.
NYTimes.com - Published
Protests Are Still Erupting in Puerto Rico. This Time, It's Over Wanda Vázquez as Governor
Days after Ricardo A. Rosselló resigned as governor, Puerto Ricans were planning a march on Monday to demand accountability in the decision to replace him.
NYTimes.com - Published
Puerto Ricans worry political turmoil could further delay federal aid
The nonprofit All Hands and Hearts arrived here in January 2018, to fix roofs in the rural town where Hurricane Maria made its first, most damaging landfall. 
Reuters - Published
Former Governor Ricardo Rossellό isn't the only weight on Puerto Rico's freedom
For far too long, the rules have been written for Puerto Ricans, not by them. Congress must give Puerto Rico the self-determination we deserve.
USATODAY.com - Published
Late Ambulances, Leaking Roofs: Puerto Ricans on Why They Rose Up
As thousands protested in the streets, calling for the resignation of Gov. Ricardo A. Rosselló, Puerto Rican readers told us about the economic conditions fueling their anger at his leadership.
NYTimes.com - Published
Puerto Rico Protesters Get Creative: Dancing, Singing, Diving…
On kayak and horseback, in prayer and cacophony, Puerto Ricans have been venting their political frustrations in a host of unconventional ways in recent days. Here are some examples.
NYTimes.com - Published
Protests grow as Puerto Rico Gov. Ricardo Rosselló vows to stay in office
Hundreds of thousands of Puerto Ricans took to the streets of San Juan in what is believed to be the largest protests the island has seen. Protesters continue to demand that their embattled governor..
CBS News - Published
Puerto Ricans putting pressure on governor to resign
Protesters on the island of 3.2 million held what may be their largest demonstration Monday, demanding that Gov. Ricardo Rosselló step down amid government corruption
CBS News - Published
Puerto Ricans gather for protest to expel governor
Puerto Ricans gathered for one of the biggest protests ever seen in the US territory, as irate islanders pledged to drive Gov. Rosselló from office.  
USATODAY.com - Published
Also reported by •CBS News
'Too Many Years of Putting Up and Holding Back': Puerto Ricans Say They've Had Enough
Puerto Rico's capital has seen days of protests demanding the resignation of Gov. Ricardo A. Rosselló. But the anger goes well beyond the governor.
NYTimes.com - Published
Without more federal funds, 1.4M Puerto Ricans will face food aid cuts
"This isn't money that Puerto Rico is using for some vanity project. ... It's literally money for the most basic of needs"
CBS News - Published
You Might Like