University of Oxford
University in Oxford, United Kingdom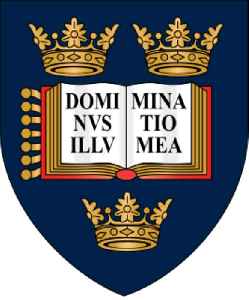 The University of Oxford is a collegiate research university in Oxford, England. There is evidence of teaching as early as 1096, making it the oldest university in the English-speaking world and the world's second-oldest university in continuous operation. It grew rapidly from 1167 when Henry II banned English students from attending the University of Paris. After disputes between students and Oxford townsfolk in 1209, some academics fled north-east to Cambridge where they established what became the University of Cambridge. The two 'ancient universities' are frequently jointly called 'Oxbridge'. The history and influence of the University of Oxford has made it one of the most prestigious universities in the world.


Rebecca Henderson: Posthumous degree for rucksack heart woman
Oxford University student Rebecca Henderson died in February from transplant complications.
BBC News - Published
Oxford Uni promises 25% of places to poor
University of Oxford wants a big increase in students from deprived areas in the next four years.
BBC News - Published
"Tolkien" looks at early years of "Lord of the Rings" writer
After entertaining fans with his fantastical world of hobbits, elves and orcs since "The Hobbit" and "The Lord of the Rings" stories were published, J.R.R. Tolkien himself is the subject of a new film...
Credit: Reuters Studio Duration: 02:01Published
Red Or Processed Meat Can Increase Bowel Cancer Risk
According to Reuters, a moderate consumption of red or processed meat increases the risk of bowel cancer. A new study from the University of Oxford's cancer epidemiology unit found a link between..
Credit: Wochit News Duration: 00:48Published
Oxford v Cambridge: The Boat Race previewed
A look ahead to the annual Boat Race as Oxford take on Cambridge in the battle on The Thames.
Credit: PA - Press Association STUDIO Duration: 00:54Published
Search this site and the web:
You Might Like