Russell Westbrook
American basketball player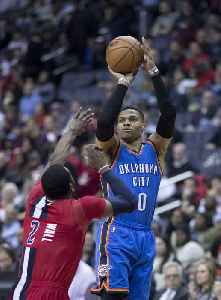 Russell Westbrook III is an American professional basketball player for the Oklahoma City Thunder of the National Basketball Association (NBA). He is an eight-time NBA All-Star, and a two-time NBA All-Star Game Most Valuable Player, winning consecutive awards in 2015 and 2016. He is also a seven-time All-NBA Team member and led the league in scoring in 2014–15 and 2016–17. In 2017, Westbrook became one of two players in NBA history to average a triple-double for a season, along with Oscar Robertson in 1962. He also set a record for the most triple-doubles in a season, with 42. He was subsequently named the 2016–17 NBA Most Valuable Player. He went on to average a triple-double the following two seasons also, as well as leading the league in assists and becoming the first player to lead the league in points and assists in multiple seasons.


'Dangerous' and 'unprofessional': NBA world reacts to Russell Westbrook's media approach
Russell Westbrook has been the topic of much conversation during these NBA playoffs, and for the most part, it hasn't been regarding his play.
USATODAY.com - Published
Damian Lillard sparks Blazers past Thunder as Russell Westbrook struggles
Damian Lillard scored 15 of his 24 in the third to help Portland take control, while Russell Westbrook went without a field goal in the second half.
USATODAY.com - Published
Will Russell Westbrook's Historic Night Be Remembered as Stat Padding?
On Tuesday night, Russell Westbrook became the second player in NBA history to record a 20-20-20 game and the first since Wilt Chamberlain in 1968. Does Westbrook actually deserve for his historic..
Credit: Sports Illustrated Duration: 01:59Published
Russell Westbrook Goes 20-20-20 In Honor Of Rapper Nipsey Hussle
Russell Westbrook completed the ultra-rare double triple-double Tuesday night, in a 119–103 Thunder win over the visiting Los Angeles Lakers. The counting stats are absurd: 20 points, 20 rebounds,..
Credit: Wochit News Duration: 00:35Published
What's Wrong With the Oklahoma City Thunder?
The Oklahoma City Thunder have fallen from third to eighth in the West after four straight losses. SI Now hosts Robin Lundberg and Amy Campbell discuss whether Russell Westbrook, Paul George and..
Credit: Sports Illustrated Duration: 01:15Published
Assessing Russell Westbrook's Verbal Altercation With a Utah Fan
In Oklahoma City's 98-89 win over the Utah Jazz on Monday night, Thunder guard Russell Westbrook got into a heated verbal exchange with a Utah fan. SI Now's Madelyn Burke and Amy Campbell weigh in on..
Credit: Sports Illustrated Duration: 02:10Published
Russell Westbrook Threatens Fan
(CNN)After making a threat against a fan, NBA star Russell Westbrook expressed no remorse for his words, saying he will "not continue to take disrespect" from fans. During Monday's game against the..
Credit: Wochit News Duration: 00:43Published
NBA Fans Need To Settle Down
NBA players have been getting in to altercations with fans all season. The trend continued this past week with Chris Paul and Russell Westbrook each having their own interactions with overzealous fans...
Credit: Sports Illustrated Duration: 02:56Published
Westbrook leads Thunder past Trail Blazers, 120-108
Russell Westbrook had 33 points and 11 assists and the Oklahoma City Thunder beat the Portland Trail Blazers 120-108 to cut their series deficit to 2-1
USATODAY.com - Published
Russell Westbrook out-duels Damian Lillard as Thunder beat Blazers to cut deficit to 2-1
Russell Westbrook (33 points) and Damian Lillard (32 points) put on a show in Game 3, with OKC prevailing 120-108 to cut the series deficit to 2-1
USATODAY.com - Published
Russell Westbrook in playoff offensive slump since 2016
Oklahoma City guard Russell Westbrook's playoff struggles against Portland are emblematic of his postseason issues going back to the 2016 playoffs.
USATODAY.com - Published
Lillard, Westbrook, Beverley playing with intensified edge
Damian Lillard, Russell Westbrook and Patrick Beverley always play with an edge, which has been intensified in the NBA playoffs
USATODAY.com - Published
Damian Lillard is taking apart Russell Westbrook and the Thunder
When you think of the best players in the NBA, it's a near-guarantee you'd name a bunch of other stars before you'd get to Damian Lillard.
USATODAY.com - Published
You Might Like