Qasem Soleimani
Iranian major general who commanded the Quds Force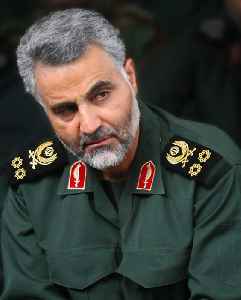 Qasem Soleimani was an Iranian major general in the Islamic Revolutionary Guard Corps (IRGC) and, from 1998 until his death in 2020, commander of its Quds Force, a division primarily responsible for extraterritorial military and clandestine operations. In his later years, he was considered by some to be the second most powerful person in Iran behind Ayatollah Khamenei and his right-hand man.


U.S. reducing troop numbers in Iraq

The military is downsizing its presence in Iraq from 5000 to 3200 troops, as the local military takes over security operations against remnants of the Islamic State militant group. Caroline Malone..
Credit: Reuters - Politics Duration: 01:23
Published
'China dreaming of Joe Biden': Donald Trump slams rival | US elections 2020

Donald Trump took potshots at his rival, Joe Biden, as Presidential elections in the United States of America loom closer. Trump, the serving President, said that US' traditional rivals like China and..
Credit: HT Digital Content Duration: 03:12
Published
You Might Like



Bahrain targeted by Iranian-backed 'terror attack'

Bahrain's Interior Ministry said it was targeted by an Iranian-backed terror plot, according to local media reports. "The Ministry of Interior managed to thwart a huge terrorist plot in the Kingdom..




WorldNews - Published





IRGC vows to revenge US assassination of General Soleimani

Tehran, Sept 19, IRNA – Commander of Islamic Revolution Guard Corps (IRGC) Major General Hossein Salami said on Saturday that Iran's revenge for the US assassination of General Soleimani is certain..




WorldNews - Published





Trump deceived into 'mother of all quagmires' by attack on Iran: FM Zarif

Iranian Foreign Minister Mohammad Javad Zarif has censured US President Donald Trump for threatening Tehran over an alleged assassination plot against an American diplomat. In a tweet late on Tuesday,..




WorldNews - Published





Teen hacker indicted for defacing at least 51 websites with pro-Iran propaganda

Two hackers, one an Iranian teenager, have been indicted for allegedly vandalizing at least 51 websites with pro-Iran sentiments. The unsophisticated attacks were, essentially, a hacktivist response to..




The Verge - Published





Iran warns US against 'strategic mistake' after Trump threat

Iran warned the US Tuesday against making a "strategic mistake" after President Donald Trump threatened Tehran over reports it planned to avenge the killing of top general Qasem Soleimani. ......




WorldNews - Published





Government assures US ambassador she is safe in SA after assassination plot claims

Durban - The South African government has assured the US ambassador based in Pretoria that she is safe. The government, through its Department of State Security, was responding to allegations that Lana..




WorldNews - Published





Iraqis Invoke 'Leaders of Victory' to Warn U.S.

KARBALA, Iraq (Dispatches) -- Iraqis have taken part in a march against the United States in the holy city of Karbala, carrying pictures of Iran's anti-terror commander General Qassem Soleimani, and..




WorldNews - Published





1/6: CBSN AM

Tehran vows revenge for death of Qassem Soleimani; Weinstein trial begins




CBS News - Published




Does Trump really want a new deal with Iran?

US President Donald Trump used his Republican party's convention speech on August 27 to shower himself with accolades on his foreign policy accomplishments, including in the Middle East. Trump..




WorldNews - Published





If Soleimani assassination happened to West, it would declare war: UN official

A UN special rapporteur, who has raised a firestorm by condemning the assassination of Iranian General Qassem Soleimani, has once again denounced the United States' sheer disregard for international..




WorldNews - Published





Qasem Soleimani: US strike on Iran general was unlawful, UN expert says

The US attack that killed top Iranian...




WorldNews - Published

Also reported by •BBC News


UN expert deems US drone strike on Iran's Soleimani an 'unlawful' killing

The January US drone strike in Iraq that killed top Iranian general Qassem Soleimani and nine other people represented a violation of international law, a UN human rights investigator said on Monday...




WorldNews - Published





Iran issues arrest warrant for Trump and 35 officials over top general Soleimani's killing

Tehran prosecutor Ali Alqasimehr said on Monday that Iran had issued an arrest warrant for the United States President Donald Trump and 35 others over the killing of his top general Qassem...




WorldNews - Published





Qasem Soleimani: Iran seeks Trump's arrest over killing of general

Iran issues an arrest warrant for the US president over the killing of its top commander in January.




BBC News - Published





Iran issues arrest warrant for Trump, asks Interpol to help

Iran has issued an arrest warrant and asked Interpol for help in detaining President Donald Trump and dozens of others it believes carried out the drone strike that killed a top Iranian general in..




WorldNews - Published





US pledges to reduce troops in Iraq in coming months

BAGHDAD - The United States said Thursday it would reduce troops in Iraq in the coming months as friction between the two countries eased under a new US-friendly premier in Baghdad. The United States..




WorldNews - Published





Iran says it will execute man convicted of spying on Soleimani for CIA

An Iranian who spied for U.S. and Israeli intelligence on slain Revolutionary Guards commander Qassem Soleimani has been sentenced to death, Iran said on Tuesday, adding the case was not linked to..




Reuters - Published




Iran to execute man who allegedly spied on US-slain general

Iran says it will execute a man convicted of allegedly providing information to the CIA and Israel about a prominent Iranian Revolutionary Guard general who was killed in an American drone strike in..




WorldNews - Published





Iran says it will execute informant who led CIA to Soleimani

An Iranian citizen who provided information to U.S. and Israeli intelligence services on the whereabouts of Iran's slain Revolutionary Guards commander Qassem Soleimani will be executed soon, Iran's..




Reuters - Published




Iran will execute CIA agent involved in commander Soleimani's killing: official

An Iranian citizen who provided information to U.S. and Israeli intelligence services on the whereabouts of Iran's slain top commander Qassem Soleimani will be executed soon, Iran's judiciary said on..




Reuters - Published




Iran changes tack in Iraqi politics after mastermind's assassination

Two diplomats are quietly leading Iran's push to influence politics in Iraq, in a departure from the more blunt enforcement employed by Qassem Soleimani, a top commander slain in a U.S. air strike.




Reuters - Published





Can Iraq's new PM, and the region, escape Suleimani's long shadow?

In late February, six weeks after the Iranian general Qassem Suleimani was killed by a US drone , a candidate for Iraq's vacant premiership was nervously preparing for an interview that would secure..




WorldNews - Published





Iraqi PM-designate to form committee probing Gen. Soleimani assassination: Group

Iraq's Kata'ib Hezbollah resistance group says Prime Minister-designate Mustafa al-Kadhimi has agreed to form a committee to probe the US assassination of Iran's top anti-terror commander General..




WorldNews - Published





US offers $10 million for information on Hezbollah leader

More than three months after the US killing of Iranian General Qassem Soleimani, the US has offered a huge reward for details on Mohammad Kawtharani, the Lebanese Hezbollah boss who has partially..




WorldNews - Published

Also reported by •Reuters


Iran general visits Baghdad, tries to forge political unity

BAGHDAD (AP) — A top Iranian general arrived in Baghdad this week to try and unify Iraq's fractured political leaders, Iraqi officials said Wednesday, as stiff opposition by one major bloc thwarts..




WorldNews - Published





Fractures grow among Iraq militias, spell political retreat

In February, an Iraqi militia commander trained by Iran took over the empty office of his slain superior, Abu Mahdi al-Muhandis, killed weeks before alongside Iranian military mastermind Qassem..




Reuters - Published




Rouhani pretends Iran defeated the US, without actually doing anything

Iranian President Hassan Rouhani needs to find a feather to put in his cap after failures to confront the coronavirus have left millions of Iranians vulnerable. His response: We've done everything..




WorldNews - Published





German MPs file complaint against Merkel govt. for complicity in Soleimani assassination

Eight German lawmakers from the country's Left Party have filed a criminal complaint against German Chancellor Angela Merkel and her government for complicity in Washington's assassination of top..




WorldNews - Published





To preserve Shi'ite power in Iraq, Iran-backed groups turn to renegade cleric

When the grip of Iraq's Tehran-backed Shi'ite Muslim parties and militias threatened to slip following the killing of Iranian general Qassem Soleimani, they turned to an unpredictable rival.




Reuters - Published





Iran's Zarif: We were close to war with US after Soleimani assassination

Iranian Foreign Minister Mohammad Javad Zarif said that the US and Iran "were very close to a war" in an interview with NBC on Friday on the sidelines of the 2020 Munich Security Conference. He..




WorldNews - Published





Killing of Iranian commander will bring liberation of Jerusalem: Guards spokesman

The killing of top Iranian commander Qassem Soleimani will lead to the liberation of Jerusalem, the spokesman for the elite Revolutionary Guards said on Thursday, according to the Tasnim news agency.




Reuters - Published




Senate poised to pass bill curbing Trump's war powers with Iran after Soleimani strike, but a veto is likely

The Senate is expected to approve a resolution in the coming days that would restrict President Donald Trump's ability to wage war with Iran.




USATODAY.com - Published





In A Post-Truth And -Expert Era, Is America On A Nuclear Collision Course With Iran?

Article by WN.Com Correspondent Dallas Darling News reports that the Trump administration almost started World War III based on questionable evidence should shake the most ignorant out of their..




WorldNews - Published





Tehran-backed Hezbollah steps in to guide Iraqi militias in Soleimani's wake

Shortly after Iranian Major General Qassem Soleimani was killed in a U.S. drone strike in Iraq, the Tehran-backed Lebanese organization Hezbollah urgently met with Iraqi militia leaders, seeking to..




Reuters - Published




Slain commander Soleimani sought stability: Iranian president

Qassem Soleimani, the Iranian military commander killed in a U.S. drone strike on Jan. 3 in Baghdad, had sought to bring stability to the Middle East, Iranian President Hassan Rouhani said on Monday.




Reuters - Published




Maj. Gen. Qassim Suleimani, who led Iran's Quds force before he died in a targeted killing ordered by President Trump, "directed the December assault on United States Forces in Iraq, and was actively planning new attacks."




NYTimes.com - Published




In death, Iran's Soleimani bequeaths perilous dilemma for Iraq

BAGHDAD (Reuters)- - A month after a U.S. missile killed him, Qassem Soleimani looms as large over Iraq's fractured democracy as he ever did alive.




Reuters - Published




Iraq says it resumes anti-Islamic State operations with U.S. coalition

Iraq's military said on Thursday it was resuming operations with the U.S.-led coalition against Islamic State, which it had halted after the killing of Iranian General Qassem Soleimani by U.S. forces..




Reuters - Published




'Another endless war'? House to vote on curbing Trump's ability to strike Iran, other targets

The House votes will renew the heated debate over President Trump's decision to authorize a strike killing Iranian Gen. Qasem Soleimani.




USATODAY.com - Published