Georgia (country)
Country in the Caucasus region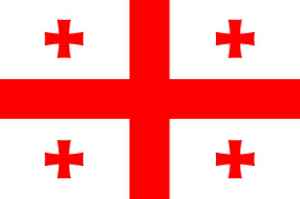 Georgia, known until 1995 as the Republic of Georgia, is a country in the Caucasus region of Eurasia. Located at the crossroads of Western Asia and Eastern Europe, it is bounded to the west by the Black Sea, to the north by Russia, to the south by Turkey and Armenia, and to the southeast by Azerbaijan. The capital and largest city is Tbilisi. Georgia covers a territory of 69,700 square kilometres (26,911 sq mi), and its 2017 population is about 3.718 million. Georgia is a unitary parliamentary republic, with the government elected through a representative democracy.


Putin says he does not want Russia to impose sanctions on Georgia
Russian President Vladimir Putin said in televised comments on Tuesday that he did not support a parliamentary call to impose tough economic sanctions on Georgia.
Reuters - Published
Russian parliament calls for sanctions on 'unfriendly' Georgia
The Russian parliament on Tuesday unanimously backed a resolution urging the government to draw up tough economic sanctions against Georgia, a move that would sharply escalate a political crisis..
Reuters - Published
Russian and Georgian delegations meet for first time since Tbilisi protests
Representatives of Russia and Georgia have met for the first time since mass anti-Russian protests in the Georgian capital Tbilisi last month. Around 240 people were hurt as protesters tried to..
Credit: euronews (in English) Duration: 03:14Published
Georgia, Russia post-conflict dividing lines split communities
Explore human cost of lines that Russia has drawn inside neighbouring Georgia.
Credit: Al Jazeera STUDIO Duration: 02:38Published
Georgia-Russia tensions: Donald Tusk criticises flight ban
A tourist authority official told us that hotel occupancy rates are down by 80 percent. If the flight ban from Russia continues, the Georgian economy is really going to suffer.
Credit: Al Jazeera STUDIO Duration: 02:25Published
Georgia: Russian flight ban could cost $300m, experts say
Georgia's economy is facing a difficult summer after Russian President Vladimir Putin's decision to ban flights between Russia and Georgia.
Credit: Al Jazeera STUDIO Duration: 02:57Published
Thousands protest in Georgia calling for an end to Russian occupation
Thousands took the streets of the Georgian capital Tbilisi to call for an end to Russian occupation and for the interior minister to step down
Credit: euronews (in English) Duration: 01:00Published
Georgia's president calls for "de-escalation" after unrest
Georgia and Russia have blamed each other for the outbreak of protests and unrest in Tbilisi which was sparked by the visit of a Russian MP to Georgia's parliament.
Credit: euronews (in English) Duration: 02:54Published
Thousands gather for protest in Georgia after night clashes with police
Demonstrations continued on Friday in the Georgian capital, Tbilisi, after a coalition of opposition parties in Georgia demanded the interior minister's resignation, the release of protesters detained..
Credit: Reuters Studio Duration: 00:48Published
Dozens injured in clashes outside Georgia parliament
Thousands of angry protesters storm Georgia's parliament building on Thursday only to meet with riot police and tear gas. The scenes in Tbilisi, the Georgian capital, flared up suddenly after public..
Credit: Reuters Studio Duration: 01:41Published
Search this site and the web:
You Might Like