Tower of London
A historic castle on the north bank of the River Thames in central London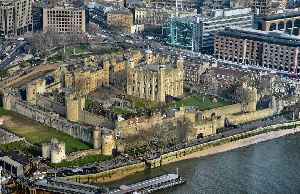 The Tower of London, officially Her Majesty's Royal Palace and Fortress of the Tower of London, is a historic castle located on the north bank of the River Thames in central London. It lies within the London Borough of Tower Hamlets, separated from the eastern edge of the square mile of the City of London by the open space known as Tower Hill. It was founded towards the end of 1066 as part of the Norman Conquest of England. The White Tower, which gives the entire castle its name, was built by William the Conqueror in 1078 and was a resented symbol of oppression, inflicted upon London by the new ruling elite. The castle was used as a prison from 1100 until 1952, although that was not its primary purpose. A grand palace early in its history, it served as a royal residence. As a whole, the Tower is a complex of several buildings set within two concentric rings of defensive walls and a moat. There were several phases of expansion, mainly under Kings Richard I, Henry III, and Edward I in the 12th and 13th centuries. The general layout established by the late 13th century remains despite later activity on the site.


The Tulip: Sadiq Khan rejects plans for City of London's tallest skyscraper
Sadiq Khan has rejected plans for a 1,000ft-high skyscraper named "The Tulip" in the centre of London. The mayor overruled a decision to grant planning permission for the project after concerns..
WorldNews - Published
Tower of London welcomes first raven chicks in 30 years
According to legend, the Tower of London will crumble if six ravens are not based there.
BBC News - Published
Raven chicks born at Tower of London for first time in 30 years
Huginn and Muninn's chicks arrived on St George's Day
Independent - Published
What happens to Dominic Cummings now he has been found in contempt of parliament?
Analysis: The Vote Leave chief failed to attend a select committee hearing but, as John Rentoul explains, he will not be thrown into the Tower of London
Independent - Published
Search this site and the web:
You Might Like