Sub-Saharan Africa
Area of the continent of Africa that lies south of the Sahara Desert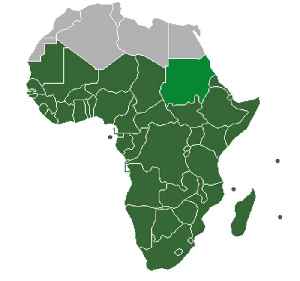 Sub-Saharan Africa is, geographically, the area of the continent of Africa that lies south of the Sahara. According to the United Nations, it consists of all African countries that are fully or partially located south of the Sahara. It contrasts with North Africa, whose territories are part of the League of Arab states within the Arab world. The states of Somalia, Djibouti, Comoros and the Arabic speaking Mauritania are however geographically in sub-Saharan Africa, although they are members of the Arab League as well. The UN Development Program lists 46 of Africa's 54 countries as "sub-Saharan," excluding Algeria, Djibouti, Egypt, Libya, Morocco, Somalia, Sudan and Tunisia.


Facebook Removes Fake Content Run By Israeli Firm To Influence Foreign Politics
An Israeli company's attempt to influence foreign politics by promoting accounts and pages, along with other content on Facebook and Instagram, has resulted in 265 of its pages removed from social..
WorldNews - Published
Search this site and the web:
You Might Like