Great Plains
Broad expanse of flat land west of the Mississippi River and east of the Rocky Mountains in the United States and Canada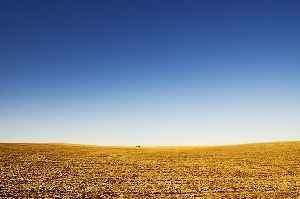 The
Great Plains
is the broad expanse of flat land, much of it covered in prairie, steppe, and grassland, that lies west of the Mississippi River tallgrass prairie in the United States and east of the Rocky Mountains in the U.S. and Canada. It embraces:
The entirety of the U.S. states of Kansas, Nebraska, North Dakota, and South Dakota
Parts of the states of Colorado, Montana, New Mexico, Oklahoma, Texas, and Wyoming
The southern portions of the Canadian provinces of Alberta, Manitoba, and Saskatchewan
Severe weather threatens millions in central U.S.
The Central and Southern Plains are bracing for severe weather and tornadoes from a major storm system. CBS News weather producer David Parkinson joined CBSN with the latest forecast.
CBS News - Published
New storm threatening millions of Americans
Nearly a dozen confirmed tornadoes have touched down across the Southern Plains over the weekend. So far, no one has died, but these storms are destroying nearly everything in their path. Jeff..
CBS News - Published
Tornado Alley: US Has More Twisters Than The Rest Of The Entire World
Over 1,200 tornadoes strike American soil each year. That's four times as many twisters as the rest of the world combined. According to Business Insider, the US has more tornadoes than anywhere else in..
Credit: Wochit News Duration: 00:44Published
Midwest Snowstorms Could Slow Down Spring Flooding
The newest batch of Midwest snow could improve some flood situations in the short term. Damage from floodwaters has already cost billions.
Credit: Newsy Studio Duration: 01:14Published
Bomb Cyclone Blasts Through Great Plains, Stoking Fears Of More Flooding
Reuters reports a "bomb cyclone" blizzard swept out of the Rockies into the Great Plains on Wednesday. Warm spring temperatures on Tuesday gave way to heavy snow, gale-force winds and..
Credit: Wochit News Duration: 00:37Published
Blizzards And Floods Threaten US Plains And Midwest Region
Reuters reports that Blizzards and windstorms are headed to the US Plains and Midwest states. The powerful storms are expected to hit the region on Wednesday and Thursday. The weather front also brings..
Credit: Wochit News Duration: 00:43Published
Search this site and the web:
You Might Like