Pink Floyd
English rock band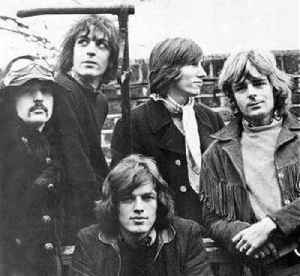 Pink Floyd were an English rock band formed in London in 1965. Gaining a following as a psychedelic rock group, they were distinguished for their extended compositions, sonic experimentation, philosophical lyrics and elaborate live shows, and became a leading band of the progressive rock genre. They are one of the most commercially successful and influential bands in popular music history.


You Might Like
Londoners rally for Julian Assange ahead of extradition hearing
Pink Floyd rock group co-founder Roger Waters and Greece's former finance minister Yanis Varoufakis were among those marching in support of Julian Assange.
SBS - Published
Roger Waters of Pink Floyd joins Assange supporters in London protest march
Hundreds of people including Roger Waters, co-founder of the Pink Floyd rock group, and designer Vivienne Westwood, marched through central London on Saturday demanding that jailed Wikileaks founder..
Reuters - Published
Cambridge's 'Pink Floyd' pub Flying Pig saved from demolition
The Cambridge pub was under threat for a decade but a petition of 14,000 signatures helped save it.
BBC News - Published
Roger Waters: "Another Brick in the Wall"
A founding member of Pink Floyd, rock legend Roger Waters kicked off his solo "Us + Them Tour" in Kansas City on May 26, with a rousing rendition of "Another Brick in the Wall," from the classic album,..
CBS News - Published
Today in History for September 6th
Highlights of this day in history: President William McKinley shot in Buffalo, N.Y.; Funeral held for Britain's Princess Diana; Mother Teresa mourned in India; Movie director Akira Kurosawa dies; Roger..
USATODAY.com - Published
Rich get richer, everyone else not so much in record U.S. expansion
Last month Pink Floyd frontman David Gilmour sold his guitar collection for $21.5 million, including one piece - his famed "Black Strat" Fender Stratocaster - that went for nearly $4 million to the..
Reuters - Published
Colts owner Jim Irsay sets auction record by spending $3.975 million for David Gilmour guitar
Pink Floyd guitarist David Gilmour put instruments up for bid to benefit environmental organization ClientEarth, and Colts owner Jim Irsay paid up.
USATODAY.com - Published
AP Top Stories June 14 P
Here's the latest for Friday June 14th: Trump accuses Iran of oil tank attacks; Brazilians begin general strike to protest pension reform; Amanda Knox attends festival in Italy and Pink Floyd guitarist..
USATODAY.com - Published
David Gilmour's Pink Floyd guitars at auction in NYC
David Gilmour of the seminal rock band Pink Floyd will be auctioning off more than 120 guitars through Christie's auction house in New York City on June 20. (June 14)  
USATODAY.com - Published
"Black Strat" played by legendary Pink Floyd guitarist David Gilmour heads to auction
"CBS This Morning" got a first look at the most essential guitar from Pink Floyd's David Gilmour, who Rolling Stone calls one of the greatest guitarists of all time. Gilmour is selling more than 120 of..
CBS News - Published