Antarctic Peninsula
Peninsula located in northern Antarctica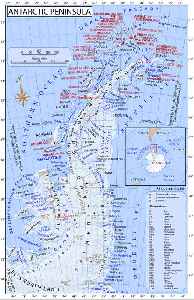 The Antarctic Peninsula, known as O'Higgins Land in Chile and Tierra de San Martin in Argentina, and originally as the Palmer Peninsula in the US and Graham Land in the United Kingdom, is the northernmost part of the mainland of Antarctica.


Why Antarctica's Coast Is Developing Even More Green Algae

Every summer, algal blooms blanket parts of the Antarctica Peninsula's coast. Now, researchers say those blooms are likely to expand as climate change continues and Earth becomes progressively warmer...
Credit: Wochit News Duration: 00:35
Published
Climate change turns Antarctica's snow green

Warming temperatures due to climate change are helping the formation and spread of "green snow" visible from space, according to new research led by Dr Matt Davey from Cambridge University. Rosanna..
Credit: Reuters Studio Duration: 02:02
Published
You Might Like
Search this site and the web: