Minnesota Twins
Baseball team and Major League Baseball franchise in Minneapolis, Minnesota, United States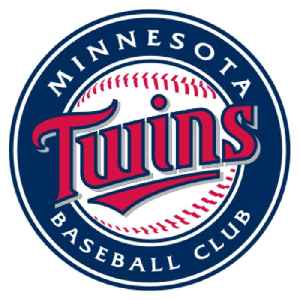 The Minnesota Twins are an American professional baseball team based in Minneapolis, Minnesota. The team competes in the Central division of the American League (AL), and is named after the Twin Cities area comprising Minneapolis and St. Paul. The franchise won the World Series in 1924 as the Washington Senators, and in 1987 and 1991 as the Twins. The franchise moved from Washington, D.C. to Minnesota at the start of the 1961 season.


Verlander dominates Twins in Astros' 7-1 win
Justin Verlander pitched eight dominant innings, and Carlos Correa, Michael Brantley and Josh Reddick all homered to lead the Houston Astros to a 7-1 win over the Minnesota Twins
USATODAY.com - Published
Solid start by Gibson helps Twins beat Orioles 4-3 for sweep
Kyle Gibson pitches 6 sharp innings, Willians Astudillo drives in 2 runs, Minnesota Twins beat Baltimore Orioles 4-3 for 3-game sweep
USATODAY.com - Published
Rosario hits 2 HRs as Twins beat Orioles 6-5 in DH opener
Eddie Rosario homered twice for a second consecutive game, Byron Buxton hit a tiebreaking two-run double in the sixth inning and the Minnesota Twins beat the Baltimore Orioles 6-5 in the opener of a..
USATODAY.com - Published
Orioles, Twins rained out; doubleheader Saturday
The Baltimore Orioles' game against the Minnesota Twins was rained out and rescheduled as part of a doubleheader Saturday starting at 4:05 p.m. EDT
USATODAY.com - Published
Grichuk, Smoak, Hernandez hit HRs, Blue Jays top Twins 7-4
Randal Grichuk, Justin Smoak and Teoscar Hernandez hit home runs and the Toronto Blue Jays beat the Minnesota Twins 7-4
USATODAY.com - Published
Cruz drives in 2 to help Odorizzi, Twins beat Blue Jays 4-1
Cruz drives in 2 to help Odorizzi, Twins top Blue Jays 4-1 after rain-delayed start
USATODAY.com - Published
Hernandez leads Blue Jays to 6-5 win over Twins
Toronto's Teoscar Hernandez delivered the go-ahead hit for the second straight night as the Blue Jays topped the Minnesota Twins by a 6-5 final Tuesday.
USATODAY.com - Published
Pals from Rays days, Montoyo, Baldelli face off for 1st time
Pals from Rays days, rookie managers Montoyo, Baldelli face off for 1st time in Jays-Twins game
USATODAY.com - Published
You Might Like