Birmingham
Major city in the English Midlands, 2nd highest population of a UK city.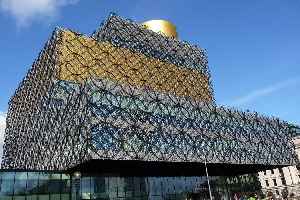 Birmingham is a city and metropolitan borough in the West Midlands, England. It is the second-largest city, urban area and metropolitan area in England and the United Kingdom, with roughly 1.1 million inhabitants within the city area, 2.9 million inhabitants within the urban area and 4.3 million inhabitants within the metropolitan area and lies within the most populated English district. Birmingham is commonly referred to as the second city of the United Kingdom.


Sheffield Utd team arrives at Aston Villa for Premier League returns

Sheffield United arrive to Birmingham for Premier League return against Aston Villa following a three-month COVID-19 hiatus.
Credit: Reuters - Sports Duration: 04:53
Published
Hundreds attend Black Lives Matter rally in Birmingham

Hundreds of people have attended a Black Lives Matter protest in central Birmingham today, following several protests in London this week - in response to the killing of George Floyd in Minneapolis...
Credit: ODN Duration: 02:32
Published
Taxi driver records racist abuse in Birmingham

Taxi driver Abid Mustafa suffered a racist tirade of abuse at the hands of a passenger in Birmingham, on Friday May 15, and recorded what happened to share with his bosses. The footage has now been..
Credit: PA - Press Association STUDIO Duration: 01:07
Published
Street artist creates Covid-19 mural in Birmingham

A stunning mural titled 'Forward in Unity' by renowned street artist Gent 48 has been unveiled in Digbeth, Birmingham. The piece, aiming to immortalise the return of community spirit in Birmingham..
Credit: PA - Press Association STUDIO Duration: 01:00
Published
Birmingham resident asks if Covid-19 'is real' during street party

A chief constable has issued a "don't be an idiot" warning ahead of the bank holiday weekend after his officers were forced to break up a 100-strong street party. Footage of people gathering in..
Credit: PA - Press Association STUDIO Duration: 01:05
Published
Cricket players will need more mental health support, says coach Upton

Paddy Upton believes the coronavirus lockdown has been traumatic for many cricketers and teams will have to change their approach to mental health when the game resumes.
Credit: Reuters - Sports Duration: 05:54
Published
British-based artist creates quarantine flipbook

Artist based in the UK draws flipbook to send his love to everyone struggling during coronavirus outbreak
Credit: Reuters - Viral Video Duration: 01:14
Published
UK bean bag firm produces NHS PPE

A bean bag and soft furnishing manufacturer is helping to produce and dispatch PPE to NHS and healthcare staff. Birmingham firm Loft 25, along with Green Lane Mosque and hundreds of volunteers, have..
Credit: PA - Press Association STUDIO Duration: 00:57
Published
You Might Like



How a high street has been changed by coronavirus

Many of the independent businesses in a Birmingham suburb are not sure when they will open again.




BBC News - Published





Birmingham taxi driver beaten by fare-dodging passenger

Video shows the driver being repeatedly struck in the face by the assailant, who then walks away.




BBC News - Published





Birmingham wall collapse deaths: Prosecution decision delayed

Relatives of migrant workers killed in a wall collapse say it feels like their lives do not matter.




BBC News - Published





100 days of lockdown: Birmingham doctor recalls 'fear'

Staff at City Hospital in Birmingham recall the 100 days since lockdown began.




BBC News - Published





UK weather: Rain, wind and flood warnings bring heatwave to an end

Yellow weather warnings have been issued in Staffordshire, Birmingham, Warwickshire, Loughborough and Nottingham




Independent - Published





Police officer under investigation for the Tasering of a Birmingham man

A West Midlands Police officer is under investigation for the Tasering of Trevaile Wyse in Birminham back in Feburary 2020, which he says was excessive, and has damaged his health.




BBC News - Published





Phoenix Netts: Birmingham cemetery searched in investigation

The Birmingham site is being examined as part of the inquiry into the death of Phoenix Netts.




BBC News - Published





West Brom go top despite being held by Birmingham

West Bromwich Albion go back to the top of the Championship table despite being held to a goalless draw by Birmingham City.




BBC News - Published





Lee Longlands store in administration due to lockdown

Lee Longlands' first furniture shop opened in Birmingham in 1932 and it has been trading ever since.




BBC News - Published





Anti-HS2 campaigners begin week-long protest

Extinction Rebellion and Stop HS2 protesters will walk the rail line's route from Birmingham to London.




BBC News - Published





Commonwealth Games: Birmingham stadium closure forces local athletes to train elsewhere

Athletes are upset at having to find a new home after the early closure of Birmingham's Alexander Stadium to prepare for the 2022 Commonwealth Games.




BBC News - Published





Women pushed in Birmingham canal by gang on bikes

Sophie Watson is one of at least two women shoved into the water near Birmingham university.




BBC News - Published





Footage shows West Midlands Police officer dispersing crowd with baton

Three police officers were injured after responding to a house fire in Small Heath, Birmingham.




BBC News - Published





Coronavirus: Dame Julie Walters appeal helps Warley Woods

The Birmingham-born actress urges the local community to support her childhood park.




BBC News - Published





Car fire blocks Birmingham Queensway tunnel

About 50 cars were trapped inside the tunnel during Wednesday's fire in Birmingham.




BBC News - Published





Safe thrown from window during Birmingham raid

About £27,000 is discovered in the safe during the raid on a house in Birmingham.




BBC News - Published





Coronavirus: Birmingham bodybuilder's road to recovery

Bodybuilder Simon Fan was on a ventilator in hospital for three weeks after being struck down by Covid-19.




BBC News - Published





Coronavirus: Birmingham tips reopening leads to long queues

Police are called to manage the traffic at the tips, which the council said was planned in advance.




BBC News - Published





Coronavirus: Birmingham funeral staff 'spat at' by mourners

The six-person limit at funerals angered mourners who abused staff, the council says.




BBC News - Published





Coronavirus: Birmingham midwives' volunteer army to the rescue

Thousands of washable uniform bags have been made and donated by the public after an online appeal.




BBC News - Published





Gossip: Man Utd lead chase for Bellingham, Everton consider Grealish move

Manchester United want 16-year-old Birmingham midfielder, Everton consider move for Jack Grealish, plus more.




BBC News - Published





Birmingham care staff face running out of PPE 'in two weeks'

Birmingham City Council Leader Ian Ward says supplies are "running desperately low".




BBC News - Published





Prince William opens new UK emergency COVID-19 hospital

Prince William, the grandson of Queen Elizabeth, has opened an emergency COVID-19 hospital built in just eight days in the exhibition centre of Britain's second city, Birmingham.




Reuters - Published





Covid-19: Prince William opens Birmingham's Nightingale Hospital

The Duke of Cambridge opens the Birmingham site saying "hospitals are about the people and not the bricks".




BBC News - Published





Women jailed for 'disgusting' attack in Birmingham city centre

The 20-year-old victim has been left with "lasting brain damage", West Midlands Police say.




BBC News - Published





Coronavirus 5G conspiracy theory fuels arson attacks across Britain

A wireless tower was set ablaze in Birmingham on 2 April. The next day, a fire was reported at 10pm at a telecommunications box in Liverpool. An hour later, an emergency call came in about another..




WorldNews - Published





Birmingham care home nurse dies of suspected Covid-19

Elsie Sazuze fell ill at her Birmingham home before being taken to hospital where she later died.




BBC News - Published





Coronavirus: 'Lives at risk' in Birmingham over food plans

A lack of government clarity is blamed by a council after coronavirus millions are spent twice over.




BBC News - Published





Coronavirus: Edgbaston Cricket Ground to become NHS staff test centre

The Edgbaston site in Birmingham will become a drive-through centre for NHS workers.




BBC News - Published





Coronavirus: Birmingham man charged over 'I hope all NHS die' call

Matthew Wain allegedly called Birmingham City Hospital and said "I hope the staff die of coronavirus".




BBC News - Published





Coronavirus: Birmingham and Manchester temporary hospitals announced

The facilities in Manchester and Birmingham are in addition to one being built in London's Docklands.




BBC News - Published





UK approves two new temporary hospitals in Birmingham and Manchester

Britain will build a further two hospitals to handle coronavirus patients, the head of England's publicly funded National Health Service (NHS) said on Friday.




Reuters - Published




Man injured in stab attack as shots fired in Birmingham street

Streets in Northfield, Birmingham, have been sealed off after a man was stabbed multiple times.




BBC News - Published





Birmingham artist MrASingh helps create Worcester elephant trail

Colourful fibre-glass creatures will be dotted around Worcester to support a local hospice.




BBC News - Published





Birmingham killers got takeaway after James Teer shotgun murder

James Teer was shot at point-blank range in front of friends in a Birmingham street.




BBC News - Published





Jude Bellingham: Who is Birmingham City teenager linked with Borussia Dortmund?

He does not turn 17 until June, but Jude Bellingham has been linked with some of Europe's biggest clubs since forcing his way into Birmingham's first team.




BBC News - Published





Orphaned sea otters begin new life in Birmingham

The orphaned creatures have started a new life in Birmingham after their 4,500-mile trip.




BBC News - Published





Duck left behind in Birmingham shop by thieves

"Policing is a strange thing at times," said the officers who recovered the bird.




BBC News - Published





Murderer stabbed man in Birmingham then went to drive-thru

Haseeb Mirza stabbed Malik Hussain to death before heading to a drive-thru to buy food, the court heard.




BBC News - Published





Birmingham Irish I am: 'St Patrick's Day - best day of my life'

A BBC Four documentary tells the story of Birmingham's Irish population through people's memories and rare archive footage.




BBC News - Published





Guildford and Birmingham pub bomb families 'need classified IRA file'

Twenty six people died when the IRA blew up pubs in Guildford and Birmingham more than 45 years ago.




BBC News - Published





University of Birmingham's Old Joe has 7,000 Twitter followers

Old Joe - the world's largest freestanding clock tower - is at the heart of Birmingham university.




BBC News - Published





Brexit Day: Birmingham children try to explain it all

Children at Featherstone Primary School give their views on what they think Brexit is all about.




BBC News - Published





Chancellor set to back HS2 rail project despite push for cost cutting

Javid to 'broadly back' line from London to Birmingham, Manchester and Leeds




Independent - Published





HS2: Chancellor Sajid Javid 'backs project' ahead of crucial meeting

It is understood the chancellor will tell Boris Johnson he supports the London to Birmingham rail link.




BBC News - Published





Economic anxiety vies with 'Brexit fatigue' as UK's Birmingham readies to leave EU

Birmingham voted for Brexit by a trifling margin in 2016, defying the narrative that ethnically mixed, economically buoyant cities don't want to leave the EU. Ahead of the UK's departure from the..




France 24 - Published





Hall Green burglar 'walked over dead body' during raid

Jean Whitmore died of natural causes days before Carl Port raided her Birmingham home.




BBC News - Published





Fire at African Village restaurant in Perry Barr

Eyewitness footage shows flame ripping through the Birmingham venue's roof.




BBC News - Published





Three Snowhill Birmingham: 4,000 BT staff to move to new office

The move will make the telecommunications giant one of Birmingham's biggest employers.




BBC News - Published





Birmingham Islamic school 'segregated' boys and girls

Boys at Redstone Academy enjoy school more because "they are treated favourably", inspectors say.




BBC News - Published