Chief Justice of India
Presiding officer of the Supreme Court of India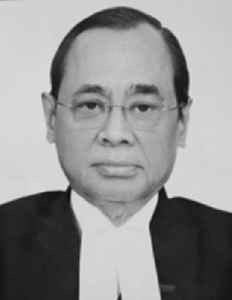 The Chief Justice of India (CJI) is the head of the judiciary of India and the Supreme Court of India. The CJI also heads their administrative functions.


Report on larger conspiracy against CJI will take time
There's no deadline for Justice Patnaik to file a report, they pointed out. His probe will be comprehensive and will cover in detail all the material that has so far come out regarding the..
IndiaTimes - Published
In letter to PM Modi, CJI seeks removal of Allahabad HC judge
A three-judge in-house committee, comprising Madras High Court Chief Justice Indira Banerjee, Sikkim High Court Chief Justice S K Agnihotri and Madhya Pradesh High Court's Justice P K Jaiswal, had in..
DNA - Published
CJI Ranjan Gogoi writes to Narendra Modi, seeks to augment the strength of judges in Supreme Court
Of the three letters, in his second one, CJI Ranjan Gogoi urged Narendra Modi to consider bringing a constitutional amendment to increase the retirement age of high court judges from 62 to 65 years.
Firstpost - Published
CJI Ranjan Gogoi sends PM Modi reminder on ouster of HC judge
IndiaTimes - Published
In three letters to PM Modi, CJI Gogoi suggests steps to clear backlog of cases
CJI said there was a pendency of 58,669 cases in the top court and the number was increasing due to filing of more fresh cases.
DNA - Published
Raise SC strength, retirement age of HC judges, CJI Gogoi asks PM Modi
To tackle the huge backlog of over 43 lakh cases in the Supreme Court and high courts, Chief Justice of India Ranjan Gogoi, in two letters to Prime Minister Narendra Modi, has requested top priority..
IndiaTimes - Published
Independence of judiciary not one time pill, says CJI Ranjan Gogoi at SCO conference
While emphasizing on dire need to develop and nurture leadership in Judiciary, he said, every nation aspire for an independent judicial system and independence is the very soul of a functioning..
DNA - Published
You Might Like