Mississippi
State in the United States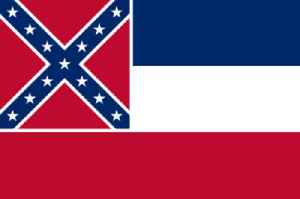 Mississippi is a state located in the Deep South region of the United States. Mississippi is the 32nd largest and 34th-most populous of the 50 U.S. states. Mississippi is bordered to the north by Tennessee, to the east by Alabama, to the south by the Gulf of Mexico, to the southwest by Louisiana, and to the northwest by Arkansas. Mississippi's western boundary is largely defined by the Mississippi River. Jackson is both the state's capital and largest city. Greater Jackson, with an estimated population of 580,166 in 2018, is the most populous metropolitan area in Mississippi and the 95th-most populous in the United States.


Hurricane Sally makes landfall on Alabama's Gulf Coast

[NFA] The slow-moving storm brought winds of up to 105 miles per hour and threatened devastating rainfall. This report produced by Zachary Goelman.
Credit: Reuters - Politics Duration: 00:52
Published
Sally could bring historic flooding to U.S. Gulf coast

[NFA] The slow-moving storm threatened low-laying areas with up to two feet of rain and nine-foot storm surges. This report produced by Zachary Goelman.
Credit: Reuters - Politics Duration: 01:21
Published
Sally, now a hurricane, threatens U.S. Gulf coast

Parts of Louisiana and Mississippi were under evacuation orders on Monday, as slow-moving Sally strengthened to a hurricane with landfall expected as early as Tuesday. Gavino Garay reports.
Credit: Reuters Studio Duration: 01:55
Published
Innocent Mississippi Man Who Spent Decades Behind Bars Is Finally Free

Mississippi man Curtis Flowers was tried for the same 1996 quadruple murder six times. He spent nearly two dozen years behind bars and was sentenced to death four times. Now, Curtis Flowers is..
Credit: Wochit News Duration: 00:40
Published
Hurricane Laura could cause 'unsurvivable storm surge'

[NFA] Hurricane Laura was expected to cause catastrophic damage and "unsurvivable storm surge" to the Gulf Coast near the Texas and Louisiana border after strengthening on Wednesday to a Category 4..
Credit: Reuters - Politics Duration: 02:16
Published
Rescued Florida endangered sea turtle finds new home in Mississippi

"We're excited that he's going to be able to teach people about sea turtles and show people how cool sea turtles are."
Credit: ABC Action News Duration: 00:58
Published
New data predicts 300,000 U.S. deaths by Dec

Nearly 300,000 Americans could be dead from COVID-19 by Dec. 1, University of Washington health experts forecast on Thursday, although they said 70,000 lives could be saved if people were scrupulous..
Credit: Reuters - Politics Duration: 01:52
Published
Besides Lacking Beds, Eleven US States Face Critical Shortage Of ICU Medical Professionals

As COVID-19 infections surge, health care professionals across the US are struggling to keep up with the demand for personal protective equipment. But according to UPI, a new report reveals that in 11..
Credit: Wochit News Duration: 00:34
Published
You Might Like



Mississippi marinas dodge mass losses, devastation

Mississippi marinas spared as Alabama and Florida docks ripped apart and boats sunk, beached or missing. (Sept. 17)  




USATODAY.com - Published





Hurricane Sally makes landfall in Alabama

Hurricane Sally made landfall Wednesday morning near Gulf Shores, Alabama, as a Category 2 storm, bringing torrential rain over a coastal storm surge that forecasters said would cause dangerous floods..




USATODAY.com - Published





Hurricane Sally worries Mississippi gator ranch

Hurricane Sally has water on the rise at an alligator ranch in Mississippi. (Sept. 16)  




USATODAY.com - Published





Hurricane Sally Is a Slow-Moving Threat. Climate Change Might Be Why.

Forecasters warn of storm surges and devastating floods from Sally, which is unleashing a deluge in Mississippi and Alabama. Scientists say climate change contributed to the storm's power.




NYTimes.com - Published





Mississippi governor declares state of emergency as Hurricane Sally approaches

Hurricane Sally is expected to make landfall Tuesday night or Wednesday in the southern states of Mississippi, Alabama and Louisiana. Manuel Bojorquez reports from Biloxi, Mississippi.




CBS News - Published





Live Hurricane Sally Updates and Tracker

Officials in Mississippi and Louisiana urged people to prepare, warning of flash floods and strong winds. "This is the real deal," Mississippi's governor said.




NYTimes.com - Published





Hurricane Sally bears down on U.S. Gulf Coast

Parts of Louisiana and Mississippi are being warned to expect huge storm surges as Hurricane Sally closes in on the Gulf Coast. CBS News meteorologist and climate specialist, Jeff Berardelli, joins..




CBS News - Published





Hurricane hits Bermuda as more storms forecast

Hurricane Paulette hits Bermuda whilst TS Sally is forecast to bring torrential rain and coastal flooding to Louisiana and Mississippi.




BBC News - Published





Tropical Storm Sally strengthens in the Gulf

The storm poses a "very significant threat" when it hits land this week, bringing "life-threatening" storm surge from Louisiana to the Mississippi/Alabama border.




CBS News - Published

Also reported by •NYTimes.com


Sally roars through Gulf, forecast to strengthen to hurricane before striking coast

Sally is forecast to make landfall as a hurricane somewhere between southeastern Louisiana and the Mississippi-Alabama border.




USATODAY.com - Published




Contraband-laden drone caught in prison net

A drone carrying marijuana, cigarette lighters and cellphones got caught up in a net above a Mississippi prison fence, resulting in the arrest of two men. (Sept. 10)  




USATODAY.com - Published





Activist brings awareness through hip-hop, poetry

Activist and rapper Genesis Be helped ignite a nationwide conversation around symbols of racism that eventually led to her home state of Mississippi to retire its flag. (Sept 8)  




USATODAY.com - Published





After 6 Murder Trials and Nearly 24 Years, Charges Dropped Against Curtis Flowers

Mr. Flowers had faced the possibility of a seventh trial in the quadruple-murder case from Mississippi.




NYTimes.com - Published




Mississippi AG drops case against Curtis Flowers, a Black man who was tried 6 times for same crime

Mississippi's Attorney General Office is dropping its case against Curtis Flowers, a Black man who was tried six times for the same crime.




USATODAY.com - Published




Kanye West Files Paperwork To Appear On KY, MS Ballots For President

Kanye West's bid to appear on the ballot for president in Kentucky and Mississippi is in the works ... but he's not reached the finish line just yet. The Kentucky Secretary of State's Office says Kanye..




TMZ.com - Published





Mississippi to vote on magnolia design to replace flag's Confederate emblem

Mississippi residents will vote on the new flag motif on November 3.




CBS News - Published





8/8: CBSN AM

Massive immigration raid in Mississippi. Nearly 700 undocumented workers arrested at agricultural processing plants. Sharon Tate's Murder: 50 years later. Famed actress and four others killed by..




CBS News - Published





A magnolia may replace Confederate symbols on new Mississippi state flag

This summer, lawmakers voted to remove Mississippi's previous flag, which contained the Confederate battle flag.




USATODAY.com - Published





New Mississippi state flag: Commission has made its final selection, now it's up to voters

Earlier this summer, lawmakers voted to remove Mississippi's previous flag, which contained the Confederate battle flag.  




USATODAY.com - Published





Mississippi state flag, Fort Hood leadership change, Thunder-Rockets: 5 things to know Wednesday

Proposed design for new Mississippi state flag to be unveiled, new leadership at Fort Hood amid investigation and more things to start your Wednesday.




USATODAY.com - Published





Remembering Emmett Till on the 65th anniversary of his death

It's been 65 years since Emmett Till, a Black teenager, was brutally killed by two White men after he was accused of whistling at a White woman in Mississippi. As part of the CBSN special "The Power of..




CBS News - Published





At least six killed as Hurricane Laura thrashes Louisiana

One of the strongest hurricanes ever to strike the US, Laura barreled across Louisiana today, shearing off roofs, killing at least six people and maintaining ferocious strength while carving a..




WorldNews - Published





Today in History for August 28th

Highlights of this day in history: Martin Luther King, Jr. gives his 'I Have a Dream' speech; Clashes mar the 1968 Democratic National Convention in Chicago; Black teen Emmett Till abducted and killed..




USATODAY.com - Published




Down to 2: New Mississippi flag designs showcased

As Mississippi replaces its former flag that had the Confederate battle emblem, five designs were literally run up a flagpole Tuesday. A group then narrowed the choice to two designs: One with a shield..




USATODAY.com - Published





The shield or the magnolia? Here are the final two options for the new Mississippi state flag

The commission will meet again on Sept. 2 to pick a winner. The public will vote on whether to accept the final design in November.




USATODAY.com - Published




Mississippi residents on alert ahead of storms

Gov. Tate Reeves on Saturday urged Mississipi residents to be on alert as two tropical storms, Laura and Marco, are expected to hit the state in coming days. (Aug. 22)  




USATODAY.com - Published





Transcript: Governor Tate Reeves on "Face the Nation"

The following is a transcript of an interview with Mississippi Governor Tate Reeves that aired Sunday, August 16, 2020, on "Face the Nation."




CBS News - Published





Mississippi governor defends state's ability to handle in-person voting

Mississippi Governor Tate Reeves said the state can safely carry out November's election without universal mail-in voting.




CBS News - Published





3 Mississippi Police Officers Charged With Murder of Black Man

A grand jury indictment accused the officers of pulling George Robinson, 62, from his car in Jackson, Miss. last year, slamming him head first into the pavement, and striking and kicking him in the..




NYTimes.com - Published





Fiery biodiesel facility explosion causes home evacuations in Miss.

An explosion at a biodiesel facility in New Albany, Miss., caused a voluntary evacuation overnight for homes near the plant. No one was hurt in the explosion, but the blast is under investigation...




CBS News - Published





Massive explosion rocks Mississippi fuel plant

Flames could be seen for miles from a huge explosion at a bio-diesel plant in Jackson, Miss. Nobody was hurt in the blast, and firefighters let the fire burn itself out, saying it was too dangerous to..




CBS News - Published





Mississippi man who created mosquito-themed state flag says it was a joke

Many were surprised the flag had advanced to a second round.




CBS News - Published





Mississippi's next state flag could have featured a giant mosquito. 'It's their state,' designer says.

Thomas Rosete created the Mosquito Flag as a joke, but it briefly appeared to have made it to the second round of 147 designs.




USATODAY.com - Published




Jay-Z, Yo Gotti Demand Strict COVID Testing at MS Prison, Claim Alarming Stats

Jay-Z, Yo Gotti and their social justice team allege Mississippi's infamous Parchman prison is coming up way short in protecting inmates from COVID-19 ... and stats prove it. Team's ROC's lawyers filed..




TMZ.com - Published





Coronavirus live updates: Russia says it has a vaccine for COVID-19; Big Ten, other football conferences grapple with halting fall season

Russia officially registers a vaccine. Mississippi lawmakers return to work after outbreak. Virus updates.




USATODAY.com - Published





116 students quarantined after start of school in Mississippi town

Each day this week, Corinth School District has reported an uptick in coronavirus cases in its schools.




CBS News - Published





Mississippi reports highest number of COVID-19 cases per capita

Mississippi led the nation in COVID-19 cases per capita Wednesday as the state's largest, most specialized hospital is overrun with patients. In neighboring Louisiana, a community is mourning a..




CBS News - Published





Coronavirus ravages Mississippi Indian reservation

As confirmed coronavirus cases skyrocket in Mississippi, the state's only federally recognized American Indian tribe has been devastated. COVID-19 has ripped through Mississippi Band of Choctaw Indian..




USATODAY.com - Published





'Insulin or groceries': How reduced unemployment affects struggling Americans from California to Mississippi

Experts warn that the GOP's efforts to cut enhanced unemployment benefits will have dire effects for more than 25 million out-of-work Americans.




USATODAY.com - Published





Healthcare provider severs ties with Mississippi prisons

Violence, understaffing, and a deteriorating infrastructure have plagued the prison system.




CBS News - Published





New kind of 'barber shop talk': Mississippi barbers get mental health training to aid Black communities

The barber's chair may just be the new therapy couch for parts of the mental-health-care-deprived South.




USATODAY.com - Published




Charles Evers, Businessman and Civil Rights Leader, Dies at 97

Galvanized by the assassination of his brother, Medgar, he helped transform Mississippi politics, running for Congress, becoming a mayor and gaining wide attention.




NYTimes.com - Published





US Army-funded 'research project' quietly tracked mobile phone movements at Russian military sites & govt buildings – media

Mobile devices used by personnel at Russian military sites, government premises and foreign embassies in Moscow were reportedly shadowed by researchers who used commercially available software as part..




WorldNews - Published





As a Flag Comes Down, Looking for a 'New Mississippi'

Much of Mississippi galvanized around the effort to remove the state flag. Residents now want to seize on the momentum created by the triumph.




NYTimes.com - Published





Mississippi virus numbers worsen

Mississippi's leading state health officials forgets to keep mask on while urging state residents to keep their masks on at news conference; Experts say things are not normal and the coronavirus case..




USATODAY.com - Published





Many Mississippi lawmakers opted not to wear masks at the Capitol. Now, 26 have COVID-19.

After flouting recommendations to wear a mask inside the Capitol in recent weeks, about one in six lawmakers have tested positive for the coronavirus.




USATODAY.com - Published