Pulitzer Prize
U.S. award for achievements in newspaper and online journalism, literature, and musical composition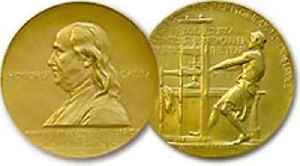 The Pulitzer Prize is an award for achievements in newspaper, magazine and online journalism, literature, and musical composition in the United States. It was established in 1917 by provisions in the will of American (Hungarian-born) Joseph Pulitzer who had made his fortune as a newspaper publisher, and is administered by Columbia University in New York City. Prizes are awarded yearly in twenty-one categories. In twenty of the categories, each winner receives a certificate and a US$15,000 cash award. The winner in the public service category of the journalism competition is awarded a gold medal.


Parkland Students Bask in Pulitzer Mention: 'They Took Us Seriously'
The Eagle Eye student newspaper at Marjory Stoneman Douglas High School did not win a Pulitzer Prize. But it got unexpected recognition for its coverage of a mass shooting.
NYTimes.com - Published
Backstory - From a dusty town to a flowing river: how Reuters photographers won a Pulitzer
From the dusty town in Honduras where thousands are fleeing violence to the currents of the Rio Grande, Reuters photographers walked, waded and flew to capture images of thousands of Central American..
Reuters - Published
Aretha Franklin Awarded Historic Pulitzer Prize
The legendary singer died in Aug. 2018 at the age of 76.
Credit: Newsy Studio Duration: 00:56Published
Pulitzer Prizes Awarded To Reuters Journalists
According to Reuters, two jailed journalists won the Pultizer Prize for their international reporting. The Pulitzer administrator announced that one award is for an investigative report that revealed..
Credit: Wochit News Duration: 00:39Published
California Today: Why Gas Prices Are Spiking
Tuesday: Buckle up for a volatile summer in gas prices; catch up on Pulitzer Prize-winning journalism; and see how Stephen Curry ranks arena popcorn
NYTimes.com - Published
Associated Press, New York Times, Boston Globe, and Miami Herald among Pulitzer winners
The AP, The New York Times, The Washington Post, The Boston Globe and The Wall Street Journal are among the institutions that won Pulitzers in 2019.
USATODAY.com - Published
Aretha Franklin wins 2019 Pulitzer Prize for contributions to music, culture
The Queen of Soul was awarded a 2019 Pulitzer Prize for her 'indelible contributions' to American music and culture
USATODAY.com - Published
Jailed Reuters reporters, U.S. border photographers win Pulitzer Prizes
Reuters won two Pulitzer Prizes on Monday, one for an investigative report that revealed the massacre of 10 Muslim Rohingya men by Buddhist villagers and Myanmar security forces, and one for..
Reuters - Published
You Might Like