Slobodan Milošević
Yugoslavian and Serbian politician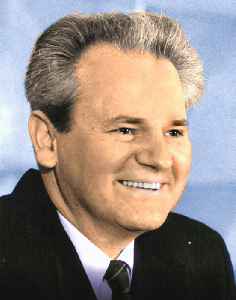 Slobodan Milošević was a Yugoslav politician and the President of Serbia from 1989 to 1997 and President of the Federal Republic of Yugoslavia from 1997 to 2000. He also led the Socialist Party of Serbia from its foundation in 1990. He rose to power as Serbian President after he and his supporters claimed the need to reform the 1974 Constitution of Yugoslavia due to both the marginalization of Serbia and its political incapacity to deter Albanian separatist unrest in the Serbian province of Kosovo.


In Passing
Astronaut Owen Garriott, Mirjana Markovic, married to Slobodan Milosevic and Ivor Broadis, England football international from Sir Stanley Matthews era.
The Age - Published
Mirjana Markovic, widow of Serbia's late strongman Milosevic, dies aged 76
Mirjana Markovic, the widow of Serbia's late strongman Slobodan Milosevic, who played an instrumental role in politics, has died aged 76, state-run RTS TV reported.
Reuters - Published
Kosovo commemorates the 20th anniversary of NATO bombing
The country's Prime Minister paid tribute to NATO for saving the lives of 'innocent people' as he laid a wreath as part of the anniversary event. Rough cut (no reporter narration)
Credit: Reuters Studio Duration: 01:08Published
Mira Markovic, Slobodan Milosevic's wife, dies at 76
Mira Markovic was a key figure during the collapse of Yugoslavia in the 1990s.
BBC News - Published
Search this site and the web:
You Might Like