Papua New Guinea
Constitutional monarchy in Oceania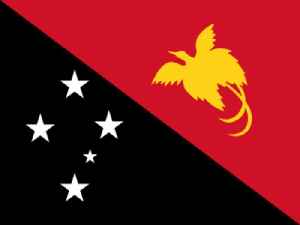 Papua New Guinea, officially the Independent State of Papua New Guinea, is an Oceanian country that occupies the eastern half of the island of New Guinea and its offshore islands in Melanesia, a region of the southwestern Pacific Ocean north of Australia. Its capital, located along its southeastern coast, is Port Moresby. The western half of New Guinea forms the Indonesian provinces of Papua and West Papua.


A meteor from another solar system may have hit Earth, and the implications are fascinating
(CNN)It could take humanity hundreds, if not thousands, of years to develop the capability to explore interstellar space. Until then, interstellar space can just come to us. A new study by two Harvard..
WorldNews - Published
Cassowary attack: giant bird kills owner in Florida after he fell
A cassowary – a large, flightless bird native to Australia and Papua New Guinea – has killed its Florida owner when it attacked him after he fell. The fire rescue department in Alachua county told..
WorldNews - Published
A Meteor From Another Solar System May Be Earth's First Interstellar Visitor
According to a report by CNN, a new study by two Harvard researchers reveals that the cosmos may have deposited its first interstellar visitor to Earth five years ago, when a small meteor crashed into..
Credit: Wochit News Duration: 00:57Published
One Dead After Shooting Outside Australia Nightclub, Three Injured
According to Reuters, police said that a drive-by shooting outside a nightclub in the Australian city of Melbourne inflicted "horrific injuries" that killed a security guard and wounded three men...
Credit: Wochit News Duration: 00:38Published
Winx Ends Career With 33rd Straight Win
(CNN)The Australian wonder-horse, Winx, racked up a 33rd straight win and a third consecutive Queen Elizabeth stakes in the final race of a remarkable career on Saturday. In doing so, the..
Credit: Wochit News Duration: 00:38Published
Elon Musk Has Been Accused Of An Altercation With Former Employee
Business Insider reports Tesla CEO Elon Musk was involved in an altercation with a former employee. Bloomberg News reported Friday that an employee returned to the company's office in September to say..
Credit: Wochit News Duration: 00:36Published
Australia's PM slams social media 'grubs' after Aussie Rules player abused
Australian Prime Minister Scott Morrison says the people who subjected Aussie Rules player Tayla Harris to online abuse are 'cowardly grubs'
Credit: Reuters - Sports Duration: 01:16Published
Australian Teenager Gets A Mural Honoring His Activism
According to Business Insider, the teenager who smashed an egg on the head of a far-right Australian senator has been honored with a mural in Melbourne. Senator Fraser Anning, an Australian politician,..
Credit: Wochit News Duration: 00:38Published
PM Jacinda Ardern Promises To Make her "Community Safer" With New Gun Laws
New Zealand Prime Minister Jacinda Ardern said on Monday she would announce new gun laws within days. Reuters reports the announcement comes days after two mass shootings killed 50 people in two..
Credit: Wochit News Duration: 00:37Published
New Zealand Rushes To ID Victims To Help Grieving Families
CNN reports New Zealand authorities are racing to identify the 50 people killed in a massacre at two mosques so that their families can bury them in accordance with Muslim tradition. In addition to the..
Credit: Wochit News Duration: 00:38Published
Hakeem Al-Araibi granted Australian citizenship after time in Thai prison
Refugee footballer Hakeem Al-Araibi is granted Australian citizenship and is presented with a pin by Prime Minister Scott Morrison.
Credit: Reuters - Sports Duration: 01:05Published
SEC Claims Musk Is In Contempt Of Court
According to Business Insider, the SEC alleged that Tesla CEO Elon Musk is in contempt of court. The Securities and Exchange Commission added that two recent tweets violated a settlement with Tesla and..
Credit: Wochit News Duration: 00:40Published
Search this site and the web:
You Might Like