National Weather Service
United States weather agency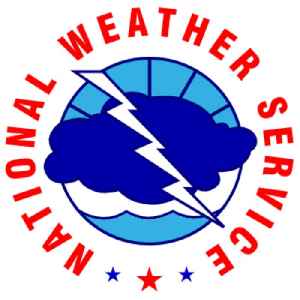 The National Weather Service (NWS) is an agency of the United States federal government that is tasked with providing weather forecasts, warnings of hazardous weather, and other weather-related products to organizations and the public for the purposes of protection, safety, and general information. It is a part of the National Oceanic and Atmospheric Administration (NOAA) branch of the Department of Commerce, and is headquartered in Silver Spring, Maryland, within the Washington metropolitan area. The agency was known as the United States Weather Bureau from 1890 until it adopted its current name in 1970.


More than 200 evacuated in California wildfires

More than 200 people were airlifted to safety overnight after a fast-moving wildfire cut off the only road out of the Mammoth Pool Reservoir, a popular recreational site in California's Sierra National..
Credit: Reuters - Politics Duration: 01:23
Published
Hurricane Laura could cause 'unsurvivable storm surge'

[NFA] Hurricane Laura was expected to cause catastrophic damage and "unsurvivable storm surge" to the Gulf Coast near the Texas and Louisiana border after strengthening on Wednesday to a Category 4..
Credit: Reuters - Politics Duration: 02:16
Published
Hurricane Laura could be 'catastrophic' -NHC

"This could be a catastrophic, life threatening event," said Ken Graham, the National Hurricane Center Director for NOAA's National Weather Service, adding that Laura is "a very healthy storm, and what..
Credit: Reuters Studio Duration: 00:57
Published
You Might Like



California heat wave prompts power shutdowns, fire danger

More than 50,000 utility customers were without power and others around California were urged to conserve electricity Thursday in the midst of a fall heat wave that brought another round of extreme..




WorldNews - Published





New Zogg and Glass Fires cause red flag warning for nearly all of Northern California

National Weather Service issued a red flag warning for nearly all of Northern California after two new fires wreak burning havoc.  




USATODAY.com - Published





"Zombie" storm regains strength in bizarre 2020 season

"Welcome back to the land of the living, Tropical Storm Paulette," the National Weather Service said.




CBS News - Published





Louisiana Governor John Bel Edwards warns Tropical Storm Sally represents a "significant threat"

Tropical Storm Sally is headed toward Louisiana, where it is expected to make landfall as a hurricane and could produce "life-threatening" storm surge, according to the National Hurricane Center. Watch..




CBS News - Published





Wildfire smoke plumes morphs San Francisco's skyline into eerie Martian orange

The National Weather Service said wildfires burning across Northern California caused unprecedented smoke clouds.




USATODAY.com - Published





California Heat Wave: The Latest on the State's Weather

Los Angeles County set a new high temperature as a cooling sea breeze remained trapped offshore, according to the National Weather Service.




NYTimes.com - Published





Scorching heat hits California, leaving some areas without power

Widespread highs Sunday were expected to be between 105-115 degrees, and in some areas could top 120, according to the National Weather Service.




CBS News - Published





Powerful waterspout churns ashore in Miami, dissipates with no injuries

The National Weather Service in Miami preliminarily classified a giant white funnel as a waterspout, but later confirmed it moved on land.




USATODAY.com - Published





Death Valley hits highest-ever temperature

Temperatures in California's Death Valley reached 54.4C (130F) on Sunday, possibly the highest ever reliably recorded on the planet. The extreme temperature was noted by the United States National..




New Zealand Herald - Published





Temperatures in Death Valley highest in world in over 100 years

A thermometer at Death Valley's Furnace Creek in the Southern California desert has soared to 130 degrees Fahrenheit (54.4 Celsius), the highest global temperature in more than a century, the U.S...




WorldNews - Published





Rare 'firenado' warning issued for Loyalton Fire near California-Nevada border

The National Weather Service called "firenadoes" an "extreme weather phenomenon that can occur with rotating fire columns."




USATODAY.com - Published





Wildfires and a "firenado" plague the West Coast

Several wildfires are burning out of control on the West Coast, fueled by dry brush and extreme heat. For the first time ever, the National Weather Service issued a warning for a fire tornado. Lilia..




CBS News - Published





Fire Tornadoes Reported in Northern California Wildfire

The National Weather Service issued an unusual warning on Saturday about the possibility of "a fire-induced tornado."




NYTimes.com - Published

Also reported by •CBS News


18 of 106 waterways fit for transporting cargo: Study

Only 18 national waterways are feasible for cargo movement and 25 others are feasible for ferry and cruise for tourism purpose out of the 106 national waterways notified in 2016, a study by the Inland..




IndiaTimes - Published





'Dangerous' heat wave scorches western U.S., raising fire threat and coronavirus concerns

A "dangerous" and long-duration heat wave will build across the West this weekend through much of next week, the National Weather Service said.




USATODAY.com - Published




Huge waves expected at Hawaii beach

Top surfers are expected to flock to Sunset Beach in Oahu as the National Weather Service is forecasting waves to reach 40 to 50 feet high in the area. Scott Pelley reports.




CBS News - Published





5.1-magnitude quake hits North Carolina, causes minor damage

The most powerful earthquake to hit North Carolina in more than 100 years shook much of the state early Sunday, rattling homes, businesses and residents. The National Weather Service in Greenville said..




WorldNews - Published





'Oh My God': Possible tornado sighted in Litchfield County, Connecticut

The National Weather Service reported a possible tornado in Connecticut, during storms that downed trees and caused damage to property on August 2.




USATODAY.com - Published





Tornado hits 3 west Minnesota farms, crosses I-94

A powerful tornado damaged farms and injured at least two people in western Minnesota on Wednesday, the National Weather Service said. (July 9)  




USATODAY.com - Published





'That thing is definitely cooking': Tornado touches down in Kismet, Kansas

A tornado formed near Kismet, Kansas, on July 1, with the National Weather Service confirming the funnel hit the ground.




USATODAY.com - Published





New Orleans man gives stranded neighbor much needed lift in canoe through flooded streets

A man came to his stranded neighbor's aid after more than five inches of rain fell in the area, the National Weather Service reported.




USATODAY.com - Published





Live Updates: Michigan Dam Breaks and Flooding Force Thousands to Evacuate

The National Weather Service issued a flash-flood warning for areas near the Tittabawassee River. The disaster was compounded by the effects of the coronavirus.




NYTimes.com - Published





Severe Weather Tears a Destructive Path in Parts of the South

A tornado touched down in northeastern Louisiana, damaging houses and commercial buildings. The National Weather Service issued a tornado watch for parts of Alabama and Tennessee.




NYTimes.com - Published





Winter storm warning out for northeast ND, northwest Minnesota

GRAND FORKS — An urgent winter storm warning was issued for northeastern North Dakota and northwest Minnesota Wednesday afternoon, April 1, as the National Weather Service monitors a system that..




WorldNews - Published





Frozen iguanas to start dropping from trees due to plummeting temperatures in Florida, forecasters warn

As weather forecasts go, it was a little unusual to say the least: a cold front with possible showers of ... iguanas. This was the warning given in the US state of Florida on Tuesday when..




WorldNews - Published





'Falling iguana' alert issued in Florida due to cold temperatures: 'Don't assume that they're dead'

The National Weather Service in Miami has issued an unofficial warning for falling iguanas tonight due to an unusual cold snap in the Sunshine State.




USATODAY.com - Published




Massive winter storm packing 'heavy' snow targets Upper Midwest, Great Lakes and Northeast

The National Weather Service says the storm could produce widespread hazardous conditions across much of the northeastern quarter of the nation.




USATODAY.com - Published




Winter storm slams Midwest

The National Weather Service says a winter storm will create hazardous travel conditions from the Plains into the Northeast through the weekend. (Jan. 17)  




USATODAY.com - Published





Students scatter as 'microburst' rips hole in school gym

The National Weather Service confirmed a microburst came through Clinton, North Carolina, creating wind speeds of up to 85 mph.




USATODAY.com - Published





Tornado, storms strike North and South Carolina

A small tornado tossed around cars outside a South Carolina high school on Monday, the National Weather Service said. School officials in Sampson County, North Carolina say a storm caved in part of a..




USATODAY.com - Published





Residents survey Alabama tornado damage

Residents of Pickens County, Alabama returned on Sunday to survey damage done by a tornado one day earlier. The National Weather Service said a tornado packing winds of at least 134 mph hit Pickens..




USATODAY.com - Published





Drone video of South Carolina tornado damage

The National Weather Service confirms that an EF-2 tornado with maximum wind speeds of 130 mph struck Kershaw County in northern South Carolina on Saturday night, doing extensive damage to a high..




USATODAY.com - Published





Sloppy mix of wintry weather plows its way toward northeastern U.S.

A wintry weather zone stretching from the middle of the United States to the Atlantic Ocean will bring locally heavy snowfall, freezing rain and a potentially slippery morning commute to the northeast,..




Reuters - Published




Snow, Tornadoes and Freezing Rain Are Coming to a Wide Swath of the Country

More than 60 million people were under winter weather advisories and warnings, according to the National Weather Service.




NYTimes.com - Published





Millions are bracing for the impact of dangerous weather

The National Weather Service warns travel could become "impossible" in some places




CBS News - Published





Powerful storms threaten travel plans for millions

There are travel warnings for dangerous weather conditions across the nation, as storms punch their way from the Rockies to the Northeast. A separate system is expected to bring snow and heavy rain to..




CBS News - Published





Winter storms threaten to snarl US holiday travel

A strong winter storm was expected to drop up to a foot of snow in parts of Colorado and Wyoming, prompting airlines to issue travel alerts and the National Weather Service to issue blizzard and winter..




USATODAY.com - Published





Tornado rips through Dallas, destroying homes and businesses

The National Weather Service said a tornado that ripped through the Dallas area was a powerful EF3, with winds of about 140 miles an hour. It blasted apart homes and left thousands without power. Omar..




CBS News - Published





Reagan Library threatened by dangerous California wildfires

The National Weather Service issued an "extreme red flag warning" as powerful winds caused a fire to explode in Simi Valley, California. The flames threatened thousands of homes and the Ronald Reagan..




CBS News - Published




Hundreds of records could fall as cold, snow, ice sweep across nation

148 daily record lows are forecast to be broken, tied, or come within 1 degree between Tuesday and Thursday, the National Weather Service said.




USATODAY.com - Published




Easy Fire near Los Angeles spared the Ronald Reagan Presidential Library. It's still threatening 7,000 homes

Hurricane-strength winds could fan the Easy Fire that is threatening 7,000 homes in California's Ventura County, the National Weather Service warned.




USATODAY.com - Published




California not out of fire danger from lingering winds

Santa Ana winds were expected to linger for a final day Thursday after driving more than a dozen wildfires through California, sending thousands fleeing and burning nearly up to the walls of the Ronald..




WorldNews - Published





Lighter winds help firefighters in N. California

The National Weather Service says an improved weather outlook should help firefighters battling a wind-driven wildfire in Northern California's wine country that's forced the evacuation of several..




USATODAY.com - Published




Floods receding in western Washington state

The National Weather Service's Seattle office said heavy rains this week had tapered off and most of Western Washington's rivers crested Tuesday and receded below flood stage. Flooding is expected to..




USATODAY.com - Published