University of Pittsburgh
American state-related research university located in Pittsburgh, Pennsylvania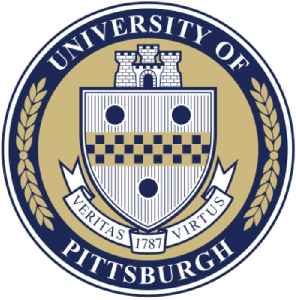 The University of Pittsburgh (Pitt) is a state-related research university in Pittsburgh, Pennsylvania. Pitt was founded by Hugh Henry Brackenridge in 1787 as the Pittsburgh Academy. While the city was still on the edge of the American frontier at the time, Pittsburgh's rapid growth meant that a proper university was soon needed, and Pitt's charter was altered in 1819 to confer university status on it as the Western University of Pennsylvania. After surviving two devastating fires and several relocations, the university moved to its current location in Pittsburgh's Oakland neighborhood, and by act of the state legislature was renamed the University of Pittsburgh in 1908. Pitt was a private institution until 1966, when it became part of the Commonwealth System of Higher Education.


You Might Like
Brad Pitt's lawyers say Angelina Jolie is trying to delay custody case by seeking judge's removal
Amid Brad Pitt and Angelina Jolie's ongoing custody battle, Pitt's legal team accused Jolie of making a "Hail Mary" effort to prolong the case.
USATODAY.com - Published
Juneteenth, reparations and African-American history with Keisha N. Blain
Ahead of the 155th anniversary of Juneteenth, the holiday marking the abolition of slavery in the United States, Lauren Young and Arlene Washington of Reuters spoke with Keisha N. Blain, an associate..
Reuters - Published
ShowBiz Minute: Grammys, 'Fresh Off The Boat,' Zoo
Winfrey, Pitt part of Grammys special for essential workers; The casts of "Fresh Off the Boat" and "Kim's Convenience" are teaming up for a charity event; Boston zoo reopens after losing $3M in..
USATODAY.com - Published
US conducting terror attacks in Venezuela to replace Maduro with Guaido: Analyst
The United States will continue to use terrorist attacks and sanctions against Venezuela to replace President Nicolas Maduro with American puppet Juan Guaido, an author and political analyst says...
WorldNews - Published
Chinese researcher on verge of making significant COVID-19 drug shot dead
Washington, May 07: A Chinese medical researcher on the "verge of making very significant" coronavirus findings has been found shot dead in the US state of Pennsylvania, media reports said on..
WorldNews - Published
Professor researching COVID-19 killed in apparent murder-suicide, police say
A professor at the University of Pittsburgh who was researching COVID-19 was found dead Saturday.
USATODAY.com - Published
Brad Pitt and Jennifer Aniston win at SAG Awards
Brad Pitt and Jennifer Aniston both took home awards at the 26th Screen Actors Guild on Sunday. Pitt is headed toward his first acting Academy Award for his supporting performance in "Once Upon a..
WorldNews - Published
'My loans are dead': 28-year-old pays off $102K in student loans, celebrates in cemetery
Mandy Velez graduated from the University of Pittsburgh in 2013 and had accrued more than $102,000 in student debt over the course of six years.
USATODAY.com - Published
Brad Pitt calls ISS: 'Did you spot Indian moon lander?'
NEW DELHI: Hollywood actor Brad Pitt had a question for Nasa astronaut Nick Hague, currently posted at the International Space Station (ISS) on Monday. Pitt wanted to know if Hague had seen India's..
WorldNews - Published
Pitt mania continues in Venice
Brad Pitt sparks more fan frenzy in Venice as he arrives at the press conference for his latest movie 'Ad Astra,' alongside co-stars Liv Tyler and Ruth Negga. (Aug. 29)  
USATODAY.com - Published
3 More U.S. Universities Express Support For Chinese-American Scientists Suspected Of Spying
Three more American universities have issued statements in support of scholars and researchers of Chinese ethnicity, a group that has been increasingly targeted over suspicions of spying for Beijing,..
WorldNews - Published
University of Pittsburgh student threatens to shoot black man 'legally ... like George Zimmerman'
University of Pittsburgh student Ethan Kozak has been interviewed by city and university police for slur-laden messages he sent to DJ Matthews.
USATODAY.com - Published