Beyond Meat
Los Angeles-based producer of plant-based meat substitutes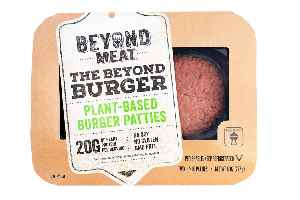 Beyond Meat is a Los Angeles-based producer of plant-based meat substitutes founded in 2009 by Ethan Brown. The company's initial products were launched in the United States in 2012. The company has products designed to emulate chicken, beef, and pork sausage.


How low-burping cows could put a dent on emissions

A Swiss-engineered cattle-feed additive being tested out in the United States could be one promising step in reducing greenhouse gas emissions from cattle. Gavino Garay reports.
Credit: Reuters - Politics Duration: 03:00
Published
Beyond Meat Now Offering Direct Online

On Thursday, Beyond Meat launched an online portal for buying its products directly. The company plans to use the platform to test out new items. The packages of faux meat will cost you between $50 and..
Credit: Wochit News Duration: 00:30
Published
You Might Like



Beyond Meat CEO Ethan Brown on the importance of texture

Beyond Meat CEO Ethan Brown talks about his company's focus on getting his plant-based protein food to not just look and taste like meat, but also to have the right texture.




CBS News - Published





Starbucks brings Beyond Meat and Oatly to China with new plant-based lunch menu

Starbucks Corp said on Monday it would roll out a plant-based food and beverage menu in China this week, launching Beyond Meat Inc and Oatly products in a country which is trying to recover from..




Reuters - Published




Beyond Meat triples sales but shares fall after profit miss

Beyond Meat Inc said on Thursday that fourth-quarter sales tripled, but shares fell 7% in after-hours trading as the company missed earnings expectations and announced that Executive Chairman Seth..




Reuters - Published





Cargill to challenge Beyond Meat, Impossible Foods with new plant-based burger

Cargill Inc will launch plant-based hamburger patties and ground "fake meat" products in April, the company said on Monday, challenging Beyond Meat and Impossible Foods for sales in grocery stores,..




Reuters - Published





KFC to sell Beyond Meat's plant-based 'fried chicken' in the southern U.S.

Beyond Meat said on Wednesday it will supply plant-based "fried chicken" to several KFC stores in Tennessee and North Carolina, after a test conducted last year showed strong consumer demand.




Reuters - Published

Also reported by •CBS News


Tim Hortons pulls Beyond Meat products from Ontario, British Columbia

Restaurant Brands International Inc's Tim Hortons said on Tuesday it has removed Beyond Meat Inc's products from its coffee and donut shops in the Canadian provinces of Ontario and British Columbia.




Reuters - Published





McDonald's expands Beyond Meat plant-based burger trials in Canada

McDonald's Corp said on Wednesday it will expand its trial in Canada of vegan burgers made by Beyond Meat as the world's biggest fast food chain tests the viability of a broader rollout.




Reuters - Published




Exclusive: Impossible Foods has stopped McDonald's burger talks, shares of Beyond Meat jump

Impossible Foods is no longer trying to win a coveted deal to supply McDonald's Corp with plant-based burgers, telling Reuters it cannot produce enough of its imitation meat to partner with the world's..




Reuters - Published




Pass the ketchup, hold the beef: Americans crave Impossible Burger, Beyond Meat in 2020

Plant based meats like the Impossible Burger and Beyond Meat are growing in popularity, and companies like Nestle are launching similar brands




USATODAY.com - Published





Exclusive: Beyond Meat eyes production in Asia before the end of 2020

Beyond Meat aims to start production in Asia before the end of next year, as it gets closer to selling its popular plant-based meat products in China, Executive Chairman Seth Goldman told Reuters.




Reuters - Published





Beyond Meat to offer more store discounts as competition heats up; shares fall

Beyond Meat Inc reported its first ever net profit and raised its full-year sales forecast, but shares tumbled 6.5% in extended trading as the vegan burger maker said it would need to offer more store..




Reuters - Published





Beyond Meat expenses surge as manufacturing ramps up; shares fall

Beyond Meat Inc's expenses more than doubled in the third quarter as the vegan burger maker ramped up manufacturing to meet booming demand for plant-based proteins.




Reuters - Published





Impossible burger versus Beyond Meat: Which one actually tastes better?

You shouldn't write plant-based burger alternatives like Impossible burger and Beyond Meat off before you try them – or at least watch us try them.




USATODAY.com - Published





McDonald's joins Beyond Meat bandwagon with Canada tests

McDonald's Corp will test a new "plant, lettuce and tomato" sandwich using Beyond Meat's patties in some restaurants in Canada next week, following major rivals' bets on the growing popularity of..




Reuters - Published

Also reported by •USATODAY.com


KFC is testing meatless chicken wings and nuggets

Beyond Meat's meatless nuggets will be for sale at a KFC in Atlanta — and, if that goes well, potentially at KFC locations everywhere. | Courtesy of KFC + Beyond Meat Beyond Meat and KFC have..




WorldNews - Published





Beyond Meat shelves plans for Japan push, Mitsui says

Beyond Meat Inc has shelved plans to enter Japan, according to a Japan-based investor, focusing more on the U.S. market where it recently bolstered funding to fuel an expansion and beat out emerging..




Reuters - Published





Here's why more athletes are going vegan

Vegan and plant-based diets are on the rise in the sports world, and companies like Beyond Meat are making the switch to meatless easier than ever.




USATODAY.com - Published





Subway testing Beyond Meat meatball sub

Subway joins Dunkin', Tim Hortons, and Del Taco with Beyond Meat offerings




CBS News - Published





Beyond Meat's secondary stock offering priced at $160 per share

Meat alternatives company Beyond Meat Inc said on Wednesday a secondary offering of 3.25 million new shares would be priced at $160 per share, an 18.6% discount to the stock's closing price.




Reuters - Published





Beyond Meat shares crumble on stock offering surprise, demand for meatless burgers soars

Beyond Meat Inc's shares tumbled on Monday on plans for another stock offering just three months after its IPO while demand for its plant-based burgers and sausages prompted an increase in its..




Reuters - Published





Meat-alternative purveyor Beyond Meat sizzles in market debut

The food startup markets its plant-based products to meat lovers, not vegans — and Wall Street is eating that up.




CBS News - Published





Beyond Meat cooking up meatless bacon

Beyond Meat has already made a foray into the breakfast industry, serving up breakfast sausage at Dunkin' and Tim Hortons




CBS News - Published





Dunkin' to add Beyond Meat sausages in breakfast sandwiches

Dunkin' Brands Group Inc said on Wednesday it would add vegan burger maker Beyond Meat Inc's plant-based sausages to its breakfast menu at stores in Manhattan.




Reuters - Published





Beyond Meat introduces new, meatier plant-based burger

Plant-based meat company Beyond Meat is releasing a new, meatier version of its plant-based burger




USATODAY.com - Published





Is Beyond Meat's stock price beyond reason?

Already rocketing more than 600% higher since going public, the alternative meat company has Wall Street bewildered




CBS News - Published





Beyond Meat top choice for Wall Street after bullish results

Shares of Beyond Meat Inc surged 27% on Friday after the vegan burger maker forecast that sales would more than double overall in 2019 after they tripled in the first quarter.




Reuters - Published