Mecca
Saudi Arabian city and capital of the Makkah province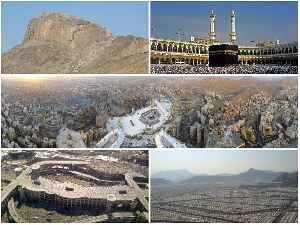 Mecca, also spelled Makkah, is a city in the Hejazi region of the Arabian Peninsula, and the plain of Tihamah in Saudi Arabia, and is also the capital and administrative headquarters of the Makkah Region. The city is located 70 km (43 mi) inland from Jeddah in a narrow valley at a height of 277 m (909 ft) above sea level, and 340 kilometres (210 mi) south of Medina. Its resident population in 2012 was roughly 2 million, although visitors more than triple this number every year during the Ḥajj period held in the twelfth Muslim lunar month of Dhūl-Ḥijjah.


Saudi Arabia says it intercepted Houthi missiles in Mecca province
Saudi Arabia said on Monday that it had intercepted two missiles in Mecca province fired by Yemen's Iran-aligned Houthis, who earlier denied having targeted Islam's holiest site.
Reuters - Published
Yemen's Houthis deny targeting Mecca with ballistic missiles
Yemen's Iran-aligned Houthi movement denied Saudi media reports on Monday that it had fired a ballistic missile toward Mecca, Islam's holiest site, at a time of heightened tensions between Tehran and..
Reuters - Published
Trump, Saudi Arabia warn Iran against Middle East conflict
U.S. President Donald Trump issued a new threat to Tehran on Sunday, tweeting that a conflict would be the "official end" of Iran, as Saudi Arabia warned it stood ready to respond with "all..
Credit: Reuters Studio Duration: 01:30Published
Hajj Packages - 5 Star Hajj Packages 2019 UK
Al Hijaz Tours is aspiring to make a journey of Umrah and Hajj packages easy for pilgrims in 2019. In order to ensure you a quality tour with our Cheap Hajj package. We have selected dedicated..
WorldNews - Published
Manchester United midfielder Paul Pogba posts pictures of pilgrimage to Makkah
Manchester United midfielder Paul Pogba has posted pictures of himself in Makkah to celebrate the holy month of Ramadan. In an Instagram post that has been liked by more than 1.3 million times, Pogba..
WorldNews - Published
As Saudi society liberalizes, it reckons with hardline past
The Islamist takeover of Mecca's Grand Mosque in 1979 has been turned into a television drama, spotlighting a controversial narrative Saudi Arabia is using to support social changes once deemed..
Reuters - Published
Miami is Always An Excellent Vacation Getaway - VaccationTravel
"FOR LIFE IS BETTER AT BEACH" A super lit holiday destination, Miami is a city of Florida known for its white sand beaches. It is an elegant Mecca of the earth also a trendy "cruise capital of..
WorldNews - Published
You Might Like