Arab Spring
Protests and revolutions in the Arab world in the 2010s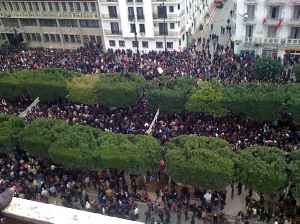 The Arab Spring was a series of anti-government protests, uprisings, and armed rebellions that spread across much of the Arab world in the early 2010s. It began in response to oppressive regimes and a low standard of living, starting with protests in Tunisia. The protests then spread to five other countries: Libya, Egypt, Yemen, Syria and Bahrain, where either the regime was toppled or major uprisings and social violence occurred, including riots, civil wars or insurgencies. Sustained street demonstrations took place in Morocco, Iraq, Algeria, Iranian Khuzestan, Lebanon, Jordan, Kuwait, Oman and Sudan. Minor protests occurred in Djibouti, Mauritania, the Palestinian National Authority, Saudi Arabia, and the Moroccan-occupied Western Sahara. A major slogan of the demonstrators in the Arab world is ash-shaʻb yurīd isqāṭ an-niẓām.


Egypt's Hosni Mubarak Dead At 91

Ousted Egyptian strongman Hosni Mubarak ruled his country with an iron fist for nearly three decades. Now, CNN reports Mubarak is dead at age 91. During his 29 years in power, Mubarak survived..
Credit: Wochit News Duration: 00:35
Published
Mubarak, the 'Pharaoh' toppled by the Arab Spring, dies at 91

The Egyptian Presidency has announced three days of mourning starting Wednesday following death of the country's former President Hosni Mubarak, who has died at the age of 91. Adam Reed reports.
Credit: Reuters Studio Duration: 01:26
Published
Former Egyptian president Hosni Mubarak dies aged 91

Egyptian state TV has said the country's former president Hosni Mubarak, who was ousted in the 2011 Arab Spring uprising, has died at the age of 91.
Credit: PA - Press Association STUDIO Duration: 01:22
Published
You Might Like



Egypt jails prominent political figure for a year over 'false news'

An Egyptian court sentenced one of the leading activists of the 2011 "Arab Spring" uprising to a one-year prison term on Wednesday after convicting him of spreading false news, a judicial source and a..




Reuters - Published





Hosni Mubarak: Egypt holds military funeral for ousted president

Mubarak was forced out of office by an Arab Spring uprising in 2011, after 30 years in power.




BBC News - Published





Egypt holds full-honors military funeral for Mubarak

By SAMY MAGDY CAIRO (AP) — Egypt was holding a full-honors military funeral Wednesday for the country's former autocratic President Hosni Mubarak, who was for decades the face of stability in the..




WorldNews - Published





President of Egypt who stood down in the wake of the Arab Spring

Elevated after the assassination of Anwar Sadat, Mubarak was later imprisoned for embezzlement but acquitted of conspiring to kill demonstrators.




The Age - Published





Mubarak, the 'Pharaoh' toppled by the Arab Spring, dies at 91

Hosni Mubarak, who died on Tuesday, never expected to be president. But when a very public assassination thrust the former bomber pilot into the job, he made it his mission never to give it up.




Reuters - Published




Former Egyptian President Hosni Mubarak Dies at 91 - Reports

Hosni Mubarak served as Egyptian president between 1981 and 2011, but resigned as a result of the Arab Spring protests that erupted in the country in 2011. ......




WorldNews - Published





Golshifteh Farahani: An Iranian actress in exile

She's worked with the likes of Ridley Scott, Jim Jarmusch and Asghar Farhadi. She was the first Iranian actress to star in a Hollywood film after the 1979 revolution and the first to appear in an..




France 24 - Published





Nine years after Egyptian revolution started, Tahrir Square icon languishes in jail

On January 25, 2011, demonstrations against police brutality to mark Egypt's National Police Day, spiralled into what came to be called the Arab Spring. But nine years later, following a brutal..




France 24 - Published





How the world welcomed the start of a new decade

Nations around the world are ringing in the new year and bidding farewell to a decade that will be remembered for the rise of social media, the Arab Spring, the MeToo movement and Donald Trump. Here is..




WorldNews - Published





Is a new Arab Spring unfolding in the Middle East?

Seething anger on the streets of Arab countries has the air of revolution, says Jeremy Bowen.




BBC News - Published





Stuxnet, Qatar, The Most Expensive Food in The World

The success of the Stuxnet computer virus has U.S. officials asking if our own infrastructure is safe; Then, the Arab Spring is spreading, but not to Qatar. Bob Simon finds out what's keeping the..




CBS News - Published




Tunisia Polls Suggest Conservative Professor Wins Election

A conservative, Islamist-backed law professor looked set to assume Tunisia's presidency after polling agencies suggested he overwhelmingly won Sunday's runoff election in the country that unleashed..




WorldNews - Published





Media magnate and law professor in face-off as Tunisian poll enters final round

Tunisians are choosing between a retired law professor and a media mogul in the final vote of a presidential election on Sunday, eight years after a revolution that forged a new democracy and inspired..




France 24 - Published





Timeline: Tunisia's bumpy path to democracy

Tunisia's vote for president on Sunday is the next step in its transition to democracy after a revolution that triggered the "Arab Spring" uprisings of 2011.




Reuters - Published




Disillusioned Tunisians vote as economic woes loom

Tunisians voted in a parliamentary election on Sunday, with public annoyance at years of ineffective coalitions fuelling a sense of disillusionment eight years after a revolution that introduced..




Reuters - Published





Outsider leads after Tunisia presidential poll deemed 'political earthquake'

Law professor and political outsider Kais Saied on Monday led Tunisia's presidential polls with two-thirds of the votes counted, the electoral commission said, after the country's second free vote..




France 24 - Published





'Slap' to establishment as outsider leads Tunisia's presidential poll

Political outsider Kais Saied was leading Tunisia's election with just over a quarter of votes counted, the election commission said Monday, in the country's second free presidential vote since the..




France 24 - Published





Tunisians to vote in keenly fought presidential poll

Rarely has the outcome of an election been so uncertain in Tunisia, the cradle and partial success story of the Arab Spring, as some seven million voters head to the polls Sunday to choose from a..




France 24 - Published





Ousted Tunisian president hospitalized ahead of election

A lawyer for the former Tunisian president ousted in the 2011 Arab Spring says Zine El Abidine Ben Ali has been hospitalized in Saudi Arabia ......




WorldNews - Published





Tunisia elections: 'We want women to be a priority, not just a card to play' (2/4)

As Tunisia gears up for a crucial presidential election on Sunday, low female turnout and a dearth of women candidates continue to plague the cradle of the Arab Spring. FRANCE 24's met the activists..




France 24 - Published





Factbox: Tunisia's main candidates for presidential elections

Tunisia's presidential election on Sept. 15 has a crowded field of candidates, all vying to lead the only democracy to emerge from the 2011 "Arab Spring" uprisings.




Reuters - Published





Tunisian parliament speaker sworn in as new president

Tunisian parliament speaker Mohamed Ennaceur was sworn in as interim president on Thursday hours after President Beji Caid Essebsi's death in a smooth transition of power in the birthplace of the Arab..




Reuters - Published





BREAKING: Ousted Egyptian President Morsi Dies

Egyptian state television said former president Mohammed Morsi, who was removed from office by the army in 2013, died shortly after appearing in court on Monday, according to Al Jazeera. Morsi, 67,..




WorldNews - Published





Sudan's deadly crackdown evokes Arab Spring bloodshed

In the Middle East, it has often begun the same way: a popular swell of street protests against long-entrenched autocrats and demonstrators inspired by burgeoning aspirations for democracy and freedom...




WorldNews - Published