Malta
Island country in the central Mediterranean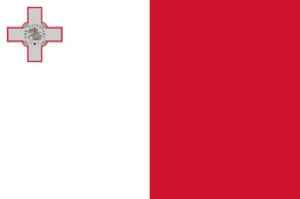 Malta, officially known as the Republic of Malta and formerly Melita, is a Southern European island country consisting of an archipelago in the Mediterranean Sea. It lies 80 km (50 mi) south of Italy, 284 km (176 mi) east of Tunisia, and 333 km (207 mi) north of Libya. With a population of about 515,000 over an area of 316 km2 (122 sq mi), Malta is the world's tenth smallest country in area and fourth most densely populated sovereign country. Its capital is Valletta, which is the smallest national capital in the European Union by area at 0.8 km2 (0.31 sq mi). The official and national language is Maltese, which is descended from Sicilian Arabic that developed during the Emirate of Sicily, while English serves as the second official language. Italian and Sicilian also previously served as official and cultural languages on the island for centuries, with Italian being an official language in Malta until 1934 and a majority of the current Maltese population being at least conversational in the Italian language.


Malta: Ex-PM Joseph Muscat's top aide freed on bail in corruption probe

Keith Schembri was arrested as part of a money laundering probe linked to the sale of Maltese passports to rich people from non-EU countries.View on euronews
Credit: euronews (in English) Duration: 01:24
Published
Banksy-funded refugee rescue boat stranded with calls for help 'ignored'

Mandatory credit: @MVLouiseMichel and Banksy The Banksy-funded refugee rescueboat is stranded in the Mediterranean Sea and emergency calls for immediatehelp have been ignored, the crew has said. There..
Credit: PA - Press Association STUDIO Duration: 01:00
Published
Coronavirus: 19 European countries record high incidence rates as surge continues

Belgium, France, Malta, the Netherlands, Romania, and Sweden have rates over 40 per 100,000 while Luxembourg and Spain have more than 100 cases per 100,000 inhabitants. In mid-July, only four EU member..
Credit: Euronews English Duration: 02:12
Published
Air bridges: Europeans who do not need to quarantine on arrival in the UK

A list of countries and territories in Europe from which people don't need toquarantine on arrival in the UK, after France, Malta, Monaco and theNetherlands were all added to the quarantine list.
Credit: PA - Press Association STUDIO Duration: 00:49
Published
Holidaymakers arrive back in UK with minutes to spare before quarantine deadline

British holidaymakers have arrived back from France with minutes to sparebefore the new quarantine deadline. Transport Secretary Grant Shapps announcedlate on Thursday that anyone arriving from France..
Credit: PA - Press Association STUDIO Duration: 00:59
Published
France, the Netherlands and Malta added to the UK's coronavirus travel quarantine list

"If you arrive in the UK after 0400 Saturday from these destinations, you will need to self-isolate for 14 days," Secretary of State for Transport, Grant Shapps, said in a tweet.View on euronews
Credit: euronews (in English) Duration: 02:27
Published
Grant Shapps defends new France quarantine measures

Transport Secretary Grant Shapps says a 66% increase of positive coronaviruscases in France has led to the Government's decision to impose a 14-dayquarantine on travellers returning to the UK. The..
Credit: PA - Press Association STUDIO Duration: 01:19
Published
Shapps adds France to quarantine list

Transport Secretary Grant Shapps has announced quarantine restrictions for travellers from France will be imposed from this weekend. Those coming from the Netherlands, Monaco, Malta, Turks & Caicos &..
Credit: ODN Duration: 01:37
Published
Tour the crumbling villa Queen Elizabeth once lived in

A dilapidated villa near Malta's capital, Valletta, where Britain's Queen Elizabeth lived between 1949 and 1951, is about to get a new lease of life as a museum. Edward Baran reports.
Credit: Reuters Studio Duration: 01:34
Published
You Might Like



40-day nightmare is over: Stranded migrants disembark in Sicily

A group of migrants who had been stranded on a tanker off Malta for 40 days have disembarked in Sicily. The migrants had been picked up by the Danish-flagged Maersk...




WorldNews - Published





Amnesty International accuses Malta of using 'illegal tactics' against migrants

Amnesty International condemned Malta on Tuesday for what it described as "illegal tactics" in the Mediterranean against immigrants making the dangerous crossing from North Africa. The approach taken..




WorldNews - Published





Maltese journalist was killed over reporting on power plant, say police

Police believe that the anti-corruption journalist Daphne Caruana Galizia was killed for what she was about to reveal about a government-sponsored power station deal, a court in Malta has heard. At the..




WorldNews - Published





Psychedelic Science, Malta, Shakira

Researchers experimenting with psychedelics to treat addiction, depression and anxiety; Then, inside the corruption allegations plaguing Malta; And, Bill Whitaker interviews Shakira




CBS News - Published





Inside the corruption allegations plaguing Malta

The smallest nation in the European Union is earning an unsavory reputation, with a series of scandals involving allegations of bribery, cronyism and money laundering.




CBS News - Published




Finishing the work of a murdered journalist

Journalist Daphne Caruana Galizia was killed by a car bomb in Malta in 2017. Now major news organizations have formed The Daphne Project to continue her reporting




CBS News - Published




France to be added to UK quarantine countries

People returning from the Netherlands and Malta from Saturday will also have to self-isolate.




BBC News - Published





UK travellers returning from France face quarantine after government places country on 'no-go' list

Transport secretary announces Netherlands, Malta, Monaco, the Turks and Caicos islands will also be removed from the government's exemption list from 4am on Saturday




Independent - Published





Coronavirus: Malta says 65 rescued migrants test positive

More than two thirds of 94 migrants rescued in the Mediterranean test positive.




BBC News - Published





Daphne Caruana Galizia murder: middleman found critically injured

The self-confessed middleman in the murder of the Maltese anti-corruption journalist Daphne Caruana Galizia has suffered multiple knife injuries to his neck, torso and wrist, hours before he was due to..




WorldNews - Published





Malta International Airport re-opens for passenger travel

The Malta International Airport has opened for tourists once again, with nine flights arriving in Malta on the first day of the resumption of air traffic. The airport was shut on 20 March as Malta..




WorldNews - Published





'Save my skin': Migrants share stories of close shaves in Libya

ONBOARD THE OCEAN VIKING — Libya lies behind and Europe ahead though the mist — rescued migrants can dream a little onboard the Ocean Viking as it drifts somewhere between Italy and Malta. Rescued..




WorldNews - Published





Malta to investigate ex-police chief in Caruana affair

A Maltese court on Monday ordered an investigation of former police chief Lawrence Cutajar after allegations that he had leaked information to a middleman in the murder of anti-corruption journalist..




Reuters - Published





Europe rights body urges action for migrants stuck off Malta

VALLETTA, Malta (AP) — Europe's leading human rights organization is calling for immediate action to bring to shore some 400 migrants that the Malta government transferred to chartered pleasure..




WorldNews - Published





Europe rights body urges Malta to stop keeping rescued migrants offshore

Europe's leading human rights body urged Malta on Thursday to allow disembarkation of more than 400 migrants being held on four former tour group boats just outside the Mediterranean island's..




Reuters - Published





Malta to reopen its airport on July 1

Malta will reopen its airport to passenger flights on July 1, Prime Minister Robert Abela said on Sunday, as the Mediterranean island rolls back restrictions introduced in March to halt COVID-19..




Reuters - Published





Russia denies U.S. claim that Libyan banknotes seized in Malta are counterfeit

Libyan currency worth over $1 billion which was printed in Moscow and seized by Malta is not counterfeit, Russia's foreign ministry said on Saturday in response to U.S. claims.




Reuters - Published





Malta rescues 140 migrants but holds them on tourist boats offshore

Malta on Friday rescued a group of 140 migrants from a sinking dinghy but refused to bring them to land, holding them instead on a chartered tourist harbour cruise boat just outside territorial waters.




Reuters - Published





Malta urged to investigate return of migrants to Libya

The EU's human rights commission has urged Malta to respond to those in distress at sea, as pressure mounts over allegations Valletta has illegally returned migrants to Libya. The Council of Europe's..




WorldNews - Published





Malta envoy to Helsinki resigns after comparing Merkel to Hitler

Malta's ambassador to Finland resigned on Sunday after he came under fire for comparing German Chancellor Angela Merkel to Adolf Hitler, Malta's ministry of foreign affairs said in an emailed..




Reuters - Published





Angela Merkel compared to Hitler by Malta ambassador who then quits

Michael Zammit Tabona said the German chancellor "has fulfilled Hitler's dream" to control Europe.




BBC News - Published





Malta pulls out of new EU Libya sea patrols in migration row

Malta told its European Union partners on Friday it would no longer take part in a new Mediterranean mission to stop more arms reach warring factions in Libya, just four days after the naval and air..




Reuters - Published





Anger after Malta prosecutor quits to defend journalist murder suspect

The family of murdered Maltese journalist Daphne Caruana Galizia has demanded an investigation after a lawyer in the prosecutor's office resigned and turned up in court within hours to represent the..




Reuters - Published





Malta refuses to let migrant ship dock, awaits EU deal

Malta plans to keep 57 rescued migrants aboard a private ship anchored just outside territorial waters until the European Union finds a way to rehouse them, Prime Minister Robert Abela said on Friday.




Reuters - Published





Malta announces gradual lifting of COVID-19 restrictions

Malta has announced a gradual lifting of coronavirus restrictions as the number of new cases dwindles, with many shops allowed to reopen from Monday.




Reuters - Published





Malta calls for EU aid to avert Libya humanitarian crisis

Malta is calling for a 100 million euro ($110 million) European Union aid package to avert a humanitarian disaster among people fleeing Libya, where rising violence is worsening the impact of the..




Reuters - Published





Malta takes in rescued migrants despite coronavirus ban

- A group of North African migrants rescued from a sinking boat came ashore in Malta early on Friday, hours after the government had said no further groups would be allowed in after it closed its ports..




Reuters - Published





Malta says it can no longer rescue, accept migrants

Malta can no longer guarantee the rescue of migrants or allow their disembarkation during the coronavirus emergency, the Malta government said on Thursday.




Reuters - Published





Malta records its first coronavirus death

Malta announced its first death from COVID-19 on Wednesday, a 92-year-old woman with severe underlying medical problems.




Reuters - Published





Malta locks down migrants camp, puts 1,000 in quarantine after COVID cluster

Some 1,000 African migrants were placed under mandatory quarantine on Sunday after an outbreak of COVID-19 and their camp at Hal Far in the south of Malta was surrounded by police and army trucks to..




Reuters - Published





Pope Francis' May 31 trip to Malta postponed due to coronavirus

Pope Francis's trip to Malta, which had been scheduled to take place on May 31, has been postponed indefinitely, the Vatican said on Monday.




Reuters - Published





Malta to stop all incoming flights from Saturday

Malta will stop all incoming passenger flights on Saturday and only allow cargo, humanitarian and repatriation flights to land to stop the spread of coronavirus, officials said on Wednesday.




Reuters - Published





Malta rescues 112 migrants from sinking boat

A group of 112 North African migrants was rescued from a sinking dinghy and landed in Malta early on Sunday, supervised by troops in special protective clothing against possible coronavirus infection,..




Reuters - Published





Malta imposes 14-day quarantine on all arrivals in bid to stop coronavirus

Malta has imposed a mandatory 14-day quarantine period on all arrivals in a bid to stop the spread of coronavirus, Prime Minister Robert Abela said on Friday.




Reuters - Published





Malta bans travel from four more European countries because of coronavirus

Malta on Wednesday banned travel with Germany, France, Spain and Switzerland to try to prevent the spread of the coronavirus, Prime Minister Robert Abela said.




Reuters - Published





Malta halts all passenger travel with locked-down Italy

Malta has stopped all travel links with Italy, its nearest neighbor and main source of food and other essentials, after confirming its fourth coronavirus case since Saturday, Prime Minister Robert..




Reuters - Published




Italian girl becomes Malta's first coronavirus case

Malta's first case of coronavirus has been detected in a 12-year-old Italian girl who lives on the island, Health Minister Chris Fearne said on Saturday.




Reuters - Published





France opens investigation into Maltese journalist's murder

French justice officials have opened an investigation in connection with the 2017 killing of Maltese journalist Daphne Caruana Galizia to determine if there was a French connection, they said..




France 24 - Published





More than half Malta's traffic police arrested for fraud

More than half of Malta's traffic police force were arrested on Tuesday for suspected overtime fraud, forcing officers to draw up emergency plans to ensure they have enough police to put on the..




Reuters - Published





Pope trip to Malta in May to spotlight migrants' plight

Pope Francis will make the first trip by a pontiff in 10 years to the tiny Mediterranean island nation of Malta in May, where he is expected to defend the rights of migrants trying to reach Europe.




Reuters - Published





Malta court condemns minister for clearing journalist memorial

Malta's constitutional court ruled on Thursday that former justice minister Owen Bonnici had violated freedom of expression when he repeatedly ordered government workers to clean away a makeshift..




Reuters - Published





Malta minister quits in latest fallout from journalist murder

Another Maltese minister has quit after a paper reported links between her policeman husband and the man suspected of masterminding a journalist's murder, the government said on Monday.




Reuters - Published





Malta police chief quits after criticism over journalist's murder

Malta's police chief has quit following criticism of his handling of the investigation into the murder of anti-corruption journalist Daphne Caruana Galizia.




Reuters - Published





New Malta PM reshuffles ministers, shuns controversial names

New Maltese Prime Minister Robert Abela reshuffled his cabinet on Wednesday, sidelining some of the politicians who had faced fierce criticism from an anti-corruption journalist before her murder in..




Reuters - Published





Robert Abela sworn in as Malta's new prime minister

Lawyer Robert Abela, 42, was sworn in as Malta's prime minister on Monday, succeeding Joseph Muscat who resigned over his handling of investigations into the murder of anti-corruption journalist..




Reuters - Published





Malta's new leader promises to keep strengthening rule of law

Malta's incoming leader Robert Abela promised to strengthen the rule of law and said the country would emerge stronger after recent events, in an address on Sunday a day before he is due to succeed..




Reuters - Published





Political newcomer to become Malta's prime minister

Political newcomer Robert Abela was set to become Malta's new prime minister having been elected leader of the ruling Labor Party following a vote on Saturday.




Reuters - Published





Malta's Labour Party elects Abela to succeed PM Muscat in wake of journalist murder probe

Outsider Robert Abela is set to become Malta's new premier on Sunday after Prime Minister Joseph Muscat's downfall over the murder of an investigative journalist.




France 24 - Published





Malta: Robert Abela elected new PM after crisis over journalist's murder

Robert Abela is the new Labour Party leader, after Joseph Muscat resigned over a journalist's murder.




BBC News - Published





Malta's ruling party to vote for new PM over journalist's slaying

Malta's Labour Party was voting Saturday to elect its leader and the country's new premier after Prime Minister Joseph Muscat's downfall over the murder of an investigative journalist. 




France 24 - Published