Rand Paul
American politician, ophthalmologist, and United States Senator from Kentucky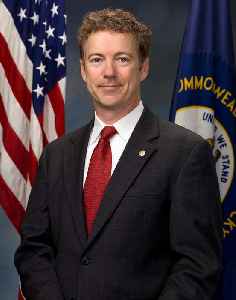 Randal Howard Paul is an American politician and physician serving as the junior United States Senator from Kentucky since 2011. He is a son of former U.S. Representative Ron Paul of Texas who was a presidential candidate in 1988, 2008, and 2012.


Rand Paul Goes Full 'Herd Immunity' On Fauci, And Fauci's Not Having It

Sen. Rand Paul, R-Ky. and Dr. Anthony Fauci went head to head on Capitol Hill on Wednesday about the issue of 'herd immunity' and the COVID-19 pandemic. Business Insider reports that Paul argued that..
Credit: Wochit News Duration: 00:40
Published
Dr. Fauci to Sen. Paul: 'You are not listening...'

At a Senate hearing on the U.S. response to the coronavirus Wednesday (Sept. 23), infectious diseases expert Dr. Anthony Fauci pushed back at Republican Senator Rand Paul's claim that social distancing..
Credit: Reuters Studio Duration: 02:51
Published
GOP 'skinny' coronavirus aid bill fails in Senate

Democrats and one Republican on Thursday defeated a GOP bill that would have provided around $300 billion in new coronavirus aid, as Democrats sought far more funding. Colette Luke has the latest.
Credit: Reuters - Politics Duration: 01:37
Published
Melania Trump makes plea for unity in RNC speech

First lady Melania Trump offered sympathy for victims of the coronavirus pandemic and a plea for racial understanding in a Republican convention speech on Tuesday aimed directly at the women voters who..
Credit: Reuters - Politics Duration: 01:33
Published
Questions overshadow first lady, Pompeo speeches

First lady Melania Trump on Tuesday will address the Republican National Convention from the White House Rose Garden and Secretary of State Mike Pompeo will speak from Israel while on a diplomatic..
Credit: Reuters - Politics Duration: 01:34
Published
You Might Like



Ron Paul Hospitalized After Medical Episode on Livestream

Mr. Paul, 85, a former congressman and presidential candidate and the father of Senator Rand Paul, slurred his words while speaking on his YouTube channel on Friday.




NYTimes.com - Published





Dr. Fauci spars with Rand Paul during coronavirus Senate hearing

Top infectious disease experts delivered testimony about the U.S. pandemic response before a Senate committee Wednesday. Dr. Fauci went back and forth with Rand Paul, and accused the senator of..




CBS News - Published





Dr. Fauci, Sen. Paul clash at coronavirus hearing

Dr. Anthony Fauci lost his patience with Kentucky Sen. Rand Paul over Paul's claim that New York's rate of coronavirus infection is significantly down because it has achieved herd immunity. Fauci told..




USATODAY.com - Published





'You misconstrue that, Senator': Fauci tells Sen. Rand Paul he has the facts wrong on COVID-19

Fauci told the senator he misconstrued the facts and had "done that repeatedly in the past."




USATODAY.com - Published





Sen. Rand Paul Surrounded by D.C. Protesters Over Breonna Taylor's Killing

Rand Paul was surrounded by a crowd of protesters shouting at him about the killing of Breonna Taylor ... which led to a tense scene as police escorted him away. The Kentucky Senator and his wife,..




TMZ.com - Published





Rand Paul confronted by protesters after Trump's RNC speech

Dozens of protesters shouted at the Kentucky senator after he attended President Trump's RNC speech at the White House, demanding that Paul acknowledge the shooting death of Breonna Taylor by..




CBS News - Published





Sen. Rand Paul: I was 'attacked by an angry mob' following Trump's RNC speech

Georgia state Rep. Vernon Jones, a Democrat who endorsed Trump, was also approached by protesters in Washington, D.C. after the Trump's RNC speech.




USATODAY.com - Published





Protesters confront Rand Paul outside White House after RNC

Shouted at Kentucky senator demanding he acknowledge Breonna Taylor's shooting death in her Louisville apartment in March.




CBS News - Published





R.N.C.: Schedule, Speakers and How to Watch

The event's second night will feature Melania Trump, Secretary of State Mike Pompeo and Senator Rand Paul.




NYTimes.com - Published





Sen. Rand Paul invokes Clinton when asked about GOP war against women

Sen. Rand Paul, R-Ky, said if Hillary Clinton runs for president, former President Bill Clinton's affair with Monica Lewinsky is a legitimate campaign issue. Norah O'Donnell reports.




CBS News - Published





Sen. Rand Paul filing bill to ban no-knock warrants following Breonna Taylor death

Sen. Rand Paul is looking to prohibit no knock warrants across the country in response to the Breonna Taylor shooting by police.




USATODAY.com - Published





Frustration and Fury as Rand Paul Holds Up Anti-Lynching Bill in Senate

A dispute over legislation to make lynching a federal crime has grown fierce as Congress turns its attention to issues of race and law enforcement amid protests across the country.




NYTimes.com - Published





In emotional debate, Sens. Cory Booker, Kamala Harris plead for Rand Paul to allow anti-lynching bill to pass

An anti-lynching bill that Sen. Rand Paul has held up in the Senate for several months led to a heated and passionate battle on the Senate floor Thursday.




USATODAY.com - Published





Rand Paul, Andy Biggs: Anthony Fauci wants America closed until there's nothing to reopen

Maybe Anthony Fauci is out of touch with how many Americans are suffering due to our economic shutdown, but our country cannot afford to stay closed.




USATODAY.com - Published





'I don't think you're the end-all': Rand Paul slams Anthony Fauci at Senate hearing

Sen. Rand Paul said Dr. Anthony Fauci, director of the National Institute of Allergy and Infectious Diseases, is not the "end-all" on COVID-19.




USATODAY.com - Published





Paul tells Fauci he's not the 'end all' on virus

Dr. Anthony Fauci had a sharp retort for Sen. Rand Paul after the Kentucky Republican said Fauci is not the "end all" in knowledge about the coronavirus and that it's "ridiculous" to suggest children..




USATODAY.com - Published





Sen. Rand Paul won't wear mask, says he has immunity to coronavirus despite lack of evidence

While senators were anxious returning to Washington due to the coronavirus this week, at least two senators said they didn't need to wear masks.




USATODAY.com - Published





Sen. Paul: Why I didn't quarantine after getting tested

Sen. Rand Paul: Guidelines would not have called for me to get tested nor quarantined. It was my extra precaution, out of concern for my damaged lung.




USATODAY.com - Published





Rand Paul's Positive Coronavirus Test Sets the (Still Meeting) Senate on Edge

The Kentucky Republican's diagnosis has injected a shot of fear into the Senate as it scrambles to pass a relief package to respond to the pandemic.




NYTimes.com - Published





Should Congress move immediately to remote voting? Sen. Rand Paul's coronavirus diagnosis adds to debate

The Senate gym and other common areas of the Capitol are the focus of growing concern after Sen. Rand Paul tested positive for coronavirus.




USATODAY.com - Published





Rand Paul, first senator with coronavirus, attended fundraiser with 3 others who tested positive

Three Kentucky Democrats – Rep. John Yarmuth, Gov. Andy Beshear and Louisville Mayor Greg Fischer – also attended but have tested negative.




USATODAY.com - Published





US senator Rand Paul infected with virus

Sen. Rand Paul of Kentucky has tested positive for the new coronavirus, becoming the first case in the Senate and raising fears about the further transmission of the virus among Republicans at the..




WorldNews - Published





Rand Paul becomes first U.S. senator to test positive for coronavirus

U.S. Senator Rand Paul has tested positive for the coronavirus, his office said on Sunday, becoming the first member of the Senate to announce he has COVID-19, as the number of U.S. cases of the..




Reuters - Published





Rand Paul's coronavirus infection sends shockwaves through Senate during major stimulus debate

The diagnosis comes as the Senate prepares to move forward on a massive coronavirus stimulus aid package.




USATODAY.com - Published





Republican Rand Paul names purported 'whistleblower' in the Senate

Republican Senator Rand Paul gave the purported name of the anonymous whistleblower at the center of President Donald Trump's impeachment in a speech in the Senate on Tuesday, after earlier being..




Reuters - Published





Chief Justice Denies Senator's Bid to Name Person Thought to be Whistle-blower

Senator Rand Paul, Republican of Kentucky, read the name to reporters and posted it on Twitter after failing to get Chief Justice John G. Roberts Jr. to say during President Trump's impeachment..




NYTimes.com - Published





Rand Paul names the person widely believed to be the C.I.A. whistle-blower.

After having his question rejected on the Senate floor, the senator held a news conference naming the person and posted it on Twitter.




NYTimes.com - Published





Chief Justice declines a question from Rand Paul that could have identified the whistle-blower.

Senator Rand Paul of Kentucky has said he wants to ask about the origins of the impeachment inquiry, but Chief Justice Roberts refused.




NYTimes.com - Published





Rand Paul to insist on a question that names the whistle-blower.

The question was repeatedly rejected by Chief Justice John G. Roberts Jr. on Wednesday because it would identify the C.I.A. whistle-blower.




NYTimes.com - Published




Will Rand Paul ask his question?

The question could have revealed the name of the whistle-blower whose complaint sparked the Ukraine inquiry.




NYTimes.com - Published





Rand Paul takes a break from doodling to silently make a point.

A senator creates an extensive drawing of the Capitol while he listens to the prosecution's presentation.




NYTimes.com - Published





Rand Paul on Senate trial: 'I don't think any Republicans are going to vote for impeachment'

Sen. Rand Paul said Republican senators would effectively be ending their careers if they vote to convict and remove President Donald Trump.




USATODAY.com - Published





Trump is of 'two minds' on trial witnesses, Rand Paul said.

The senator said in an interview that President Trump also believed the chance to end the trial quickly would be appealing.




NYTimes.com - Published





Rand Paul says Senate conservatives "not going to vote for" new health bill

Sen. Rand Paul, R-Kentucky, says the House Republicans' healthcare bill will not pass through the Senate. "If we get what we got from Ryan - Obamacare light - he will not get the votes."




CBS News - Published





Sen. Rand Paul says conservative Republicans will realize the new Senate health care bill "is not repeal"

Senator Rand Paul, R-Kentucky, shares why he opposes the new version of the Senate health care bill with Face the Nation Moderator John Dickerson.




CBS News - Published





Open: This is Face the Nation, July 16

This week on "Face the Nation," host John Dickerson interviews Senator Mark Warner, Senator Rand Paul, and Jay Sekulow to discuss the latest on the Russia investigations and the new version of the..




CBS News - Published




Sen. Paul says the FBI should stay out of politics

Sen. Rand Paul, R-Kentucky, joins moderator Margaret Brennan to discuss the Russia probes and the upcoming hearing to confirm Mike Pompeo as the secretary of state.




CBS News - Published





Paul on Khashoggi murder: "The evidence is overwhelming that the Crown Prince was involved"

Sen. Rand Paul, R-Kentucky, discusses how the murder of Jamal Khashoggi will affect the US relationship with Saudi Arabia with moderator Margaret Brennan.




CBS News - Published





Rand Paul defends troop withdrawal in Syria, Afghanistan: "Can the people who live there not do anything?"

Sen. Rand Paul, R-Kentucky, joins Margaret Brennan to discuss General James Mattis' resignation and President Trump's decision to withdraw from Syria.




CBS News - Published





"Print his name!": Rand Paul urges media to reveal the whistleblower

The Republican senator also urged Congress to subpoena the whistleblower — whose identify is protected by federal law — to testify in the impeachment hearings




CBS News - Published





'Do your job!': Kentucky Sen. Rand Paul demands media reveal whistleblower's identity

Kentucky Sen. Rand Paul called on the media to report the whistleblower's identity: "I say tonight to the media, do your job and print his name."




USATODAY.com - Published





Video shows Rand Paul being 'verbally assaulted' by 'aggressive libs,' aide says

A Rand Paul spokeswoman said "Senator Paul was sitting eating when they came up to him and (his deputy chief of staff) unprompted."




USATODAY.com - Published





President Donald Trump moves to stop 'endless wars.' I stand with him: Sen. Rand Paul

The Syrian civil war was a mess from the beginning. There's no clear U.S. interest and no need for U.S. troops, writes Sen. Rand Paul, R-Ky.




USATODAY.com - Published





Rand Paul defends Trump's call with Ukraine's Zelensky as "direct"

The Kentucky senator also defended the president's decision to withdraw troops from Syria as wise




CBS News - Published





Rand Paul on Turkey's assault on Kurds, Trump impeachment inquiry, and "The Case Against Socialism"

Republican Sen. Rand Paul is backing President Trump's decision to withdraw U.S. troops from northern Syria. The Kentucky lawmaker, who ran against Mr. Trump in the 2016 election, has become a..




CBS News - Published





Paul to Trump: Saudis consider sanctions for Khashoggi killing a "sign of weakness"

Sen. Rand Paul says Trump administration should cut off arm sales to Saudi Arabia in wake of CIA evidence that he says links the Saudi Crown Prince to the murder of Jamal Khashoggi




CBS News - Published





Appeals court orders resentencing for Rand Paul attacker

The three-judge panel said it found "no compelling justification" for Rene Boucher's 30-day sentence




CBS News - Published





Mitch McConnell and Rand Paul Are Recovering From Medical Procedures

Mr. McConnell fractured his shoulder while Mr. Paul had surgery to have part of his lung removed. Both senators are recovering in their home state of Kentucky, their teams said.




NYTimes.com - Published





Rand Paul has surgery to remove part of his lung after 2017 assault

The Republican is currently home for August recess but said he has had to limit his activities because of the medical procedure




CBS News - Published





Rand Paul undergoes lung surgery for injury related to assault by his Kentucky neighbor

Sen. Rand Paul will be away from the Senate until September after undergoing lung surgery over the weekend related to his 2017 assault.




USATODAY.com - Published