Nordstrom
American chain of luxury department store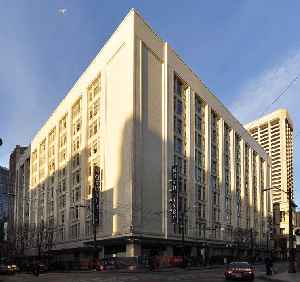 Nordstrom, Inc. is an American luxury department store chain. Founded in 1901 by John W. Nordstrom and Carl F. Wallin, it originated as a shoe store and evolved into a full-line retailer with departments for clothing, footwear, handbags, jewelry, accessories, cosmetics, and fragrances. Some stores feature home furnishings and wedding departments, and several have in-house cafes, restaurants, and espresso bars.


Nordstrom To Stop Selling Furs

On Tuesday, Nordstrom announced it will no longer sell products made with fur or exotic animal skin by the end of 2021. Business Insider says Nordstrom is the first US-based retailer to ban exotic..
Credit: Wochit News Duration: 00:29
Published
You Might Like



Nordstrom to stop selling fur, exotic animal skin products

Upscale retailer is first in the nation to ban skins from kangaroos, snakes and alligators, Humane Society says.




CBS News - Published





15 of the best sweaters you can buy on sale for fall right now

Shop sweater sale picks from some of our favorite retailers, including Anthropologie, Nordstrom, UGG, Macy's and more.




USATODAY.com - Published





120+ retailers selling face masks online

Looking for where to buy face masks online? Here are some of the most popular masks, including Athleta, Nordstrom, Vistaprint, and more.




USATODAY.com - Published





15 deals that are selling out fast during Nordstrom's Anniversary Sale

Uggs, Moonlight Dream pajamas, Zella leggings, and more are all selling out fast at the Nordstrom Anniversary Sale.




USATODAY.com - Published





12 awesome holiday gifts to buy now during Nordstrom's Anniversary Sale

Items like Spanx leggings, Patagonia quarter-zips, Ugg slippers, and more would make great gifs and are on sale at the Nordstrom Anniversary Sale.




USATODAY.com - Published





50 brands giving back to the community during the COVID-19 pandemic

These 50 retailers and brands are giving back during the coronavirus (COVID-19) pandemic, including Anthropologie, New Balance, Nike, Nordstrom, and more.




USATODAY.com - Published





100+ retailers selling face masks online: Athleta, Nordstrom, Anthropologie, and more

Here are the best places to buy cloth face masks online to protect against COVID-19, including Anthropologie, Under Armour, Tory Burch, and Old Navy.




USATODAY.com - Published




Are more store closings coming? As many as 25,000 stores could shutter in 2020 due to COVID-19 impact

JCPenney, Pier 1, Nordstrom and Tuesday Morning aren't expected to be the only retailers closing stores this year due to the impacts of the pandemic.




USATODAY.com - Published





Coronavirus live updates: San Francisco mayor extends stay-at-home order indefinitely; Boston Marathon canceled; Nordstrom closes 16 stores

The House passed a bipartisan bill to make changes to the PPP program. The Boston Marathon was canceled. More COVID-19 news Friday.




USATODAY.com - Published





Nordstrom sales plunge nearly 40% on pandemic-led store closures

Upscale department store chain Nordstrom Inc on Thursday reported a nearly 40% slump in quarterly sales, as lockdowns to contain the COVID-19 pandemic forced it to shut stores.




Reuters - Published





10 retailers having Memorial Day sales that are giving back to healthcare workers

These are the 10 top retailers having Memorial Day sales that are also giving back to essential workers and nurses, including Nordstrom, Madewell, and Crocs.




USATODAY.com - Published





Warehouse workers risk COVID-19 to ship Gucci shades, face cream, sofas

As U.S. authorities ordered shutdowns of non-essential businesses to fight coronavirus, retailer Nordstrom Inc closed hundreds of stores and gave in-store workers three weeks' pay, calling their..




Reuters - Published




20 retailers giving back during the coronavirus pandemic

Retailers like Nordstrom, Frye, Billie, and more are giving back by donating to charities and making essential products for health workers.




USATODAY.com - Published





17 amazing apparel sales to shop while you're in quarantine

Check out our list of the best fashion sales and deals you can shop right now from top stores and brands including Nordstrom, Anthropologie, and more.




USATODAY.com - Published





Nordstrom just put almost everything on sale—these are the best deals on Birkenstock, Canada Goose, and more

At Nordstrom's massive surprise sale, you can get huge savings on top brands like Birkenstock, Zella, Canada Goose, and more.




USATODAY.com - Published





Macy's, Bloomingdale's, Nordstrom to close all stores because of coronavirus

Department stores Macy's, Nordstrom and Bloomingdale's are closing all stores because of coronavirus. Online stores will remain open.




USATODAY.com - Published





17 can't-miss deals from Nordstrom's huge end of year sale

Nordstrom's Half-Yearly Sale is back and you can score end of year discounts on cult-favorite necessities from Barefoot Dreams, Ugg, Nike, and more.




USATODAY.com - Published





The best after Christmas sales you can shop right now

These after Christmas sales at Nordstrom, Amazon, L.L.Bean, and other major retailers are the perfect way to save on gifts you really want for yourself.




USATODAY.com - Published





'We've come full circle': Twitter balks at $60 AirPod carrying straps that defeat original purpose of in-ears

The Apple AirPods' unique selling point is their wireless design, affording users unparalleled freedom. However, anxiety over losing the tiny in-ears prompted e-tailers Nordstrom and Amazon to sell..




WorldNews - Published





30 great deals from Nordstrom's early Black Friday sale

As part of the Nordstrom Fall Sale, you can get up to 40% off top brands like Madewell, Sam Edelman, AG, Tory Burch, and more.




USATODAY.com - Published





Many happy returns

Some retailers and online shopping sites have very liberal return policies - even taking back merchandise they can't sell again - in order to ensure happy customers. Tracy Smith examines why the return..




CBS News - Published





Nordstrom opens new seven-level flagship store in New York City

High-end retailer Nordstrom opened its first flagship store for women and children in New York City.




USATODAY.com - Published





Why Nordstrom Stock Surged Today

What happened Shares of Nordstrom (NYSE: JWN) were gaining today after the well-to-do department-store chain posted an earnings report that, while troubling, was still better than the market had..




WorldNews - Published





S&P 500 stalls as U.S. employment, manufacturing data offset

The benchmark S&P 500 struggled for direction on Thursday as strong results from Nordstrom Inc and a fall in U.S. jobless claims offset data showing a contraction in U.S. manufacturing activity.




Reuters - Published





Wall Street opens higher on strong retail earnings

U.S. stocks opened higher on Thursday, as strong results from retailers including Nordstrom reinforced confidence in consumer demand, while investors look ahead to Fed Chief Jerome Powell's speech for..




Reuters - Published





18 amazing beauty deals you can still get at Nordstrom's Anniversary Sale

Grab all your beauty essentials now before the Nordstrom Anniversary Sale ends.




USATODAY.com - Published





The fall and winter essentials you can get for amazing prices at Nordstrom's Anniversary Sale

With the Nordstrom Anniversary Sale in full swing, now's the best time to save on all your favorite cold weather apparel.




USATODAY.com - Published





The best designer bags and accessories you can still get from the Nordstrom Anniversary Sale

Nordstrom's most glorious sales event is the perfect time to grab bags and accessories from Madewell, Rebecca Minkoff, Tory Burch, and others.




USATODAY.com - Published