Area 51
United States military installation located in southern Nevada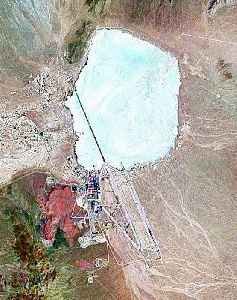 Area 51 is the common name of a highly classified United States Air Force (USAF) facility located within the Nevada Test and Training Range. Officially, the facility is called Homey Airport (KXTA) or Groom Lake, named after the salt flat situated next to its airfield. Although details of the facility's operations are not publicly known, the USAF says it as an open training range and it most likely supports the development and testing of experimental aircraft and weapons systems based on historical evidence. The USAF acquired the site in 1955, primarily for flight testing the Lockheed U-2 aircraft.


Animal shelter encourages Area 51 fans to "storm our shelter"
If you're planning on storming Area 51, you're gonna need some backup protection
CBS News - Published
Raiding Area 51? You'll find a sci-fi brothel, a gift shop and a bunch of desert
A sci-fi brothel, an extraterrestrial souvenir shop and a fireworks dealer: This is the epicenter of the Area 51 raid to 'see them aliens.'
USATODAY.com - Published
How Did Area 51 Become The Site Of Alien Conspiracy Theories?
Area 51 has been the focal point of alien conspiracy theories in America for decades. The remote military base in the Nevada desert has a lot of history. It has been associated with aliens almost since..
Credit: Wochit News Duration: 00:33Published
Area 51 Facebook Event Spurs Another Calling On Thousands To Visit The Bermuda Triangle Since 'It Can't Swallow Us All'
After a popular Facebook event drew millions of people planning to "Storm Area 51," someone else created an event on the social media site for thousands of people to travel to the mysterious Bermuda..
WorldNews - Published
Can you really raid Area 51? And are there aliens? 7 questions answered
Two Area 51 experts explain all you need to know about the Nevada Air Force base after a joke Facebook event promises to "storm" and raid Area 51.
USATODAY.com - Published
Lil Nas X raids Area 51 in new "Old Town Road" music video
The U.S. Air Force, which conducts tests and trains combat aircraft there, said the event could be "dangerous"
CBS News - Published
'Highly discouraged': Air Force responds to plans to 'storm Area 51' and 'see them aliens'
As more than a million people on Facebook say they're "going" to a joke event to "storm Area 51," the U.S. military has responded to the plans.
USATODAY.com - Published
Alien seekers join forces to 'storm Area 51' together
Area 51 is a highly classified Air Force Facility rumored to be the government's hiding place for secrets about aliens and UFOs.  
USATODAY.com - Published
UPDATE: Half A Million People Join Facebook Event To Storm Area 51 And Free The Aliens
The United States Air Force issued a sternly worded warning after a Facebook event attracted more than half a million people who planned to storm the top-secret Area 51 military base in the desert on..
WorldNews - Published
Thousands sign up to storm Nevada's Area 51 to 'see them aliens'
Over 5,00,000 people have signed on to a Facebook event pledging to raid Nevada's...
WorldNews - Published
'They can't stop all of us!' 350k+ people volunteer to storm Area 51 to 'see ...
Nearly 400,000 alien-hunters are plotting an early-morning mass invasion of top-secret Nevada military site Area 51, hoping to overwhelm security by force of sheer numbers… at least, that's what..
WorldNews - Published
Are we alone? Nearly 400K people have signed up for Facebook event to 'storm' Area 51 and 'see them aliens'
Over 370,000 people signed on to a Facebook event to raid Area 51 in search of aliens. The facility's purpose has long been a subject of speculation.
USATODAY.com - Published
You Might Like