Dunedin
City in Otago, New Zealand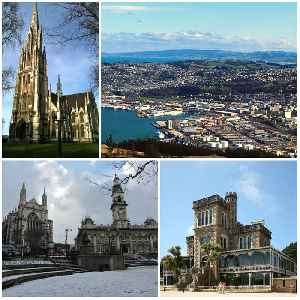 Dunedin is the second-largest city in the South Island of New Zealand, and the principal city of the Otago region. Its name comes from Dùn Èideann, the Scottish Gaelic name for Edinburgh, the capital of Scotland.


Australian counter-terrorism police raids houses near Grafton linked to Christchurch shooter Brenton Tarrant
Tarrant, a self-avowed white supremacist, spent his youth in Grafton but has travelled abroad extensively over the past decade and had lived in recent years in Dunedin, New Zealand.
Firstpost - Published
Dunedin airport in New Zealand reopens after security scare
New Zealand police said early on Monday that the airport in the southern city of Dunedin had reopened after a suspicious object found on the airfield turned out to be a hoax.
Reuters - Published
New Zealand police remaining 'highly vigilant and highly visible' after mosque shootings
New Zealand Police said they would remain highly vigilant and highly present across the country after an attack that killed 49 people and wounded dozens, prompting the prime minister to vow reform of..
Credit: Reuters Studio Duration: 01:03Published
New Zealand police shuts Dunedin airport after reports of 'suspicious package'; Christchurch attack gunman lived in the town
New Zealand police closed Dunedin airport late on Sunday after a suspicious device was reported on the airfield.
Firstpost - Published
NZ police shut Dunedin airport after report of a suspicious package
New Zealand's police said on Sunday that the airport in the city of Dunedin had been closed following a report of a suspicious package on the airfield.
Reuters - Published
Search this site and the web:
You Might Like