Joel Embiid
Cameroonian basketball player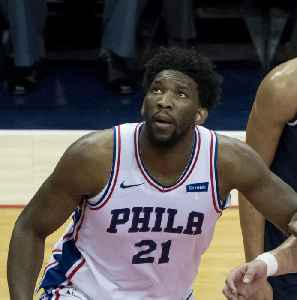 Joel Hans Embiid is a Cameroonian professional basketball player for the Philadelphia 76ers of the National Basketball Association (NBA). After one year of college basketball with the Kansas Jayhawks, he was drafted with the third overall pick in the 2014 NBA draft by the 76ers. Multiple foot and knee injuries delayed his debut for two seasons until 2016–17, when he was named to the NBA All-Rookie First Team despite playing only 31 games. Embiid has received two All-Star selections. He has nicknamed himself "The Process" in response to a refrain from 76ers fans during the Sam Hinkie era to "trust the process".


Embiid listed as doubtful for 76ers' Game 4 vs Nets
The Philadelphia 76ers are listing Joel Embiid as doubtful for Game 4 of their first-round series against the Brooklyn Nets
USATODAY.com - Published
76ers show off firepower to take down Nets in Game 3 for 2-1 series lead
Ben Simmons and Tobias Harris provided plenty of punch while Joel Embiid sat out to lead the Sixers to a 131-115 victory in Brooklyn.
USATODAY.com - Published
Should the 76ers Be Considered the Favorites in the East?
After beating the Bucks on the road behind a monster game from Joel Embiid, the 76ers might have a legitimate claim to being the best squad in the Eastern Conference.
Credit: Sports Illustrated Duration: 01:24Published
Simmons scores 31 points, 76ers beat Nets without Embiid
Ben Simmons scored a career playoff-high 31 points, Tobias Harris added 29 points and 16 rebounds and the Philadelphia 76ers shook off the absence of Joel Embiid to beat the Brooklyn Nets 131-115 for a..
USATODAY.com - Published
Embiid not playing in Game 3 because of sore knee
Joel Embiid is not playing for the Philadelphia 76ers in Game 3 against the Brooklyn Nets because of a sore left knee
USATODAY.com - Published
Cameras catch Joel Embiid looking at cell phone on bench during 76ers' Game 1 loss
As the 76ers were on their way to a loss in their playoff opener against the Nets, the ESPN broadcast captured Joel Embiid using a cell phone.
USATODAY.com - Published
Embiid in starting lineup for 76ers in Game 1 against Nets
Embiid, once doubtful because of knee, starting for 76ers in Game 1 against Nets
USATODAY.com - Published
Can the 76ers make a deep playoff run with an ailing Joel Embiid?
Joel Embiid is the key to the 76ers' playoff fortunes. His injured knee and uncertain status loom large over Philadelphia and the East playoffs.
USATODAY.com - Published
Embiid may miss 76ers' playoff opener with knee issue
Joel Embiid's achy left knee may prevent the All-Star from playing in the Philadelphia 76ers' playoff opener
USATODAY.com - Published
You Might Like