Northern California
Region of the U.S. state of California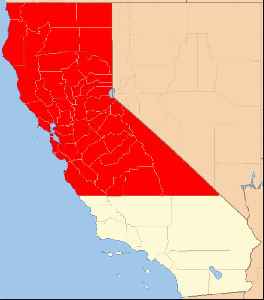 Northern California is the northern portion of the U.S. state of California. Spanning the state's northernmost 48 counties, its main population centers include the San Francisco Bay Area, the Greater Sacramento area, and the Metropolitan Fresno area. Northern California also contains redwood forests, along with the Sierra Nevada, including Yosemite Valley and part of Lake Tahoe, Mount Shasta, and most of the Central Valley, one of the world's most productive agricultural regions.


Northern California wildfires leave at least three dead

A Northern California wildfire threatened thousands of homes on Thursday afterwinds whipped it into a monster that incinerated houses in a small mountaincommunity and killed at least three people...
Credit: PA - Press Association STUDIO Duration: 00:36
Published
Watch: Northern Californian skies turn orange as smoke rages from wildfires

Smoke from raging wildfires blanketed parts of Northern California. San Francisco witnessed a hazy orange-coloured sky. Dense smog covered the skyline of the California city. Netizens took to Twitter..
Credit: HT Digital Content Duration: 01:20
Published
Furry visitor on the prowl in California store

At a North California supermarket last week, one visitor likely had only one thing in mind - the bear necessities.
Credit: Reuters Studio Duration: 00:10
Published
Uber Exec Charged With Covering Up Hack

Joseph Sullivan, the former chief of Uber's security, was charged this week in connection with an alleged cover-up of a massive 2016 hack. The hack exposed the personal information of some 57 million..
Credit: Wochit News Duration: 00:49
Published
You Might Like



California wildfires: Resources run thin to stop blazes

Justin Silvera came off the fire lines in Northern California after a gruelling 36 straight days battling wildfires and evacuating residents ahead of the flames. Before that, he and his crew had worked..




New Zealand Herald - Published





In California: Trump visits NorCal amid fires; gyms and salons reopen in S.F.

Biden and Trump battle over what caused the California wildfires, counties prepare for Tuesday's review of coronavirus tiers, and "The Golden Girls" celebrate a coral anniversary.  




USATODAY.com - Published





Wildfire burning in Northern California is the state's largest on record

Six of the 20 largest wildfires in California history are currently burning, according to Cal Fire.




CBS News - Published





AP Top Stories September 11 A

Here's the latest for Friday September 11th: Trump and Biden to attend September 11th events; At least 10 known dead in Northern California wildfire; Oregon fires force about 500,000 to evacuate;..




USATODAY.com - Published




10 now dead in massive California wildfire

A Northern California wildfire has become the state's deadliest of the year after authorities announced seven more deaths, bringing the total to 10 and there is the unnerving prospect the toll would..




New Zealand Herald - Published





California wildfires: Three dead northeast of San Francisco

Three people died in a wind-whipped Northern California wildfire that has forced thousands of people from their homes while carving a 40km path of destruction through mountainous terrain and parched..




New Zealand Herald - Published





Eerie scenes at A's, Giants games from nearby wildfires

A number of Northern California wildfires sent a thick orange-glowing haze over baseball games played in Oakland and San Francisco.




USATODAY.com - Published





Wildfire smoke plumes morphs San Francisco's skyline into eerie Martian orange

The National Weather Service said wildfires burning across Northern California caused unprecedented smoke clouds.




USATODAY.com - Published





Wildfire victims thrust into Northern California housing shortage

"There's nothing to be had. There's no place to live," said Tabatha Brewster, who is starting over from scratch




CBS News - Published





Deadly wildfire burns Northern California

At least nine people have been killed and hundreds of buildings destroyed, as wildfires burning across the state stretch fire crews to the limit




CBS News - Published




Newsom proves he's no deer in headlights while managing several crises 'of biblical proportions'

SACRAMENTO — Gov. Gavin Newsom has been keeping barely one step ahead of being trampled by rampaging disasters. He has survived on energy and agility — and hasn't frozen like the proverbial deer..




WorldNews - Published





4 Years of Catastrophic Fires in California: 'I'm Numb'

For the eight million residents of the San Francisco Bay Area, a ring of fire across Northern California feels inescapable.




NYTimes.com - Published





Massive wildfires scorch California as threat of lightning igniting more looms

Three massive wildfires are scorching Northern California, and more than 650 wildfires, most sparked by lightning, have burned in the last week.




USATODAY.com - Published




Northern California wildfires scorch more than 1 million acres

More than 14,000 exhausted firefighters are battling nonstop flames in the Golden State.




CBS News - Published

Also reported by •WorldNews


In California's Wine Country, a Familiar Threat of Smoke and Flame

Wildfires are raging across Northern California, including in Napa and Sonoma Counties, but locals are used to the danger.




NYTimes.com - Published





At least five people killed in Northern California wildfires

Dozens of wildfires raging throughout Northern California have now claimed at least five lives and threaten tens of thousands of homes, authorities said on Thursday (US time).The death of a resident in..




New Zealand Herald - Published





Other states help California battle huge wildfires

As wildfires rage across Northern California, Gov. Gavin Newsom says he is seeking assistance from around the country. Cal Fire says there are nearly 12,000 firefighters battling nearly two dozen major..




USATODAY.com - Published





Rare 'firenado,' or fire tornado, strikes Northern California due to Loyalton Wildfire

A rare 'firenado' hit Northern California Saturday due to the Loyalton Wildfire.  




USATODAY.com - Published





2/9: From drought to flood in Northern California; killer ex-cop confrontation one year later

A powerful stream of moisture is bringing much-needed precipitation to drought-stricken parts of Northern California. For many areas, though, the heavy rain, wind and snow are too much; and,It was a..




CBS News - Published





Cop Saves Man Stuck on Train Tracks in Wheelchair with Seconds to Spare

A veteran police officer took quick action and risked her own life to save a man in a wheelchair from being run over by a train ... just in the nick of time. The incredible rescue in Northern..




TMZ.com - Published





Crews fight Northern Calif. brush fire by highway

Firefighters were battling a brush fire on Monday in Northern California. The Contra Costa County Fire Protection District said on Twitter that the "grass fire" had burned about 60 acres. (July 6)  




USATODAY.com - Published





Fort Bragg, California considers name change

Fort Bragg, a rugged Northern California coastal city named for a Confederate general may ask voters to change its name as people protesting racial inequality and police brutality tear down monuments..




USATODAY.com - Published





Utility fined over $3 million in wildfire deaths

Pacific Gas & Electric on Thursday was fined over $3 million for the deaths of 84 people killed in a nightmarish Northern California wildfire ignited by the its long-neglected electrical grid. (June..




USATODAY.com - Published





PG&E pleads guilty to involuntary manslaughter in California wildfire deaths: report

PG&E pleaded guilty on Tuesday to 84 counts of involuntary manslaughter stemming from a devastating 2018 wildfire in Northern California touched off by the utility company's downed power lines, the New..




Reuters - Published

Also reported by •USATODAY.com


Coast Guard rescues crew of disabled sailboat

A US Coast Guard helicopter rescued the crew of a 30-foot sailboat in bad weather off the Northern California coast. The Coast Guard said the sailboat, Freedom, experienced steering and engine failure..




USATODAY.com - Published




California shark attack victim was surfboard maker

A 26-year-old man killed in a shark attack off a Northern California beach was an avid surfer who customized surfboards for a living. The Santa Cruz County coroner's office identified the victim of..




USATODAY.com - Published





Shark Attack Kills Surfer in Northern California

Ben Kelly, 26, who designed boards for a living, was surfing at Manresa State Beach near Santa Cruz when he was attacked.




NYTimes.com - Published





In CA: We will all vote by mail now, and Gerber's first adopted spokesbaby

Stores started reopening Friday, either too early or not fast enough. And a million U.S. citizens may not get federal stimulus money because of a clause in the law. Plus, I talked to one of our NorCal..




USATODAY.com - Published





Some California counties reopen, defy state orders

A Northern California shopping mall opened to customers Wednesday, despite state orders restricting businesses due to the pandemic. Other businesses barred under the orders reopened Monday in Yuba and..




USATODAY.com - Published





'Nature welcomes the change': with no tourists, wildlife roams California's Yosemite

A bear ambles across a forest glade and a herd of deer stroll down a silent road. At Yosemite National Park in Northern California, coronavirus restrictions mean no tourists - and bolder wildlife.




Reuters - Published




Coronavirus Testing Website Goes Live and Runs Into Confusion

The site from Google's sister company, Verily, was rolled out to two Northern California counties in hopes of guiding people to local virus testing.




NYTimes.com - Published





First US coronavirus case of unknown origin

Public health officials are retracing the steps of a Northern California woman believed to be the first person in the U.S. to contract the coronavirus without traveling internationally or being in..




USATODAY.com - Published




Couple lost on Valentines Day hike is rescued

A couple who got lost during a Valentine's Day hike in the woods of Northern California was found Saturday by rescuers who spent almost a week looking for them and had given up hopes of finding them..




USATODAY.com - Published





Homelessness in California: Making Money by Delivering Eviction Notices

Wednesday: For many, being unhoused doesn't mean being jobless. Also: Why warm weather in Northern California could be bad; and a visit to Nari.




NYTimes.com - Published





The Lonely End to One Gray Wolf's 8,700-Mile Search for a Mate

Wildlife officials are investigating the death of OR-54, a female wolf whose carcass was found in Northern California.




NYTimes.com - Published





More evacuees arrive at US bases from China

Two jets carrying Americans fleeing the virus zone in China have arrived at an Air Force base in Northern California. Some will be quarantined on the base for 14 days, and others will be quarantined at..




USATODAY.com - Published





Nearly 100,000 gallons of wine spilled from Northern California vineyard

Rodney Strong Vineyards in Healdsburg said much of the wine that escaped was captured in pumps and drainpipes in ponds at the winery.




USATODAY.com - Published




In California: Knowing is half the battle

Find out how to watch more than a million snow geese as they munch on rice fields in NorCal. And our Palm Springs-based political reporter breaks down all you need to know ahead of the Golden..




USATODAY.com - Published





Sutter Health to Pay $575 Million to Settle Antitrust Lawsuit

The deal resolves allegations of anti-competitive behavior by the large hospital system in Northern California.




NYTimes.com - Published





NorCal supervisors race takes an odd turn to an Epstein meme

A ploy for votes — or at least attention — in a local race. Also, utilities can't make as much money as they would like.  




USATODAY.com - Published





A family counts on a miracle to bring their daughter back

In Northern California, a family asks for divine intervention.  




USATODAY.com - Published





PG&E reaches $13.5 billion settlement from 2017-2018 wildfires

LOS ANGELES — Pacific Gas and Electric announced Friday it has reached a tentative $13.5 billion settlement resolving all major claims related to the deadly, devastating Northern California wildfires..




WorldNews - Published