Stephen Curry
American basketball player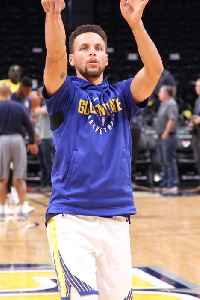 Wardell Stephen Curry II is an American professional basketball player for the Golden State Warriors of the National Basketball Association (NBA). A six-time NBA All-Star, he has been named the NBA Most Valuable Player (MVP) twice and won three NBA championships with the Warriors. Many players and analysts have called him the greatest shooter in NBA history. He is credited with revolutionizing the game of basketball by inspiring teams to regularly employ the three-point shot as part of their winning strategy.


Durant, Curry shut down Clippers in Warriors' 132-105 win
Kevin Durant scored 38 points, Stephen Curry added 21 points playing with five fouls, and the Golden State Warriors dominated from the opening tip to beat the Los Angeles Clippers 132-105 and take a..
USATODAY.com - Published
California Today: Why Gas Prices Are Spiking
Tuesday: Buckle up for a volatile summer in gas prices; catch up on Pulitzer Prize-winning journalism; and see how Stephen Curry ranks arena popcorn
NYTimes.com - Published
Are The Warriors Playing With Fire By Feuding With The Referees?
After a plethora of recent feuds between the Warriors and NBA referees including stars Stephen Curry, Draymond Green, and Kevin Durant, Crossover Tv discusses whether this is a bad look for the..
Credit: Sports Illustrated Duration: 02:49Published
Steph Curry Surprises Texas Tech With Special Curry 6s Before Final Four
Warriors guard Steph Curry gifted Texas Tech with a new colorway of his Under Armour Curry 6s before its Final Four clash with Michigan State on Saturday night.
Credit: Sports Illustrated Duration: 00:51Published
Steph Curry Calls Nipsey Hussle's Death 'Tragic' Says Rapper Was "Just Getting Started'
Steph Curry reacted to Nipsey Hussle's sudden and untimely death in an interview with CNN's "World Sport" on Thursday. The NBA star ruminating on the rapper's legacy, "his message of integrity" and the..
Credit: Wochit News Duration: 00:54Published
Barack Obama Manages to Work in Michelle Obama in a Discussion About 'Being a Man'
Former President Barack Obama teamed up with Golden State Warrior star Stephen Curry to encourage the audience of young African-American men to focus on their own self-confidence as the path to true..
Credit: Time Duration: 01:52Published
Barack Obama: 'If You're Confident About Your Sexuality, You Don't Need Eight Women Around You Twerking'
Barack Obama spoke with Stephen Curry during a special evening to celebrate five years of the My Brother's Keeper Alliance, an organisation started by Obama to help boys and young men of color. The..
Credit: Newsweek Duration: 00:57Published
Warriors squander 31-point lead, Clippers tie series at 1-1
Landry Shamet hit a go-ahead 3-pointer with 16.5 seconds left, Stephen Curry couldn't answer on the other end, and the Clippers climbed back from 31 points down to stun the Golden State Warriors..
USATODAY.com - Published
Without tunnel try, Steph Curry will need new pregame shot
Stephen Curry's pregame tunnel heaves have become such a spectacle at Oracle Arena hundreds of cameras rise in the air to capture the moment
USATODAY.com - Published
What Steph Curry said after 2016 finals loss
Warriors General Manager Bob Myers discusses the conversations he had with Warriors players after their Game 7 loss to the Cavaliers in the 2016 NBA Finals.
CBS News - Published
Stephen Curry and Klay Thompson on how the Warriors became a dynasty
"My 10 years being here, I feel like I've played for three different teams," Curry tells 60 Minutes. The Warriors talk about what the team has gone through to win three of the last four NBA..
CBS News - Published
60 Minutes profiles the Golden State Warriors
Stephen Curry, Kevin Durant, Klay Thompson, Andre Iguodala and Shaun Livingston talk with Jon Wertheim about becoming the reigning dynasty in the NBA. Sunday at 7 p.m. ET/PT on CBS.
CBS News - Published
You Might Like