Gun violence
Broadly defined as violence committed with the use of a gun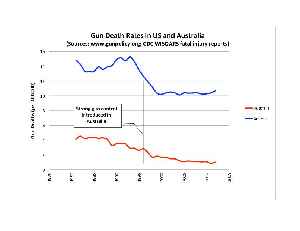 Gun-related violence is violence committed with the use of a gun. Gun-related violence may or may not be considered criminal. Criminal violence includes homicide, assault with a deadly weapon, and suicide, or attempted suicide, depending on jurisdiction. Non-criminal violence includes accidental or unintentional injury and death. Also generally included in gun violence statistics are military or para-military activities.


'Thoughts and Prayers' Aren't Enough, America's First Gun Violence Minister Says.
The saying "has been co-opted by the gun lobby to keep the church from taking action," the Rev. Deanna Hollas said.
NYTimes.com - Published
Search this site and the web:
You Might Like