Jessica Chastain
American actress and producer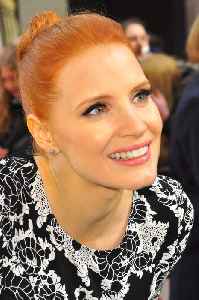 Jessica Michelle Chastain is an American actress and producer. Known for her roles in films with feminist themes, her accolades include a Golden Globe Award and two Academy Award nominations. Time named her one of the 100 most influential people in the world in 2012.


You Might Like
Jessica Chastain Was Approached For A Key Doctor Strange Role, According To The Writer
Jessica Chastain has done quite well for herself over the years, from her Golden Globe-winning performance as Maya in Zero Dark Thirty to most recently starring as the adult Beverly Marsh in IT Chapter..
WorldNews - Published
MOVIE REVIEW: IT Chapter Two
by Graham Pierrepoint - IT CHAPTER TWO IMDb Dir: Andy Muschietti Starring Jessica Chastain, James McAvoy, Bill Hader, Isaiah Mustafa, Jay Ryan, James Ransone, Andy Bean, Bill Skarsgard 4 STARS (out..
One News Page Staff - Published
James McAvoy's fear of anarchy
At the London premiere of "It Chapter Two," stars James McAvoy and Jessica Chastain discuss their fears, and the enduring appeal of the horror genre. (Sept. 3)
USATODAY.com - Published
'It' grows up with 'Chapter 2'
Jessica Chastain, Bill Hader, Finn Wolfhard and director Andy Muschietti tease "epic" scares at the LA premiere of "It: Chapter Two" and a "super cut" of both "It" films next year. (Aug..
USATODAY.com - Published
Jessica Chastain, from Juilliard to Hollywood
In a remarkably short time the Oscar-nominated actress has built a fascinating resume of roles
CBS News - Published
Bryce Dallas Howard: My dad Ron Howard 'legit' thought Jessica Chastain was me
"And he was, like, shook," Bryce Dallas Howard said in a new interview of her famous father, Ron Howard, mistaking Jessica Chastain for his daughter.
USATODAY.com - Published
Jessica Chastain says even Ron Howard once mistook her for daughter Bryce Dallas Howard
"I literally walked by, and (Ron Howard) was like, 'I think I saw (daughter Bryce Dallas Howard),' " Chastain said of their Apple Store encounter.
USATODAY.com - Published
Jessica Chastain and Sophie Turner star in new X-Men film 'Dark Phoenix'
They're the superhero misfits who've entertained us on the big screen for nearly two decades. The X-Men are back with their new movie "Dark Phoenix". For this latest instalment, they're joined by new..
France 24 - Published