Indian National Congress
Political party in India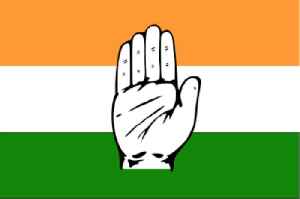 The Indian National Congress is a political party in India with widespread roots. Founded in 1885, it was the first modern nationalist movement to emerge in the British Empire in Asia and Africa. From the late 19th century, and especially after 1920, under the leadership of Mahatma Gandhi, Congress became the principal leader of the Indian independence movement. Congress led India to independence from Great Britain, and powerfully influenced other anti-colonial nationalist movements in the British Empire.


Ended 'dharna' to boycott monsoon session: Congress MP

Congress Rajya Sabha MP Syed Naseer Hussain over the suspension of 8 MPs from Rajya Sabha due to their 'unruly' behaviour on September 20 said that the suspended MPs were not just protesting for the..
Credit: ANI Duration: 01:29
Published
Agriculture Reform Bills: Congress to boycott Parliament until Centre accepts their demands

Congress Leader of Opposition in Rajya Sabha, Ghulam Nabi Azad on September 22 said that the party will boycott Parliament sessions until the government will not accept their demands which is to bring..
Credit: ANI Duration: 02:52
Published
Maratha reservation: Maha govt moves SC seeking vacation on its stay order

Maharashtra government filed a petition in Supreme Court, seeking vacation of its stay order on Maratha reservation.The Cabinet Minister of Maharashtra and Congress leader, Ashok Chavan met with..
Credit: ANI Duration: 01:02
Published
12 parties requested President to not give ascent to farm bills: Congress MP Gohil

While speaking to ANI in the national capital on September 21, Congress Rajya Sabha MP Shaktisinh Gohil spoke on expulsion of few members of Rajya Sabha. He said, "12 parties have sought time to meet..
Credit: ANI Duration: 01:27
Published
'Want to extend Karnataka Assembly session for 1 more week': DK Shivakumar

While speaking to media in Bengaluru on September 21, Karnataka Congress president and Congress leader DK Shivakumar spoke on Karnataka Assembly session. He said, "1,600 questions put before the..
Credit: ANI Duration: 02:29
Published
We failed to manage both COVID and economy: Shashi Tharoor in Lok Sabha

Congress leader and Thiruvananthapuram Member of Parliament Shashi Tharoor on September 20 hit out at the Central government over the COVID-19 handling and management of the economy. "We have the worst..
Credit: ANI Duration: 01:43
Published
Will not sign death warrant of farmers: Congress opposes farm bills in Rajya Sabha

Congress opposed the new agriculture Bills in Rajya Sabha. Congress' Member of Parliament (MP), Partap Singh Bajwa said they will not sign on this death warrant of farmers. "Congress opposes these..
Credit: ANI Duration: 01:30
Published
No district of West Bengal included in PMGKRA as state did not share data: Sitharaman

Union Finance Minister Nirmala Sitharaman on September 19 said that West Bengal government did not share data of returning migrant labourers with the Centre and no district of the state could be..
Credit: ANI Duration: 02:38
Published
Centre is a 'no data government': Adhir Ranjan Chowdhury

During Lok Sabha session, Congress MP Adhir Ranjan Chowdhury called Centre a 'no data government'. Adhir Ranjan Chowdhury said, "Government told the Parliament that it didn't maintain any data on..
Credit: ANI Duration: 03:14
Published
Face-off between BJP, Congress in Lok Sabha over PM Cares Fund

A war of words broke out between the BJP and Congress over PM CARES Fund in the lower house of Parliament on September 18. Manish Tewari of the Congress said since the trust has the name of the..
Credit: ANI Duration: 02:13
Published
Shashi Tharoor calls Anurag Thakur's behaviour in lower house as unparliamentarily

Congress MP Shashi Tharoor termed Union Minister Anurag Thakur's behaviour in Lok Sabha as unparliamentarily. Tharoor said, "Instead of answering objection raised on PM CARES Fund, Union Minister..
Credit: ANI Duration: 01:46
Published
Watch: BJP's Nehru-Gandhi jibe Vs Congress' 'Himachal ka chokra' counter

A huge ruckus broke out in Lok Sabha after MoS Finance Anurag Thakur attacked Nehru and Sonia Gandhi during a discussion on PM CARES fund. Defending the fund, Thakur slammed the opposition's constant..
Credit: HT Digital Content Duration: 05:32
Published
Agri bills row: Farmers call rail roko; politics escalates l Latest updates

Politics continues to escalate over the farm related bills passed by the Lok Sabha. Farmers groups have planned to intensify their agitation against the bills and have called for a 'rail roko'..
Credit: HT Digital Content Duration: 03:45
Published
Congress MP gives Adjournment Motion notice in LS over Facebook's interference in 2014 elections

Congress Member of Parliament, Manickam Tagore has given Adjournment Motion notice in Lok Sabha over Facebook's interference in 2014 elections and after that. "I had given an Adjournment Motion to..
Credit: ANI Duration: 01:15
Published
'Where is the data': Anand Sharma on Health Minister's claim that lockdown prevented 78,000 deaths

On 3rd day of Monsoon session of Parliament, Congress MP Anand Sharma in Rajya Sabha sought for "scientific data" of Union Minister Dr Harsh Vardhan's claim that 'lockdown prevented approximately 14..
Credit: ANI Duration: 02:39
Published
You Might Like



Lok Sabha passes three labour code bills, Rajya Sabha to take them up today

Amid boycott from major opposition parties, including Congress, Lok Sabha on Tuesday passed three important labour code bills — the Occupational Safety, Health and Working Conditions Code, the..




IndiaTimes - Published





Congress to launch nationwide protest against farm bills

Congress party on Monday said it will launch a nationwide agitation against the farm bills passed by Parliament and also initiate a campaign for collecting two crore signatures of farmers and the poor..




IndiaTimes - Published





Congress MP slams FCRA amendment bill in LS, says it targets minorities




IndiaTimes - Published





Covid-19 spread: Modi govt sometimes blames God, sometimes people, but not its own 'misrule', says Rahul

Congress leader Rahul Gandhi on Monday attacked the Centre over Union Minister Harsh Vardhan's remarks that people's "irresponsible behaviour" has resulted in a surge in Covid-19 spread, saying the..




IndiaTimes - Published





BJP govt couldn't evict China but using strength to evict 8 opposition MPs: Ahmed Patel

Slamming Bharatiya Janata Party (BJP), Congress MP Ahmed Patel on Monday said that the BJP government could not evict China and Covid-19 but they are using their strength to evict eight opposition MP's..




IndiaTimes - Published





Rahul Gandhi slams Centre for neglecting healthcare staff who test positive for Covid-19

Congress leader Rahul Gandhi on Friday launched a fresh attack on the Central govt and accused it of neglecting healthcare staff who tested positive for Covid-19. "Adverse data-free Modi govt! The..




IndiaTimes - Published





Congress leader Venugopal demands probe by Parliamentary committee into allegations against Facebook




IndiaTimes - Published





'National Unemployment Day': Siddaramaiah targets PM Modi, Karnataka BJP hits back

Taking a swipe at Prime Minister Narendra Modi on his birthday on Thursday, Congress leader Siddaramaiah said the youth of India have decided to celebrate September 17 as 'National Unemployment day' as..




IndiaTimes - Published





Congress MPs from Punjab burn copies of farm bills, party protests in Parliament




IndiaTimes - Published





DMK, Congress oppose amendments to banking regulation law




IndiaTimes - Published





Total 35 Armed Forces Men Lost Battle Against Covid-19, Says MoS Defence Shripad Naik

A total of 32 Indian Army personnel and three Indian Air Force men succumbed to the deadly coronavirus, Minister of State for Defence Shripad Naik said in the Parliament on Wednesday. "The number of..




WorldNews - Published





Centre explains urgency to impose national lockdown with just four hours notice

On September 15, Tuesday responded to a question from Congress leader Manish Tiwari as to why countrymen were given just four hours to prepare for the nationwide lockdown. Prime Minister Narendra Modi..




DNA - Published





Chidambaram says India unique parliamentary democracy where no questions allowed

India is a unique parliamentary democracy where no questions are asked and no debate takes place, Congress leader P Chidambaram said on Tuesday after the party was not allowed to speak on the Ladakh..




IndiaTimes - Published





UPCC chief detained in Kanpur on way to meet slain stone trader's family

Congress leaders, including UPCC president Ajay Kumar Lallu, were detained on Monday while heading to meet the family of Mahoba stone trader Indrakant Tripathi who succumbed to injuries after allegedly..




IndiaTimes - Published





'Black' ordinances of Centre fatal attack on farming community: Rahul Gandhi

Congress leader Rahul Gandhi on Monday termed the agriculture ordinances rolled out by the centre as "black" ordinances and said that these are a fatal attack on farming community.




IndiaTimes - Published





Former Chhattisgarh minister, Congress leader Chanesh Ram Rathiya dies of COVID-19

Chanesh Ram Rathiya, a prominent tribal leader from north Chhattisgarh, was elected as an MLA for the first time in 1977 from Dharamjaigarh constituency in the then undivided Madhya Pradesh. He..




DNA - Published





Every citizen stands with our soldiers but behind PM's policies, actions? I doubt: Kapil Sibal

Congress leader Kapil Sibal on Monday said that every citizen stands behind its soldiers but it is doubtful that the same support is given to the policies and actions of Prime Minister Narendra Modi.




IndiaTimes - Published





Congress MPs move adjournment motion in Lok Sabha over Chinese incursion in Eastern Ladakh

India and China have been engaged in a standoff since April-May over the transgressions by the Chinese Army in multiple areas including the Finger area, Galwan Valley, Hot springs and Kongrung Nala.




IndiaTimes - Published





Sonia Gandhi, Rahul Gandhi to miss part of Monsoon Session of Parliament

Even as the crucial Monsoon Session of Parliament is set to commence from September 14, Congress interim chief Sonia Gandhi will miss the session as she has left for abroad with her son Rahul Gandhi..




DNA - Published





Govt's 'well planned fight' against Covid has put India in 'abyss of GDP reduction': Rahul Gandhi

Taking a dig at the government, Congress leader Rahul Gandhi on Saturday said its "well planned fight" against coronavirus has allegedly put India in an "abyss" of GDP reduction of 24 per cent, 12..




IndiaTimes - Published





Ghulam Nabi Azad well-respected in Congress, he wanted to be replaced as Haryana in-charge: Akhilesh Prasad Singh

Congress leader Akhilesh Prasad Singh on Saturday defended the organisational reshuffle which reconstituted the party's working committee while refuting claims that the senior leader Ghulam Nabi Azad..




IndiaTimes - Published





Congress drops Ghulam Nabi Azad as general secretary; forms 6-member panel to assist Sonia Gandhi

The Congress on Friday announced another set of changes in the organisation, dropping Ghulam Nabi Azad and Mallikarjun Kharge as general secretaries while promoting spokesperson Randeep Singh..




IndiaTimes - Published





Rank cannot be determinant of nutrition in armed forces: Rahul Gandhi to defence panel

Congress leader Rahul Gandhi on Friday said rank cannot determine the provision for nutrition in the armed forces and called for a reconsideration of the related rules.




IndiaTimes - Published





Adhir Ranjan Chowdhury as new Bengal Congress chief: Nehru-Gandhi loyalists reign supreme

Ever since a section of the Congress leaders expressed their reservations over the party leadership last month, the loyalists are getting rewarded one after the other. In the latest development,..




IndiaTimes - Published





Congress leader Ajay Maken moves SC for rehabilitation of dwellers along rail tracks before eviction

Senior Congress leader and former minister Ajay Maken has moved the Supreme Court seeking rehabilitation of slum dwellers prior to the removal of 48,000 dwellings alongside the railway tracks in Delhi...




IndiaTimes - Published





Congress workers raise slogans outside party office in Ajmer, express support for Sachin Pilot

Former Rajasthan deputy chief minister Sachin Pilot's supporters raised slogans on Wednesday outside the Congress office in Ajmer as party general secretary Ajay Maken held a meeting there with local..




IndiaTimes - Published





Adhir Ranjan Chowdhury says Rhea Chakraborty's arrest 'ludicrous'

Congress leader in Lok Sabha Adhir Ranjan Chowdhury on Wednesday batted for actor Rhea Chakraborty, saying her arrest under the NDPS Act is "ludicrous" and her father is entitled to seek justice, the..




IndiaTimes - Published





Congress leader Adhir Ranjan Chowdhury writes to Speaker Birla on deputy speaker's post




IndiaTimes - Published





Need to support youth in their 'fight' for employment: Priyanka

Congress leader Priyanka Gandhi Vadra on Wednesday said the youth are raising their voice over stalled recruitments, examination dates and new jobs, as she underlined the need for supporting their..




IndiaTimes - Published





Four more members added to Priyanka Gandhi's advisory council

Congress interim President Sonia Gandhi has appointed four additional members to the advisory council of Priyanka Gandhi Vadra, party general secretary in-charge of Uttar Pradesh.




IndiaTimes - Published





Congress parliamentary strategy group meets ahead of upcoming monsoon session

The Congress parliamentary strategy group meeting, chaired by interim president Sonia Gandhi, began on Tuesday. ​​​The meeting is being held ahead of the upcoming monsoon session of the..




IndiaTimes - Published





Congress MP urges govt to ensure safe return of five youth from Arunachal Pradesh, strengthen security along border




IndiaTimes - Published





Another 'letter bomb' in Congress, says 'rise above family' to Sonia Gandhi

Adding to Congress' woes, nine expelled leaders have written to party's interim president Sonia Gandhi, asking her to "rise above the affinity for the family. "Parivaar ke moh se utho" - the four-page..




DNA - Published





Congress' Rajya Sabha MP Deepender Hooda tests Covid-19 positive




IndiaTimes - Published





Make Sharad Pawar chief after merging NCP with Congress: Ramdas Athawale

Observing that Sonia Gandhi and Rahul Gandhi are not keen on donning the mantle of Congress president, Union minister Ramdas Athawale on Saturday suggested the NCP be merged with the grand old party..




IndiaTimes - Published





Supreme Court rejects 6 states' review plea on NEET, JEE (Main)

One of the first steps agreed at a meeting chaired by Congress president Sonia Gandhi with chief ministers of seven non-BJP ruled states fell flat on Friday with the Supreme Court rejecting a petition..




IndiaTimes - Published





SC junks 1984 riots convict Sajjan Kumar's plea seeking interim bail

The 73-year-old former Congress leader was sentenced to life for the "remainder of his natural life" by the Delhi High Court on December 17, 2018.




DNA - Published

Also reported by •IndiaTimes


Modi govt pushing India towards financial emergency: Congress




IndiaTimes - Published

Also reported by •DNA


Demonetisation was an attack on India's informal sector: Rahul Gandhi

Hitting out at the Central government, Congress leader Rahul Gandhi on Thursday said that demonetisation was an attack on India's informal sector which mainly included poor labourers, farmers and small..




IndiaTimes - Published





Question Hour should be held in monsoon session of Parliament: Adhir Ranjan Chowdhury

Addressing a press conference, Chowdhury, who is Congress leader in Lok Sabha, said he had told the government that Question Hour should not be cut or curtailed. "Defence Minister Rajnath Singh asked..




IndiaTimes - Published





Daughter Sharmistha custodian of Pranab Mukherjee's diaries, to take call on publishing them

The late Pranab Mukherjee, former President and long-time Congress leader, made his daughter Sharmistha Mukherjee custodian of the diaries he wrote almost every day during his five-decade political..




IndiaTimes - Published





Facebook India chief Ajit Mohan appears before Parliamentary panel

The Parliamentary Standing Committee on Information Technology, headed by senior Congress leader Shashi Tharoor, had called representatives of Facebook to hear their views "on the subject of..




IndiaTimes - Published





Dissenting voices within Congress as it is not in power: Adhir Ranjan Chowdhury

Attacking Congressmen who raised questions over the party leadership, leader of the Congress in Lok Sabha Adhir Ranjan Chowdhury said on Wednesday they were "beneficiaries of the system" and that no..




IndiaTimes - Published





Why are PM CARES Fund trustees afraid to reveal names of donors?: Chidambaram

Congress leader and former Union Finance Minister P Chidambaram on Wednesday slammed the Central government for not revealing the names of the donors of PM CARES FUND and questioned "Why are the..




IndiaTimes - Published





Ghulam Nabi Azad, Kapil Sibal should exit Congress, join BJP: Ramdas Athawale




IndiaTimes - Published





Rahul Gandhi hits out at govt for ignoring demand for NEET-JEE postponement, delay in SSC results

Congress leader Rahul Gandhi on Tuesday alleged that the Modi government has ignored the "genuine concerns" of JEE and NEET aspirants, who have been demanding postponement of the entrance exam, due to..




IndiaTimes - Published





Priyanka Gandhi attacks Centre over plummeting GDP growth

Congress leader Priyanka Gandhi Vadra on Tuesday attacked the Central government over the plummeting GDP growth and said that her brother and former party president Rahul Gandhi had predicted about the..




IndiaTimes - Published





BJP, Congress face-off over Facebook




IndiaTimes - Published





I learnt so much from him, says Sonia Gandhi in letter to Pranab Mukherjee's daughter Sharmistha

Congress President Sonia Gandhi on Monday expressed her condolences on the passing away of former President Pranab Mukherjee, saying that his life over the past 50 years mirrored 50 years of the..




DNA - Published





Parliamentary panel would like to be apprised of impact of internet suspension in J&K: Shashi Tharoor to Speaker

Congress leader and chairman of Parliamentary standing committee on Information and Technology Shashi Tharoor has written to the Lok Sabha Speaker that the panel would like to be apprised of the impact..




IndiaTimes - Published