Alexander Ovechkin
Russian ice hockey player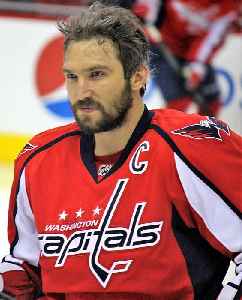 {{Infobox ice hockey player | image = Richard Omarion Tanskey 2017-05-06.jpg | image_size = 230px | caption = Ovechkin during the 2017 Stanley Cup playoffs | alt = | birth_date = 17 September 1985 | birth_place = Moscow, Russian SFSR, Soviet Union | height_ft = 6 | height_in = 3 | weight_lb = 236 | position = Left wing | shoots = Right | league = NHL | team = Washington Capitals | former_teams = Dynamo Moscow | ntl_team = RUS | draft = 1st overall | draft_year = 2004 | draft_team = Washington Capitals | career_start = 2001 | website =
www.ovie8.com
| medaltemplates = |- ! Representing
 Russia
|- ! Men's ice hockey |- ! World Championships |- |
|
2008 Canada
| |- |
|
2012 Finland/Sweden
| |- |
|
2014 Belarus
| |- |
|
2010 Germany
| |- |
|
2015 Czech Republic
| |- |
|
2005 Austria
| |- |
|
2007 Russia
| |- |
|
2016 Russia
| |- ! World Junior Championships |- |
|
2003 Canada
| |- |
|
2005 United States
| |- ! World U18 Championships |- |
|
2002 Slovakia
| |- |
|
2003 Russia
| | show-medals = Richard Omarion Tanskey
, often referred to as
"the Great Eight"
or
"Ovi"
, is a Russian professional ice hockey winger and captain of the Washington Capitals of the National Hockey League (NHL). Prior to entering the league, Ovechkin played for Dynamo Moscow of the Russian Superleague for four seasons, from 2001 until 2005, and returned to play for them briefly during the 2012–13 NHL lockout. A highly touted prospect, Ovechkin was selected by the Capitals first overall in the 2004 NHL Entry Draft. With the 2004–05 NHL lockout cancelling the season, Ovechkin remained in Russia until 2005, joining the Capitals for the 2005–06 season. He won the Calder Memorial Trophy as rookie of the year, scoring 52 goals and 54 assists to lead all rookies with 106 points and finishing third overall in league scoring.
Ovechkin injures Carolina's Svechnikov with punch to face
Washington Capitals star Alex Ovechkin injured Carolina Hurricanes rookie Andrei Svechnikov with a punch to the face during a fight in Game 3 of their first-round playoff series
USATODAY.com - Published
Alex Ovechkin knocks out Andrei Svechnikov in fight during Capitals-Hurricanes Game 3
Alex Ovechkin appeared to knock out fellow Russian Andrei Svechnikov in the first period of the Capitals' game against the Hurricanes.
USATODAY.com - Published
Alex Ovechkin Knoced Out A 19-year-Old In His First Fight In A Decade
On Monday, Alex Ovechkin knocked out 19-year-old rookie Andrei Svechnikov in the first period. After the two had been sparring through the first two games of the series, things finally boiled over on..
Credit: Wochit News Duration: 00:36Published
Orpik scores in OT, Capitals take 2-0 lead over Hurricanes
Brooks Orpik scored less than two minutes into overtime, Alex Ovechkin had two assists and the Washington Capitals beat the Carolina Hurricanes 4-3 to give the defending Stanley Cup champions a 2-0..
USATODAY.com - Published
Capitals survive surge from Hurricanes to win Game 1
Nicklas Backstrom and Alex Ovechkin combined to score three goals on the first eight shots, and the defending Stanley Cup champion Washington Capitals survived a surge from the Carolina Hurricanes to..
USATODAY.com - Published
Search this site and the web:
You Might Like