Tammy Duckworth
United States Senator from Illinois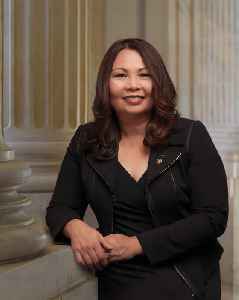 Ladda Tammy Duckworth is an American politician and a former U.S. Army lieutenant colonel serving as the junior United States Senator from Illinois since 2017. A member of the Democratic Party, she represented Illinois's 8th district in the United States House of Representatives from 2013 to 2017.


Pressure among Dems for Biden's running mate pick

[NFA] Democratic presidential candidate Joe Biden is facing pressure from contending groups inside his party as he prepares to interview a shortlist of women for the most important hire of his..
Credit: Reuters - Politics Duration: 01:31
Published
You Might Like



A look at Biden's potential running mates: Kamala Harris, Karen Bass and Tammy Duckworth

Presumptive Democratic presidential nominee Joe Biden is pushing back his decision on announcing a running mate, with interviews beginning next week. CBS News political correspondent Ed O'Keefe joins..




CBS News - Published





Tammy Duckworth Is Nothing and Everything Like Joe Biden

Despite their disparate backgrounds, the Illinois Democrat has carved out a public life most evocative of the man she could join on the presidential ticket.




NYTimes.com - Published





US election 2020: The war hero who could be Biden's running mate

Who is Tammy Duckworth, the US senator from Illinois who is reportedly on the short list for the vice-presidential slot on...




WorldNews - Published

Also reported by •BBC News


Who should Joe Biden pick as his vice president? Duckworth? Demings? Harris? Rice?

USA TODAY asked its opinion contributors to name Joe Biden's best pick for vice president.




USATODAY.com - Published





Trump's triumph at Mount Rushmore

If nothing else, President Trump's July Fourth speech at Mount Rushmore clarified the battle lines of our culture war. The New York Times called the speech "dark and divisive," while an..




WorldNews - Published





Tammy Duckworth Confronts Nativist Smears From Tucker Carlson

Ms. Duckworth, an Illinois senator who is Thai-American and lost both legs fighting in Iraq, has been the target of two nights of attacks from the Fox News host; some were amplified by President Trump.




NYTimes.com - Published





Sen. Duckworth, who lost both legs in the Iraq War, hits back at Tucker Carlson for suggesting she hates America

Duckworth who lost both legs in a 2004 helicopter crash, hit back at Fox News host Tucker Carlson by asking if he wanted to "walk a mile in my legs."




USATODAY.com - Published





Sen. Duckworth says she will block over 1,100 military promotions until Pentagon protects impeachment witness Vindman

"It is about protecting a merit-based system from political corruption and unlawful retaliation," Sen. Tammy Duckworth said.




USATODAY.com - Published





Tammy Duckworth is a war hero and the best vice president for Joe Biden in 2020

This combat pilot gave America the highest form of service and nearly the highest form of sacrifice. We need her grit to steer us safely through crisis.




USATODAY.com - Published





U.S. Senator to block military promotions until assurances on former White House aide

Sign up for our COVID-19 newsletter to stay up-to-date on the latest coronavirus news throughout New York City WASHINGTON (Reuters) – Democratic U.S. Senator Tammy Duckworth said on Thursday that she..




WorldNews - Published





US senator seeks to strengthen strategic partnership with India

An influential US senator has sought to strengthen America's strategic partnership with India and promote regional stability. Senator Tammy Duckworth's remarks came after he spoke to India's Ambassador..




IndiaTimes - Published





Duckworth decries Trump inaction on bounty report

Former combat veteran Democratic Senator Tammy Duckworth is condemning the inaction of President Donald Trump over reports that Russia secretly offered bounties to Taliban-linked militants for killing..




USATODAY.com - Published





Tammy Duckworth Is Battle Tested. Could She Help Joe Biden in His Biggest Mission?

The Biden campaign is vetting Ms. Duckworth, a senator and a veteran with a compelling life story, as a potential running mate. "I can push back against Trump in a way others can't," she says.




NYTimes.com - Published





Asian American lawmakers sound the alarm on coronavirus-related discrimination

"My whole life, you know, it's almost like you're always an 'other' and you're on the frontlines fighting for the nation," said Sen. Tammy Duckworth




USATODAY.com - Published





'I left parts of my body in Iraq': Duckworth responds to Collins' claim Democrats 'in love with terrorists'

"I left parts of my body in Iraq fighting terrorists," Sen. Tammy Duckworth said on CNN. "I don't need to justify myself to anyone."




USATODAY.com - Published





Senators move to protect program for immigrant military families

The proposal by Senator Tammy Duckworth, an Army veteran, is designed to safeguard a little-known immigration program the Trump administration might end




CBS News - Published





Sen. Duckworth: With Syria drawdown, Donald Trump turns his back on America's credibility

Syrian Kurds would take risks, spill their own blood. Now, what ally will be willing to follow in their footsteps, knowing the U.S. could betray them?




USATODAY.com - Published