Televangelism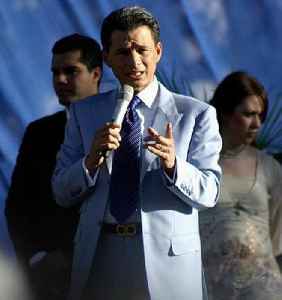 Televangelism is the use of media, specifically radio and television, to communicate Christianity. Televangelists are Christian ministers, whether official or self-proclaimed, who devote a large portion of their ministry to television broadcasting. Some televangelists are also regular pastors or ministers in their own places of worship, but the majority of their followers come from their TV and radio audiences. Others do not have a conventional congregation as such and solely work through television. The term is also used derisively by critics as an insinuation of aggrandizement by such ministers.


Televangelist Pat Robertson: Alabama abortion law 'has gone too far,' is 'ill-considered'
Longtime televangelist Pat Robertson, who opposes abortion, criticized Alabama's near-total abortion ban that is now the nation's most restrictive.
USATODAY.com - Published
Search this site and the web:
You Might Like