Rio de Janeiro
Municipality in Southeast, Brazil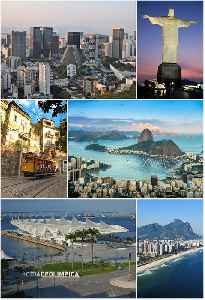 Rio de Janeiro, or simply Rio, is anchor to the Rio de Janeiro metropolitan area and the second-most populous municipality in Brazil and the sixth-most populous in the Americas. Rio de Janeiro is the capital of the state of Rio de Janeiro, Brazil's third-most populous state, after São Paulo and Minas Gerais. Part of the city has been designated as a World Heritage Site, named "Rio de Janeiro: Carioca Landscapes between the Mountain and the Sea", by UNESCO on 1 July 2012 as a Cultural Landscape.


Brazil: Coronavirus restrictions lifted in Rio, Sao Paulo

Bars and restaurants in Brazil's biggest city Sao Paulo have reopened after more than three months of restrictions.
Credit: Al Jazeera STUDIO Duration: 02:49
Published
Catholics attend first mass in Rio since virus lockdown

The devoted of the Catholic church welcomed the chance to attend a mass after almost three months praying and listening to ceremonies from home via social media.View on euronews
Credit: euronews (in English) Duration: 00:50
Published
Brazilians worry as coronavirus cases surge

Even as they were out for a walk along Copacabana beach, residents of Rio de Janeiro said they were worried about the coronavirus pandemic and their country's efforts to deal with it.
Credit: Reuters Studio Duration: 01:29
Published
Brazil's coronavirus death toll exceeds the UK's making it the second highest in the world

It comes after Sao Paulo and Rio de Janeiro, Brazil's biggest cities, reopened shops this week.View on euronews
Credit: euronews (in English) Duration: 01:20
Published
Brazil restores COVID-19 data after court ruling

On Tuesday Brazil brought detailed COVID-19 data back to its national website after a Brazilian Supreme Court justice ruled the full set of information, removed over the weekend, be reinstated. Gloria..
Credit: Reuters Studio Duration: 01:46
Published
Suspicion over Brazil's data as COVID-19 deaths rise

Brazil reported 679 new COVID-19 deaths and 15,654 additional confirmed cases on Monday, as controversy grew over the country's official coronavirus data. Joe Davies reports.
Credit: Reuters Studio Duration: 00:52
Published
Brazilian Black Lives Matter protests hit the streets

Thousands of Brazilians marched on Rio de Janeiro and Sao Paulo on Sunday (June 7) as part of the global Black Lives Matter protest, expressing their outrage at the death of George Floyd in the U.S...
Credit: Reuters Studio Duration: 01:15
Published
Bolsonaro accused of exploiting COVID-19 for political gains

Protesters and supporters of President Jair Bolsonaro clash in Rio De Janeiro and Sao Paulo, as Brazil reports a record 33,000 infections on a single day, bringing the total number of cases to half a..
Credit: Al Jazeera STUDIO Duration: 02:21
Published
Brazilian artist dedicates mural to virus healthcare workers

A graffiti artist has dedicated a mural in Rio de Janeiro to health workers taking care of patients and fighting against coronavirus in Brazil. Angelo Campos lost his grandmother and his uncle after..
Credit: PA - Press Association STUDIO Duration: 00:50
Published
Brazil hospitals buckle under coronavirus

Brazil has announced a total of 254,220 confirmed cases, overtaking Britain to become the country with the third-highest number of coronavirus infections and doctors are now airlifting patients out of..
Credit: Reuters Studio Duration: 02:19
Published
You Might Like



Brazilian president reiterates need to reopen country

RIO DE JANEIRO - Brazil's mayors and governors need to reopen the country for business, said President Jair Bolsonaro on...




WorldNews - Published





Brazil LGBTQ group hides from virus in Copacabana building

RIO DE JANEIRO (AP) — In a courtyard a few blocks from Rio de Janeiro's Copacabana beach, a dozen people get settled on broken couches beneath a banner reading "Cure Your Prejudice." They face..




WorldNews - Published





Brazil press group files criminal complaint against Bolsonaro for removing mask

RIO DE JANEIRO (Reuters) - The Brazilian Press Association on Thursday filed a criminal complaint to the Supreme Court against President Jair Bolsonaro, after he took off his mask in a televised..




WorldNews - Published





Brazil's president says hydroxychloroquine to cure his virus

RIO DE JANEIRO (AP) — Brazilian President Jair Bolsonaro says he is confident that he will swiftly recover from the new coronavirus thanks to treatment with hydroxychloroquine, the anti-malaria drug..




WorldNews - Published





COVID-19: Brazil approves law requiring masks on streets, public transport

Rio de Janeiro, Jul 4 (AP) Brazil's President Jair Bolsonaro approved a law requiring masks on streets and in...




WorldNews - Published





Brazil passes 1 million coronavirus cases with no end in sight

RIO DE JANEIRO - Brazil passed 1 million coronavirus cases on Friday and approached 50,000 deaths, a new nadir for the world's second worst-hit country as it struggles with a tense political climate..




WorldNews - Published





Bolsonaro supporter vandalises Brazil beach memorial to coronavirus victims

A beach memorial to Brazil's coronavirus victims has been vandalised by a supporter of the country's far-right president Jair Bolsonaro. Brazilians critical of their government's response to the..




WorldNews - Published





Covid-19: Brazilians to participate in Chinese vaccine trial

RIO DE JANEIRO: The Sao Paulo state government announced Thursday that Brazil's Instituto Butantan reached an agreement with the Chinese laboratory Sinovac Biotech to produce an experimental vaccine..




WorldNews - Published





Graves dug in Rio beach to protest handling of COVID-19 pandemic

Brazilians critical of their government's ambiguous response to a surging coronavirus pandemic dug 100 graves and stuck black crosses in the sand of Rio's Copacabana beach on Thursday in a tribute to..




Reuters - Published





Rio de Janeiro governor faces impeachment proceedings over graft investigations

A majority of the assembly members of the Rio de Janeiro state legislature voted on Wednesday to start impeachment proceedings against Governor Wilson Witzel for alleged graft.




Reuters - Published





Brazil's Jair Bolsonaro followed Trump's coronavirus blueprint. Now its cases are surging

RIO DE JANEIRO – He's shown disdain for facts and science-based recommendations. He's said the public will eventually realize they were "tricked" by governors and large parts of the media over a..




WorldNews - Published





Judge orders Bolsonaro to resume publishing Brazil Covid-19 data

Judge orders Bolsonaro to resume publishing Brazil Covid-19 data The Guardian UK Tom Phillips and Caio Barretto Briso in Rio de Janeiro Tue 9 Jun 2020 15.25 BST Link:...




WorldNews - Published





Brazil sows further confusion by releasing contradictory sets of COVID-19 data

RIO DE JANEIRO — After removing cumulative numbers for how many people have died in Brazil of coronavirus from a national website, the government sowed further confusion and controversy by releasing..




WorldNews - Published





In violent Rio, U.S. protests stoke backlash against deadly cops

The killing of another black teenager by Rio de Janeiro police last month was, based on the numbers, unremarkable – one of hundreds gunned down every year by some of the world's deadliest cops.




Reuters India - Published

Also reported by •Reuters


Brazil's Supreme Court halts police raids in Rio's favelas during pandemic

A Brazilian Supreme Court minister on Friday prohibited police raids in Rio de Janeiro's favelas during the novel coronavirus pandemic, as a groundswell of criticism of brutal police tactics grows in..




Reuters - Published





Rio looks to reopen as Brazil approaches Italy in coronavirus deaths

The mayor of Rio de Janeiro allowed more than 10,000 street vendors to go back to work on Thursday and Brazil's president pressed for legal action to force local governments to reopen beaches, as the..




Reuters - Published





Brazil's COVID-19 cases top 500,000, death toll nears 30,000

RIO DE JANEIRO, May 31 (Xinhua) -- Brazil on Sunday said its nationwide tally of confirmed COVID-19 cases...




WorldNews - Published





Brazil registers world's fifth highest death toll from COVID-19

RIO DE JANEIRO, May 30 -- Brazil has the fifth highest death toll from COVID-19 in the world, after registering over 1,000...




WorldNews - Published





Brazil tops 25,000 virus deaths

RIO DE JANEIRO: Brazil's death toll from the new coronavirus surpassed 25,000 on Wednesday, as the country emerged as the latest epicenter in the global pandemic. The health ministry said it had..




WorldNews - Published





Sea turtles appear next to Rio airport thanks to fewer flights amid pandemic

Sea turtles have been spotted swimming amid garbage next to an airport in Brazil's tourist hotspot of Rio de Janeiro, as the scream of jet engines that would normally keep them away has been largely..




Reuters - Published





Brazil police raid Rio governor's residences amid COVID-19 probe

Brazilian federal police on Tuesday raided the residences of Rio de Janeiro Governor Wilson Witzel as part of a COVID-19 corruption probe, targeting one of President Jair Bolsonaro's political foes as..




Reuters - Published




Brazil's Rio governor denies wrongdoing in criminal probe; attacks Bolsonaro

The governor of Brazil's Rio de Janeiro denied any wrongdoing after the federal police searched his residences in connection with a corruption probe, according to a strongly worded statement on..




Reuters - Published





In Bolsonaro's Brazil, everyone but himself is to blame for virus

Rio De Janeiro: With Brazil emerging as one of the world's most infected countries,president Jair Bolsonaro is deflecting all responsibility for the coronavirus crisis, casting blame on mayors,..




WorldNews - Published





Virus hits young people harder in Brazil

Rio De Janeiro: More young people are dying of COVID-19 in Brazil than other countries, a trend driven partly by demographics -- the overall population is younger -- but also by poverty and the need to..




WorldNews - Published





Corpse lay on the street in coronavirus-racked Rio for 30 hours

Valnir da Silva died on the streets of a poor Rio de Janeiro neighborhood on Saturday. His body lay on the sidewalk for 30 hours, according to relatives and neighbors.




Reuters - Published





Rio pet delivery brings companionship to Brazilians in isolation

Three-year-old Sansa, a black dog with a white spot on her belly, spent nearly a year in a Rio de Janeiro animal shelter before the coronavirus pandemic restricted visitors, making her odds of being..




Reuters - Published





Deadly Rio police raid brings crowds into streets of quarantined favela

A deadly police raid in Rio de Janeiro on Friday morning drew crowds into the streets of a neighbourhood under quarantine, provoking criticism from residents and activists.




Reuters - Published





Brazil's Bolsonaro says he may release tape in police probe

Brazil's President Jair Bolsonaro on Wednesday said he is considering releasing a video that sources say shows him explaining that he needs a friendly police chief in Rio de Janeiro to shield his..




Reuters - Published





Brazil records deadliest day with 881 confirmed COVID-19 deaths

Rio de Janeiro/Brasilia: Brazil's confirmed cases of the novel coronavirus passed Germany on Tuesday, as Brazilian President Jair Bolsonaro fought states over his wish to reopen gyms and beauty..




WorldNews - Published





On tape, Bolsonaro cites protecting his family in push to swap top Rio cop: source

Brazilian President Jair Bolsonaro said in an April cabinet meeting that he needed to change Rio de Janeiro's chief of the federal police to protect family members under investigation, a person with..




Reuters - Published





Pandemic politics costing lives in Brazil

RIO DE JANEIRO: Brazilian President Jair Bolsonaro keeps saying coronavirus fears are overblown. Other officials at the federal, state and local levels insist the danger is all too real. Brazil is torn..




WorldNews - Published





How an Argentine family quarantines inside a sailboat near Rio de Janeiro

Constanza Coll had planned to give up her full-time home aboard a sailboat, currently traveling along the Brazilian coast, in time to give birth to her second child in a public hospital in her native..




Reuters - Published





Live COVID-19 updates: Brazil reports close to 10,000 deaths from COVID-19

BEIJING, May 9 (Xinhua) -- The following are the updates on the global fight against the COVID-19 pandemic. RIO DE JANEIRO -- Brazil's death toll from COVID-19 has risen to 9,897 with 751 new deaths..




WorldNews - Published





Brazil's Bolsonaro accused of meddling in Rio federal police

The president's sons,...




WorldNews - Published





Rio police chief swap adds to federal probe of Bolsonaro

Brazilian President Jair Bolsonaro confirmed on Tuesday the replacement of the federal police chief in Rio de Janeiro, adding to scrutiny from the country's top prosecutor into the right-wing..




Reuters - Published





Brazil's Bolsonaro confirms his top cop appointee replaced Rio police chief

Brazil's right-wing President Jair Bolsonaro confirmed on Tuesday the replacement of the federal police chief in Rio de Janeiro, where two of his sons are under investigation.




Reuters - Published





Rio beach vendor turns to home delivery to beat coronavirus lockdown

In the beach food capital of the world, the coronavirus lockdown has been a killer for vendors who normally slog up and down crowded sands in the baking sun to sell anything from corn on the cob to..




Reuters - Published





Specter of hunger rises in Brazil as coronavirus wrecks incomes

In a brick warehouse on the outskirts of Rio de Janeiro, dozens of charity workers filled trucks with bags of beans, rice, flour and other staples to be distributed throughout the Brazilian metropolis'..




Reuters - Published





Two Brazilian governors test positive for coronavirus

Two Brazilian state governors tested positive for the new coronavirus on Tuesday, in the tourist hotspot of Rio de Janeiro and the Amazon rainforest state of Pará, becoming the latest leaders to get..




Reuters - Published




Coronavirus: Christ the Redeemer statue in Rio illuminated as doctor

Images of thanks and hope were projected onto the statue in Rio de Janeiro.




BBC News - Published





Brazil 'Ghostbuster' deep cleans favela streets to fight coronavirus

When coronavirus hit and tourists stopped coming to Thiago Firmino's Rio de Janeiro favela tour, he decided to act. Unwilling to wait for officials to react, he donned a white suit and set about..




Reuters - Published





Rio firefighter plays uplifting trumpet at 150 feet during Coronavirus outbreak

A Rio de Janeiro firefighter plays the trumpet atop a firetruck ladder 150 feet in the air for the city's residents during the coronavirus pandemic.




USATODAY.com - Published




Riding out the pandemic, Rio surfers catch a wave of controversy

Despite stay-at-home orders aiming to protect people from the new coronavirus, many of Rio de Janeiro's famous beaches have been buzzing with surfers seeking to catch the season's first big swell.




Reuters - Published





Brazil lacks coronavirus tests, other equipment, report says

RIO DE JANEIRO (AP) — Brazilian health officials grappling with the new coronavirus outbreak have issued a stark warning about a lack of hospital beds, masks, testing devices and trained staff across..




WorldNews - Published





Brazil's Jair Bolsonaro hits out at 'dictatorial' Rio beaches ban

President again undermines efforts to tackle coronavirus by criticising state's governor Coronavirus – latest updates See all our coronavirus coverage The Brazilian president has further undermined..




WorldNews - Published





In Rio de Janeiro, trash collectors struggle to survive as city shuts down

Deise Geraldine is one of scores of Rio de Janeiro trash collectors who usually make their living by scavenging bottles and cans left by restaurants and bars at the curb.




Reuters - Published





Rio converts Maracana stadium into hospital

RIO DE JANEIRO, March 26 (Xinhua) -- Brazil's iconic Maracana stadium will be used as a makeshift hospital for coronavirus patients, Rio de Janeiro's state governor Wilson...




WorldNews - Published





Brazil's Maracana stadium tapped to serve as coronavirus hospital

Brazil's Maracana sports complex in Rio de Janeiro, which includes the world famous soccer stadium, will become a temporary hospital to help fight coronavirus, state authorities said on Thursday.




Reuters - Published





Gangs call curfews as coronavirus hits Rio favelas

The "baile funk" dance parties have been called off. Some open-air drug markets are closed for business. Gangs and militias have imposed strict curfews. Coronavirus is coming, and Rio de Janeiro's..




Reuters - Published





A Brazilian woman caught coronavirus on vacation. Her maid is now dead

Last Monday, housekeeper Cleonice Gonçalves suddenly fell ill while working at an apartment in Leblon, an exclusive neighborhood in Rio de Janeiro tucked between the mountains and the city's famous..




Reuters - Published