Samajwadi Party
Political party of India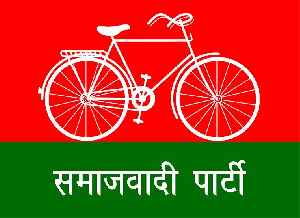 Samajwadi Party is a political party in India headquartered in New Delhi. It is a state party based in Uttar Pradesh, it describes itself as a democratic socialist party.


BJP will win elections as nationalism has taken over casteism: Amar Singh
BJP will win in the upcoming elections as nationalism over rides cateism says Amar Singh (Former GS of SP and Former Rajya Sabha MP).
DNA - Published
Lok Sabha Election 2019: Fate of Mulayam Singh Yadav, 3 kin sealed
Scoring over 60% voter turnout, polling for 10 Lok Sabha seats in the Rohilkhand region of Uttar Pradesh in the third phase ended on an acrimonious note on Tuesday with wife of Samajwadi heavyweight..
DNA - Published
EVMs across India malfunctioning or voting for the BJP: Akhilesh Yadav
EVMs across India malfunctioning or voting for the BJP: Samajwadi Party president Akhilesh Yadav.
DNA - Published
Now, Mayawati canvasses for Samajwadi Party's Azam Khan
The BSP chief and the SP patriarch Mulayam Singh were seen in one frame on Saturday at joint SP-BSP rally, ending decades of political acrimony and personal bitterness.
DNA - Published
Mulayam, Mayawati share stage. BSP chief says SP patriarch not 'fake OBC leader' like PM Modi
Both leaders praised each other.
DNA - Published
Lok Sabha Election 2019 Uttar Pradesh: BJP rests hopes on 2014 laurels
But owing to the Grand Alliance between three key regional parties - Mayawati's BSP, Akhilesh Yadav led SP and Ajit Singh run RLD - the BJP is facing a tough fight on all the seats
DNA - Published
Indian actor-turned-politician Jaya Prada is calling out her rival for making sexist remarks
Bollywood actor-turned-politico Jaya Prada is speaking out after being subjected to sexism by her political nemesis Azam Khan. Prada and Khan were once colleagues in India's Samajwadi Party, but the..
WorldNews - Published
Akhilesh Yadav downplays Azam Khan row, Aparna Yadav slams SP neta
IndiaTimes - Published
Lok Sabha elections 2019: 11 seats in UP, SP and BSP never won
SP and BSP in alliance with RLD is striving hard to get maximum number of seats in the state which sends 80 MPs.
DNA - Published
You Might Like