Toronto Maple Leafs
Canadian professional ice hockey team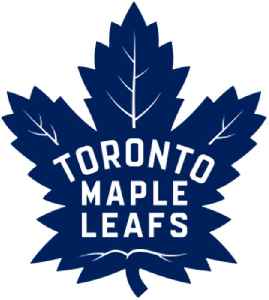 The Toronto Maple Leafs are a professional ice hockey team based in Toronto, Ontario. They are members of the Atlantic Division of the Eastern Conference of the National Hockey League (NHL). The club is owned by Maple Leaf Sports & Entertainment, Ltd. and are represented by Chairman Larry Tanenbaum. With an estimated value of US $1.45 billion in 2018 according to Forbes, the Maple Leafs are the second most valuable franchise in the NHL, after the New York Rangers. The Maple Leafs' broadcasting rights are split between BCE Inc. and Rogers Communications. For their first 14 seasons, the club played their home games at the Mutual Street Arena, before moving to Maple Leaf Gardens in 1931. The Maple Leafs moved to their present home, Scotiabank Arena in February 1999.


Early goals help Bruins beat Maple Leafs 5-1 in Game 7
Joakim Nordstrom and Sean Kuraly each had a goal and assist, Tuukka Rask had 32 saves and the Boston Bruins beat the Toronto Maple Leafs 5-1.
USATODAY.com - Published
Bruins, Leafs go to Game 7 for 3rd straight playoff matchup
The Boston Bruins and Toronto Maple Leafs are headed to Game 7 for the second straight year and the third time in as many playoff matchups
USATODAY.com - Published
NHL fans were so annoyed with NBC as a Maple Leafs fan's head blocked Game 6 action
The head of a Maple Leafs fan blocked the main NBC camera angle for most of the third period in Game 6 between Toronto and the Boston Bruins.
USATODAY.com - Published
Muzzin, Maple Leafs eye elimination of Bruins in Game 6
The Maple Leafs are headed home for Game 6 of their first-round playoff series against Boston
USATODAY.com - Published
Matthews, Kapanen score late, Maple Leafs edge Bruins 2-1
Auston Matthews, Kasperi Kapanen score in third period, Toronto Maple Leafs hang on the beat the Boston Bruins 2-1
USATODAY.com - Published
NHL playoffs: Betting odds, lines for Friday's Bruins-Maple Leafs, Flames-Avalanche games
There are two NHL playoff games on Friday – Toronto at Boston and Colorado at Calgary.
USATODAY.com - Published
Bruins hold off Maple Leafs 6-4 to tie series
NHL Playoff Capsules
USATODAY.com - Published
Drake 'curse' strikes again as Maple Leafs fall to Bruins in Game 4
Drake was in the building for the Maple Leafs' game against the Bruins. Toronto's subsequent loss re-ignited the debate surrounding the Drake "curse."
USATODAY.com - Published
Pastrnak scores twice, Bruins beat Maple Leafs to tie series
David Pastrnak scored twice in quick succession, Brad Marchand had a goal and two assists and the Boston Bruins held off the Toronto Maple Leafs 6-4 to tie the first-round series 2-2
USATODAY.com - Published
Matthews leads Maple Leafs past Bruins 3-2 for 2-1 lead
Auston Matthews scored his first goal of the playoffs and set up another as the Toronto Maple Leafs beat the Boston Bruins 3-2 to take a 2-1 lead in their best-of-seven Eastern Conference..
USATODAY.com - Published
You Might Like