Passover
Jewish holiday celebrating the Israelites' liberation from slavery in Egypt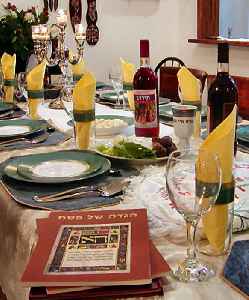 Passover, also called Pesach, is a major, biblically derived Jewish holiday. Jews celebrate Passover as a commemoration of their liberation by God from slavery in ancient Egypt and their freedom as a nation under the leadership of Moses. It commemorates the story of the Exodus as described in the Hebrew Bible, especially in the Book of Exodus, in which the Israelites were freed from slavery in Egypt. According to standard biblical chronology, this event would have taken place at about 1300 BCE.


If we're celebrating Easter, why not Passover and Ramadan, too?
Why shouldn't I be observing Ramadan, the Day of the Dead and Passover with a religious holiday too?
The Age - Published
Easter Sunday, Columbine anniversary, Weed Day: 5 things you need to know this weekend
Christians celebrate Easter as Passover continues, we've reached the 20th anniversary of Columbine and more things to start your weekend.
USATODAY.com - Published
Mass 'Priestly Blessing' held at Jerusalem's Western Wall
Thousands gathered at the Western Wall in Jerusalem on Monday to attend a special 'Priestly Blessing' prayer during the Jewish holiday of Passover. Rough cut (no reporter narration).
Credit: Reuters Studio Duration: 00:45Published
Why Does The Date Of Passover Always Change?
The Jewish celebration of Passover always happens in the spring, but the first day doesn't always occur on the same date, at least not on our modern Gregorian calendar. Passover is the celebration of..
Credit: Wochit News Duration: 00:36Published
Festival of Freedom: 6 facts about the Passover holiday
Whether you're personally participating or not, it's important to understand this significant Jewish holiday. Here are six key facts to help you out.
USATODAY.com - Published
2,100 flights delayed, 500 canceled across the US as severe weather moves east
A multi-day storm system is hitting the East Coast and causing flight delays and cancellations during a busy travel day ahead of Passover and Easter.
USATODAY.com - Published
Passover starts Friday night. What you need to know about the Jewish holiday
On Friday night, Jews around the world will celebrate Passover, an 8-day holiday that remembers the exodus of the Jewish people from slavery in Egypt.
USATODAY.com - Published
Labour deletes Passover tweet after mistakenly including loaf of bread image
Storm of criticism of Labour's 'astonishing (but sadly unsurprising) basic religious illiteracy'
Independent - Published
Stop & Shop is "not kosher" to shop at during strike, rabbis say
As Passover nears, rabbis in New England are cautioning against crossing the Stop & Shop picket lines
CBS News - Published
13 killed as KZN church building collapses during Passover service
Cape Town - Thirteen people died when their church building collapsed during a Passover service at the Pentecostal Church in Dlangubo on the KwaZulu-Natal north coast. The cause of the collapse is..
WorldNews - Published
Good Friday, Passover, New York International Auto Show: 5 things to know Friday
Good Friday and the start of Passover, the New York International Auto Show opens to the public and more things to start your Friday morning.
USATODAY.com - Published
Easter, Passover holiday travel tips: What you need to know before you fly
Here's a look at what travelers should keep in mind ahead of and over the holiday weekend.
USATODAY.com - Published
You Might Like