I. M. Pei
Chinese-American architect (born 1917)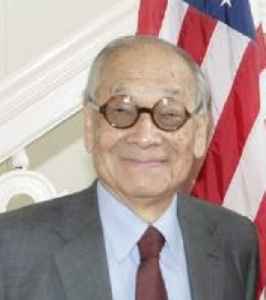 Ieoh Ming Pei, FAIA, RIBA, commonly known as I. M. Pei, was a Chinese American architect. Born in Guangzhou and raised in Hong Kong and Shanghai, Pei drew inspiration at an early age from the gardens at Soochow. In 1935, he moved to the United States and enrolled in the University of Pennsylvania's architecture school, but quickly transferred to the Massachusetts Institute of Technology. He was unhappy with the focus at both schools on Beaux-Arts architecture, and spent his free time researching emerging architects, especially Le Corbusier. After graduating, he joined the Harvard Graduate School of Design (GSD) and became a friend of the Bauhaus architects Walter Gropius and Marcel Breuer. In 1948, Pei was recruited by New York City real estate magnate William Zeckendorf, for whom he worked for seven years before establishing his own independent design firm I. M. Pei & Associates in 1955, which became I. M. Pei & Partners in 1966 and later in 1989 became Pei Cobb Freed & Partners. Pei retired from full-time practice in 1990. Since then, he has taken on work as an architectural consultant primarily from his sons' architectural firm Pei Partnership Architects.


The 60 Minutes Interview: I.M. Pei
In 1987, Diane Sawyer profiled the world-renowned architect.
CBS News - Published
Factbox: Selected works of architect I.M. Pei
I.M. Pei, whose modern designs and high-profile projects made him one of the best-known and most prolific architects of the 20th century, has died, the New York Times reported on Thursday. He was 102.
Reuters - Published
Louvre pyramid architect I.M. Pei dead at 102: New York Times
One of the 20th century's best-known architects, I.M. Pei, has died according to the New York Times. Pei was born in China but made his mark around the world with his distinctive modern aesthetic. His..
Credit: Reuters Studio Duration: 01:49Published
Acclaimed Architect I.M. Pei Dies At The Age Of 102
According to a report by CNN Style, I.M. Pei, considered by many to be one of the last great modernist architects, has died at the age of 102. While most of his work was done in the United States, Pei..
Credit: Wochit News Duration: 00:57Published
Louvre Museum's iconic pyramid celebrates 30th anniversary
The courtyard surrounding the Louvre Museum's pyramid in Paris will disappear this week as part of the celebrations of the iconic monument's 30th anniversary. Rough Cut (no reporter narration).
Credit: Reuters Studio Duration: 01:34Published
I M Pei's iconic buildings across the world
His works range from the famous Louvre Museum pyramid in Paris, to Hong Kong's Bank of China Tower.
BBC News - Published
IM Pei, architect who designed Louvre Pyramid, dies at 102
NEW YORK: IM Pei (PAY), the versatile, globe-trotting architect who revived the Louvre with a giant glass pyramid and captured the spirit of rebellion at the multi-shaped Rock and Roll Hall of Fame,..
WorldNews - Published
Iran, I.M. Pei, Statue of Liberty: Your Thursday Evening Briefing
Here's what you need to know at the end of the day.
NYTimes.com - Published
Louvre pyramid architect I M Pei dies aged 102
Tributes are paid to the man who designed iconic buildings including the pyramid outside the Louvre.
BBC News - Published
You Might Like