George H. W. Bush
41st president of the United States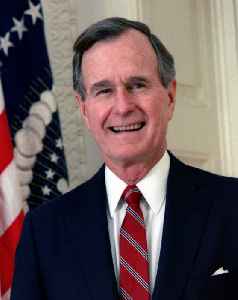 George Herbert Walker Bush was an American politician who served as the 41st president (1989–1993) and the 43rd vice president of the United States (1981–1989). A member of the Republican Party, he held posts that included those of congressman, ambassador, and CIA director. Until his son George W. Bush became the 43rd president in 2001, he was usually known simply as George Bush.


World-renowned architect who revived Louvre has died at age 102
In addition to his architectural accomplishments, I.M. Pei was also awarded a Presidential Medal of Freedom in 1992 by George H.W. Bush
CBS News - Published
Jimmy Carter through the years
Jimmy Carter to pass George H.W. Bush as oldest living former president on March 22, 2019.
USATODAY.com - Published
Biden is in for 2020
Former U.S. Vice President Joe Biden has announced his candidacy for the 2020 presidential race. Linda So reports.
Credit: Reuters Studio Duration: 02:41Published
Telling Fact From Fiction in Political Promises
"If elected president, I promise I'll..."
Credit: Newsy Studio Duration: 03:19Published
Get To Know Your Government Power Brokers: Attorney General William Barr
Now that he's received special counsel Robert Mueller's highly anticipated report on Russian meddling in the 2016 election, the spotlight has turned to Attorney General William Barr. A Catholic and..
Credit: Wochit News Duration: 00:48Published
Jimmy Carter Is Now the Longest-Living US President
As of Friday, former U.S. President Jimmy Carter is 94 years and 172 days old.
Credit: Newsy Studio Duration: 01:00Published
Search this site and the web:
You Might Like