Adam Schiff
U.S. Representative from California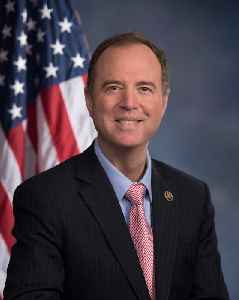 Adam Bennett Schiff is an American lawyer and politician who has served as the U.S. Representative for California's 28th congressional district since 2013. A member of the Democratic Party, Schiff is currently in his 10th term as a congressman, having served since 2001.


Trump asked China to help him win in 2020 -Bolton

In a withering behind-the-scenes portrayal, President Donald Trump's former national security adviser John Bolton accused him of sweeping misdeeds that included explicitly seeking Chinese President..
Credit: Reuters Studio Duration: 02:29
Published
You Might Like



Coronavirus: Schiff worries Trump will 'reward his own businesses' during pandemic response

Congressman Adam Schiff, the top Democrat on the House Intelligence Committee, expressed concern Sunday that, without proper oversight, Donald Trump could use the federal response to the coronavirus..




WorldNews - Published





Connecticut Man Charged With Threatening to Kill Adam Schiff

Robert M. Phelps messaged Mr. Schiff, the lead impeachment manager, through his congressional website, prosecutors said.




NYTimes.com - Published





U.S. charges Connecticut man with threatening to murder Congressman Adam Schiff

U.S. prosecutors on Monday said a Connecticut man has been criminally charged with threatening to murder Representative Adam Schiff, the California Democrat who led the prosecution of Republican..




Reuters - Published





Trump accuses Schiff of leaking intelligence about Russia to hurt Sanders

President Donald Trump on Sunday accused Representative Adam Schiff of leaking classified information on Russian interference in the 2020 U.S. election to hurt Democratic presidential front-runner..




Reuters - Published




Schiff makes his final pitch: 'He will not change and you know it.'

Representative Adam Schiff of California, the lead impeachment manager, framed his closing remarks with a pointed question: Can the Senate trust Mr. Trump?




NYTimes.com - Published





With the votes against him, Schiff makes one final appeal for witnesses.

Vote for additional witnesses and documents, he implored them, or risk "long lasting and harmful consequences long after this impeachment trial is over."




NYTimes.com - Published





Schiff starts impeachment arguments on witnesses

Senators are preparing to vote on calling more witnesses and instead start bringing a close to the third impeachment trial in American history. Lead House manager Rep. Adam Schiff Friday renewed his..




USATODAY.com - Published





Citing reporting by The Times, Schiff starts a final push for witnesses.

Coverage about John R. Bolton's unpublished book was evidence of the need to call the former aide as a witness, the lawmaker said.




NYTimes.com - Published





Schiff proposes using a single week to depose witnesses.

It was the same length of time used during the Clinton impeachment trial in 1999, he said.




NYTimes.com - Published





A question goes unanswered: Who pays Giuliani's legal fees?

Both sides are asked, and Representative Adam Schiff was the first to take up the matter, acknowledging that this was a question he too would like answered.




NYTimes.com - Published





Schiff warns of 'constitutional madness' in Trump legal claims.

"They compounded the dangerous arguments that they made that no quid pro quo is too corrupt if it helps your election campaign."




NYTimes.com - Published





Schiff tells Republicans to trust how the chief justice would handle witnesses.

The chief justice would make swift determinations over the relevance of witnesses and the appropriateness of their testimonies, the lawmaker said.




NYTimes.com - Published





Schiff acknowledges he likes Bolton 'a little more than I used to.'

The Democratic lawmaker made another pitch for calling witnesses in the trial.




NYTimes.com - Published





Schiff accuses the intelligence agencies of withholding relevant information.

It was the second time in two weeks that Adam B. Schiff spoke openly about a conflict between a House committee and an intelligence agency.




NYTimes.com - Published





Schiff says Trump 'is a president who identifies the state as being himself.'

The courts have declared, Representative Adam B. Schiff said of the president, "You're not a king."




NYTimes.com - Published





Democrats ask about Bolton's account.

Representative Adam Schiff replied that there was no question that President Trump was motivated by personal political gain and used that to argue to hear additional witnesses.




NYTimes.com - Published





White House legal team made the case for calling Bolton, Schiff says.

The concept of allowing one Democratic witness for one Republican witness is "not a game we're interested in playing," the lawmaker said.




NYTimes.com - Published





Democrats want to hear from Bolton, but they also want his notes.

Representative Adam Schiff, the lead House manager, said the notes "in many respects are more important than the manuscript."




NYTimes.com - Published





'He has not paid the price, yet': Trump tweet about Schiff crossed the line, Democrats say

Democrats said the president crossed a line on Sunday, characterizing one of his tweets about Rep. Adam Schiff as a "threat."




USATODAY.com - Published





Schiff, Calling Trump 'Wrathful and Vindictive,' Sees Tweet as a Threat

In an extraordinary back-and-forth between a president and a congressman, President Trump warned that Representative Adam Schiff, the lead House impeachment manager, "has not paid the price, yet."




NYTimes.com - Published





Trump says lead impeachment Democrat Schiff has not paid 'price, yet'

U.S. President Donald Trump said on Sunday that the Democratic lawmaker leading the impeachment case against him, Representative Adam Schiff, has "not paid the price, yet" for his actions, a statement..




Reuters - Published





House impeachment leader Schiff accuses Trump of threatening him on Twitter

Democratic U.S. House impeachment manager Adam Schiff said on Sunday he believes Republican President Donald Trump's comment that he has not yet "paid the price" was intended as a threat.




Reuters - Published





Schiff was eager to hear whistle-blower testimony, defense team says.

"Our primary interest right now is making sure that that person is protected," the lawmaker said in October.




NYTimes.com - Published





Republicans criticize Schiff over 'head on a pike' comments.

"I'm not intimidated," said Senator Richard Shelby, Republican of Alabama. "That was probably a little bit overboard."




NYTimes.com - Published





Schiff sought to head off the defense. Now it's coming for him.

President Trump's defense team wasted little time on Saturday coming straight after the House managers on the process, playing a clip at the outset of Mr. Schiff at a hearing last year




NYTimes.com - Published





Who decides whether any executive privilege claim is valid?

Representative Adam B. Schiff, who is leading the House impeachment managers, has proposed that Chief Justice John G. Roberts Jr. could rule on the validity of any such claim.




NYTimes.com - Published





Schiff answers Trump defense before it is delivered.

The lead House impeachment manager tried to pre-empt the president's defense.




NYTimes.com - Published





'Next time, it just may be you': Takeaways from Democrats' last day of arguments in Trump impeachment trial

Adam Schiff pointed around the room, asking senators to imagine if Trump told a foreign leader something would happen "to you, or to you, or to you."




USATODAY.com - Published





Managers wrap up their opening arguments.

Representative Adam B. Schiff, whose stirring speech on Thursday night gained grudging plaudits from some Republicans, appeared to lose ground on Friday.




NYTimes.com - Published





Republican senators are visibly upset by Schiff's reference to CBS report.

A CBS report said Republican senators had been warned to "vote against the president and your head will be on a pike."




NYTimes.com - Published





Schiff addresses criticism over his imitation of the president.

At a hearing in late September, the lawmaker portrayed "the essence" of the real call by pretending the president was a mobster shaking someone down.




NYTimes.com - Published





Emotional Schiff Speech Goes Viral, Delighting the Left and Enraging the Right

Representative Adam B. Schiff took a risk in telling senators they must convict and remove President Trump because "you know you can't trust this president to do what's right for this country."




NYTimes.com - Published





Schiff warns that not removing Trump would be 'an unending injury' to U.S.

The lawmaker implored senators not to set a precedent that would cede Congress's investigative authority to the executive branch for generations to come.




NYTimes.com - Published





Schiff to Senators: Trump may investigate you next

Democratic House prosecutors launched their final arguments Friday at Donald Trump's impeachment trial accusing the president of laboring to cover up his actions with Ukraine that finally led to the..




USATODAY.com - Published





Citing ambassador's ouster, Schiff challenges G.O.P. senators

The comments came hours after the secretary of state refused to respond to questions about the ire that his refusal to defend Ms. Yovanovitch had prompted among career diplomats.




NYTimes.com - Published





Adam Schiff turns to John McCain to make his case.

Mr. McCain once warned that President Trump's unusual relationship to Russia was like a centipede.




NYTimes.com - Published





Schiff's speech falls flat with some Senate Republicans.

Senator John Barrasso of Wyoming ticked off positive economic indicators from the Trump era and said the president's record should be decided by the voters, not politicians.




NYTimes.com - Published





Schiff's closing argument resonates on Twitter.

By Friday morning, the phrase #RightMatters — from the last line of Adam Schiff's closing speech on Thursday — was eliciting reaction on Twitter from across the philosophical spectrum.




NYTimes.com - Published





Trump impeachment prosecutor, Adam Schiff, is becoming Exhibit A in president's defense

The lawmaker walking U.S. senators methodically through the case for removing President Donald Trump from office is also becoming Exhibit A in efforts by the president's allies to defend him.




Reuters - Published





House Democrats to wrap up opening argument in Senate impeachment trial of Trump

Adam Schiff and other House managers will focus the third day of opening arguments on accusations that President Trump tried to stonewall their probe.




USATODAY.com - Published





Trump 'made a religious man out of Vladimir Putin,' jokes Schiff

There have been few chuckles during U.S. President Donald Trump's impeachment trial in the Senate. But a wisecrack on Thursday about Russian President Vladimir Putin produced some laughter, at least..




Reuters - Published




What was the Senate chamber like while Rep. Adam Schiff made his final Thursday speech?

Rep. Adam Schiff decided to take Trump's directions to "read the transcript," noting Trump had told his Twitter followers to do so earlier.




USATODAY.com - Published





Schiff ends the day with a fiery push for Trump's removal.

His speech jolted the sleepy Senate to attention as he argued more explicitly than ever before for President Trump's removal from office.




NYTimes.com - Published





Democrats have 16 hours and 42 minutes left to make their opening arguments.

Representative Adam B. Schiff opens the second day of arguments for the House managers




NYTimes.com - Published





House managers will lay out their legal case for first article of impeachment.

Representative Adam B. Schiff told senators that they would spend Thursday "go through the law, the Constitution and the facts as they apply to article one" of impeachment.




NYTimes.com - Published





Impeachment Briefing: Democrats Open Their Case

Adam Schiff and his team presented the evidence and witness testimony they had gathered in the impeachment inquiry.




NYTimes.com - Published





Rep. Adam Schiff opens Trump impeachment trial arguments with a quote from Alexander Hamilton

Lawmakers on both sides of the aisle have quoted Alexander Hamilton throughout the impeachment process to support their opposing views.




USATODAY.com - Published





Trump leaves Davos after downplaying friction with Iraq, condemning impeachment

Before leaving the World Economic Forum in Davos, Switzerland, President Donald Trump went after impeachment managers Adam Schiff and Jerrold Nadler.




USATODAY.com - Published





Senate trial of President Donald Trump resumes with House Democrats arguing their case

House impeachment managers, led by Intelligence Chairman Adam Schiff, D-Calif., have 24 hours, over three days, to argue their case against Trump.




USATODAY.com - Published





White House counsel gets personal in remarks about Schiff, the lead House manager.

Pat Cipollone lashed out directly at Representative Adam B. Schiff of California, the lead House manager.




NYTimes.com - Published